Kyoto Gekikara Shopping Street – Extremely Spicy Foods 😡
Muko City in Kyoto Prefecture is the smallest city in western Japan.
It's known as The Bamboo Grove Path and a producer of high-quality bamboo shoots.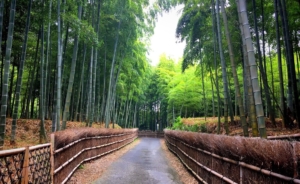 Muko City started Gekikara Shopping Street to revitalize the town.
Gekikara means extremely spicy in English.
There're many shops lined up with their own extremely spicy dishes. It's now a holy place for people who love spicy food.
What's Gekikara Shopping Street?
When you think of shopping street, isn't it a street with shops?
In this Gekikara Shopping Street in Muko City, the shops are not all in one place. Actually, all over the town, there're shops that sell extremely spicy foods.
There're more than 40 shops and more than 100 kinds of menu in all shops.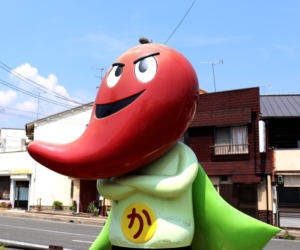 Extremely spicy is sold not only at restaurants that sell food, but also at stationery shops, general shops and other shops that sell original extremely spicy goods.
There's a flag at the shop which deals with extremely spicy food or goods, so let's look for the shop by using it as a sign.
It's written Gekikara on the flag.↑
Shops Introduction
Chinese restaurant Iki-Iki
This's a restaurant where you can eat tasty and spicy gyoza made with red pepper.
Shop manager studies spices from all over the world and adjusts the spiciness using homemade powder made from dried nuts of Bhut Jolokia, which is famous for being the hottest in the world.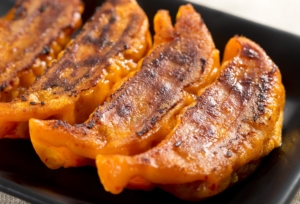 The delicious and spicy gyoza that not only has the spiciness but also retains the original flavor and flavor of Chinese food is one of the popular menu in the Gekikara shopping street.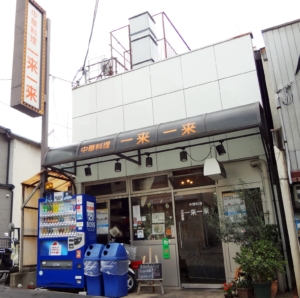 Chinese restaurant Kirin-en
At Chinese restaurant Kirin-en, established in 1966, you can enjoy authentic Cantonese cuisine.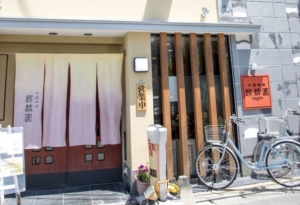 Mapo doufu is a simple dish with tofu as the main dish and other ingredients such as meat, eggplant and paprika. The flavor of the meat and vegetables and the moderate spiciness perfectly match and it is delicious.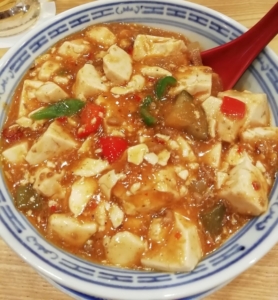 Tantanmen noodles is originally famous for spicy ramen, but it's a very spicy version. You can adjust the spiciness according to your taste, so you should start with the less spicy one.
But it's not only spicy, but also delicious.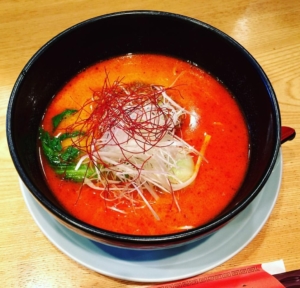 Shopping Center Life City Higashimuko
Life City Higashimuko is a small shopping center near Higashimuko Station, Hankyu Line. Some of these shops belong to the Gekikara shopping street.
There's a bright red room when you go inside. Here, they introduce the Gekikara shopping street and explain the member shops carefully.
If you want to get information about the Gekikara shopping street, you should visit here first.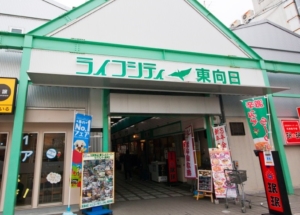 Life City higashimuko↑
Chinese restaurant Min-min
There's a Chinese restaurant called Min-min in the corner of Life City Higashimuko.
This restaurant is famous for its extremely spicy fried rice called Death chahan. You can choose the level of spiciness, so beginners should start with a low level.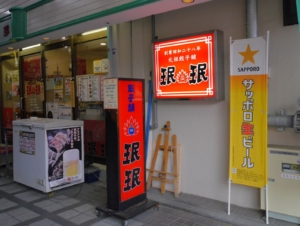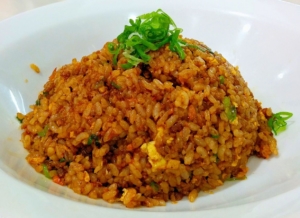 Death chahan
Japanese confectionery shop Eikyu-do
There's a shop called Eikyu-do behind the Life City Higashimuko.
They sell a sweet daifuku called Gekikara daifuku which is made very spicy. It is a contradictory food combining sweet and spicy. The price is 80 yen, so please try 1.
Japanese confectionery shop Eikyu-do
Gekikara daifuku↓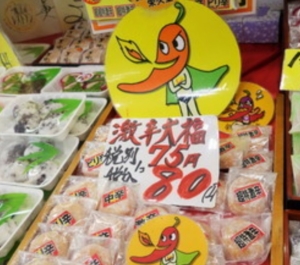 The sweet called Heaven or Hell is 10 pieces and 2 of them are super spicy.
If you take it home as a souvenir and eat it with your family or friends, you will be excited.
The famous confectionery Heaven or Hell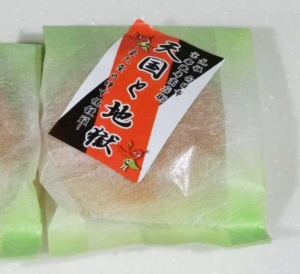 Kara-1 Grand Prix
Kara-1 Grand Prix is a competition to decide the number one spicy and tasty food.
The 1st competition was held in 2012 and is held once a year. The number of visitors increased with each episode, and the event has now grown into a big event with over 80,000 people.
Extremely spicy strong people gather from all over Japan. Extremely spicy foods from around the world were sold in 2016 under the name Gekikara World Festival.
Gekikara Shopping Street is a place where more people can enjoy the taste of spicy food, from the level of spiciness for extremely spicy enthusiasts to the level of spiciness for beginners.
Why don't you have a hot experience in a small town located on the west side of Kyoto City?
---