Real Canyoning in Japan – Powerzone Riverbase
The Suzuka mountain range runs along the border between Shiga Prefecture and Mie Prefecture. There's an outdoor program that you can enjoy in Kanzaki River which is said to be the most beautiful valley in this mountain range.
Do you know Canyon Swimming?
It's a water sport with a combination of Shower Climbing up the stream's many waterfalls and Canyoning down the stream, and this is the only place in the world where you can enjoy it.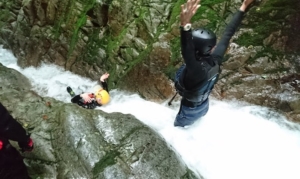 Guests can wear safety equipment such as wetsuits, life jackets and even helmets and enjoy playing in the water with the guidance of experienced guides.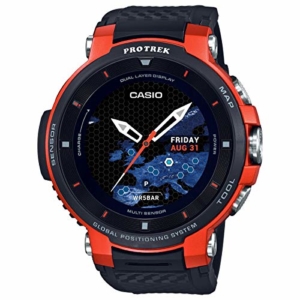 Great for the outdoors – PRO TREK

Where can I try it?
Where should I go to do canyon swimming?
It can be done at Powerzone Riverbase Shiga.
You will make a reservation in advance and meet directly at Powerzone Riverbase Shiga.
Take a bus from Yokaichi Station on Ohmi Railway to the last stop, Eigenji Shako bus stop. There's a free shuttle service from there.
When you get to Powerzone Riverbase Shiga ,you can apply there and get a schedule explanation. After that, let's receive the wetsuit and change clothes in separate rooms for men and women. Go to the start point with your own car or pickup car.
All you need is a swimsuit and a towel, and you can rent all the special equipment for free! You can rent special shoes for free.
Let's go Canyon Swimming!
From the parking lot, you go through the forest to warm up and head to the river.
Let's get in the water first and get used to the cold water. After a swim, you walk along the riverbed a little and go to the core spot gradually.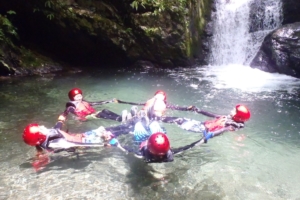 Let's float and move forward in many natural pools! I'm impressed by the clear and beautiful water.
You can enjoy the powerful scenery with the steep rocks standing around. Let's go further upstream!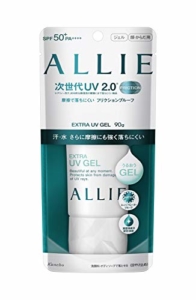 Japanese quality sunscreen – International shipping available


Full of thrills!
You will arrive at the goal of Shizuku-no-Taki Waterfall. Let's enjoy diving and sliding here.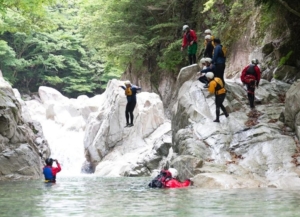 Jump from the big rock! You'll have a thrilling experience.
Then, go back to the starting point while playing down.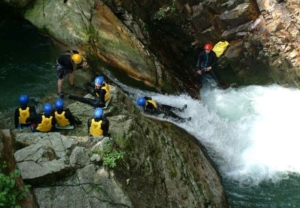 Try the slider! It feels great!
It's called canyoning to go down a mountain stream. It's very fun to jump in and flow down.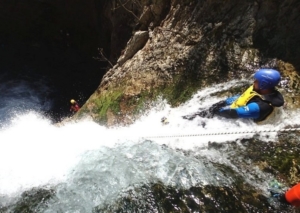 If you want to swim, climb, jump in, and be flowed, I recommend canyon swimming.
Why don't you have an exhilarating experience with your family and friends?
Information
Held daily from June 1 to the end of September (Reservation system)
Admission: 9,000 yen to 9,500 yen
---