Hidden Places in Kyoto – Historic sites, Culture and Walking
Kyoto is not only famous for temples and shrines. It's a place with many historic sites and cultural atmosphere.
Compared to famous sightseeing spots, these places are relatively less crowded and you can spend a peaceful time.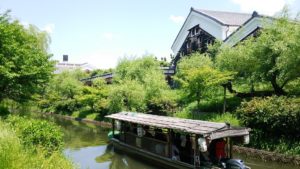 Among them, I'll introduce the place with the highest satisfaction.
Historic sites and Culture
Nanzen-ji Suirokaku Aqueduct ~Western style architecture inside the Japanese temple~
Located on the grounds of Nanzen-ji Temple, Suirokaku is a branch of the Lake Biwa Canal that is part of a Meiji Period waterway. It's said that the aqueduct of the Roman Empire was used as a reference not to damage the scenery of the temple.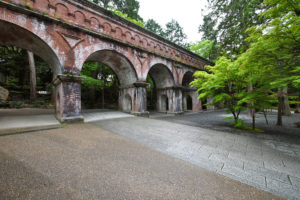 The red brick of Suirokaku has changed its color to a retro style with the times, and it blends with the landscape of Nanzen-ji Temple, creating an artistic atmosphere.
You can also climb on Suirokaku and see the water flowing. There's a walkway along the flow of water, and if you walk up the flow, you will reach Keage Power Station and Keage Incline.
The fall foliage season has a unique view!
There're few visitors except in the season of cherry blossoms and fall foliage, and you can enjoy the quiet and tasteful scenery.
It's needless to say how wonderful the scenery becomes in the season of fall foliage. It's a place we want to visit many times throughout the year.
Imformation
Hours: Suirokaku is open 24 hours a day, free of charge.
It's on the right after passing the Sanmon gate of Nanzen-ji Temple.↓
Kyoto-Gosyo ~The place where the Emperor lived until 1869~
Kyoto-Gosyo (Kyoto Imperial Palace), located in Kyoto Imperial Garden, is where the emperor once ruled. In the past, you had to make a reservation, but now it's open to the public, so you can visit without making a reservation.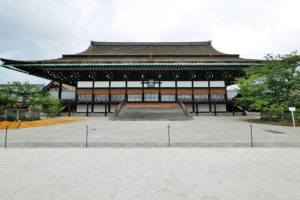 You can enter inside for free only with baggage inspection. The site is so vast that I can feel the history firsthand and feel deeply moved.
There're many valuable buildings and beautiful gardens where you can take a leisurely stroll, even on Saturdays and Sundays. I recommend it as a good spot for sightseeing in Kyoto.
Imformation
Hours: 9:00~17:00 (April to August), 9:00~16:30 (September to March), 9:00~16:00 (October to February)
Admission: Free
Yagi-tei Residence ~Shinsen-gumi Fortress Site~
Yagi-tei Residence was used as Mibu military post of Shinsen-gumi at the end of Edo Period (1603–1868). Since Isami Kondo and Toshizo Hijikata also stayed here, it's a sacred place for Shinsen-gumi fans.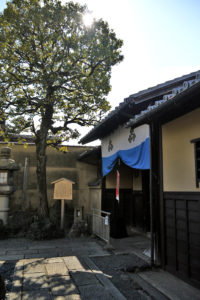 Kamo Serizawa, another member of Shinsen-gumi, was assassinated in this residence due to an internal conflict within Shinsen-gumi. You can also see the wounds of the sword when Kamo Serizawa was slashed.
The admission fee is 1,000 yen, which is a little expensive for its scale, but I think it will pay off because they will serve Matcha and Japanese sweets with a guide after the tour.
Nearby is Mibu-dera Temple, a temple associated with Shinsen-gumi. You can see Shinsen-gumi related ruins such as the bust of Isami Kondo and the tomb of Kamo Serizawa in the Mibuzuka Historical Archives on the grounds.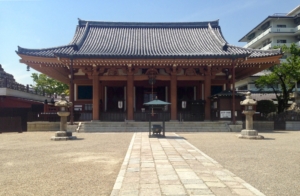 Mibu-dera Temple
Imformation
Hours: 9:00~17:00 (Acceptance ended at 16:30)
Admission: 1,000 yen for general (Guidebook with Matcha and Tonsho-Mochi) ※600 yen for junior high and high school students
Teradaya ~Boat inn where Ryoma Sakamoto was attacked~
Fushimi, with its Teradaya, was an important waterway point from Kyoto to Osaka during the Edo Period (1603–1868).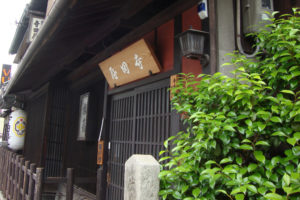 At the end of the Edo Period, Ryoma Sakamoto was surrounded by 30 Edo shogunate magistrates who managed to catch him. His wife, Oryo, was quick to find a way out of trouble, according to a famous story. (Teradaya Incident)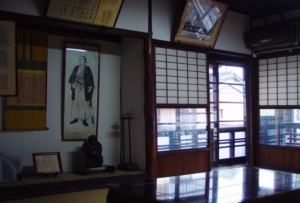 It was once burned down during the Battle of Toba-Fushimi, but it was rebuilt to look like it was at that time, and it's still operating as a ryokan. There's a small garden next to Teradaya, where Teradaya was built before it was burned down.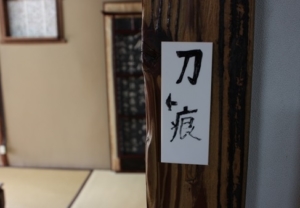 Sword scars
There're scars of Ryoma when he was attacked inside. This was reproduced when it was rebuilt and is not real, but you can feel the atmosphere of the time.
Ryoma, who was injured in the attack, went on a recuperation trip to Kirishima in Kagoshima with his wife, Oryo, on the recommendation of Takamori Saigo and others. Later it came to be called the first honeymoon in Japan.
Imformation
Hours: 10:00~16:00 (Visiting hours: Approximately 20 minutes)
Admission: 400 yen for general
Jikkoku-bune Boat (Fushimi) ~Elegant boat trip beside a sake brewery~
Fushimi Jikkoku-bune Boat sailed over the Yodo River and played an important role in the transportation of goods between Fushimi and Osaka. Now, it's possible to see the image of the time as a sightseeing boat.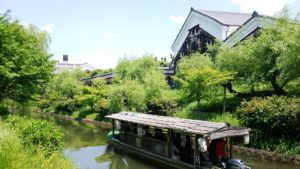 You board from behind Gekkeikan-Okura Sake Museum and go around Uji River faction flow and Hori River. You can enjoy a 50 minute boat trip while looking at the rows of sake breweries and willows along the river. After disembarking at Misu Lock Gate, which is the turn-around, and visiting the museum, you board again and come back.
It operates from around the time of cherry blossom bloom to the beginning of December, and has a capacity of 20 people, and it departs about 15 times a day.
It's especially crowded during the cherry blossom season, but you cannot make a reservation by phone, so I recommend you to go to the bus stop early and book a ticket in advance.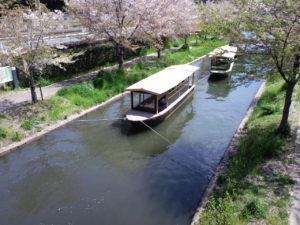 There is also a ferry called Sanjikkoku-bune Boat departing from the vicinity of Teradaya. It operates only in spring and autumn, and there are only 6 flights per day. It has a capacity of 30 people, so it's popular among group visitors.
Imformation
Operation period: March to December (Needs Confirmation)
Departure time: around 10:00~16:00 (It depends on the season, so check it out.)
Boarding time: About 50 minutes
Boarding fee: 1,200 yen for junior high school students and above, 600 yen for elementary school students and under, 300 yen for elementary school students and under
Walking
Tetsugaku-no-Michi ~One of Kyoto's famous healing promenades~
Tetsugaku-no-michi (The Philosopher's Path) is a promenade built along Lake Biwa Canal, which runs south from Ginkaku-ji Temple in Higashiyama. It came to be called Tetsugaku-no-Michi after the philosophers who were active in the Taisho Period (1912-1926) took a walk.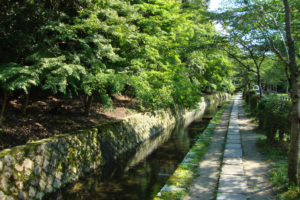 The total length is about 2 km, and there are many tasteful temples, variety stores and cafes around the area, so you can take a walk while stopping by.
I recommend the season of cherry blossoms rather than fall foliage, and the river becomes very beautiful like a tunnel of cherry blossoms.
Imformation
Visit: Available for 24 hours
Lake Biwa Canal ~Canal that gives a sense of the Meiji Period~
The Lake Biwa Canal is an artificial canal built in the Meiji Period (1868–1912) to channel Lake Biwa into Kyoto City over a distance of 20 km.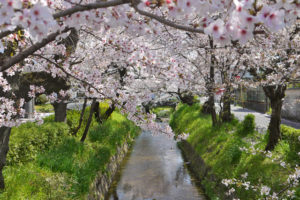 At that time, it was used for hydroelectric power generation, water transportation and water supply, and contributed greatly to the modernization of Kyoto City. The water channel, tunnel and pump room made of red bricks still retain the image of those days.
The famous Suirokaku in Nanzen-ji Temple, Keage Incline and Tetsugaku-no-Michi were also built with Lake Biwa Canal, and now they are familiar with the scenery of Kyoto and famous tourist spots.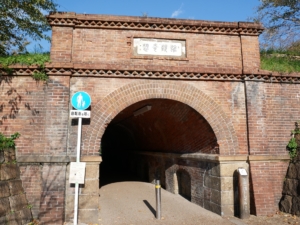 During the cherry blossom season, the Tetsugaku-no-Michi and the Lake Biwa Canal along the river become a tunnel of cherry blossoms, and when they are in full bloom, the scenery becomes wonderful.
In 2018, Lake Biwa Canal Vessel was revived as a sightseeing boat for the first time in 67 years. The cruise takes about an hour on an 8 km course from Otsu City in Shiga Prefecture to Keage via Yamashina. It has a guide, so you can learn about the development process and the value at that time. Water will fall from above in the tunnel on the way. The ship has a roof, but it gets wet, so you should wear appropriate clothes.
Imformation
Visit: Available for 24 hours
Tadasu-no-Mori Forest (Shimogamo-jinja Shrine) ~Forest inheriting nature of Jomon Period~
Tadasu-no-Mori Forest is an ancient forest along the approach to Shimogamo-jinja Shrine, and is a healing spot full of negative ions.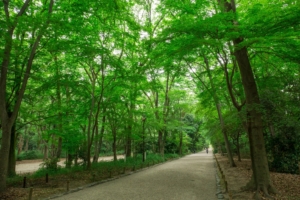 It's an academically valuable forest that retains its original form from the Jomon Period(Approximately 15,000 years ago to 2,300 years ago).
This approach to the shrine is surrounded by many trees, and when you walk in the shade of the trees, you feel as if your body is being purified naturally.
It's usually a quiet place, but it's crowded with handmade markets and events held several times a year.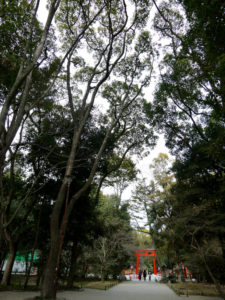 To the south of Tadasu-no-Mori lies the Kawai-jinja Shrine an auxiliary shrine of Shimogamo-jinja. This is a power spot that is very popular among women as a place to pray for beauty. (Because Kawai means cute.)
The famous one is Kagami-ema in the shape of a hand mirror with a face drawn on it. It's said that you can make your wish come true by putting makeup on Kagami-ema, which looks like your face in a mirror.
Imformation
Visit: Available for 24 hours
You can walk from Demachiyanagi Station of Keihan Main Line.↓
Nara-no-Ogawa Riv. (Kamigamo-jinja Shrine) ~Calm babbling~
Kamigamo-jinja Shrine is famous as a World Heritage Site along with Shimogamo-jinja Shrine, but here we will pay attention to the stream running through the grounds.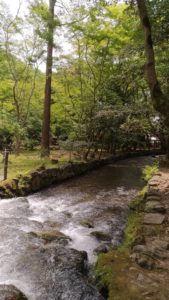 There're 2 streams running into the precincts, Mitarai River and Omonoi River but the name will be changed to Nara-no-Ogawa River at the downstream side of the precincts.
It's a rare sight that two rivers flow around the main shrine building.
The creek blends in with the surrounding shrine buildings without any discomfort, and sitting on a stone in the shade of a tree along the river and listening to the murmur makes me feel calm.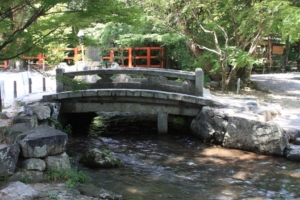 On the 4th Sunday of every month, Kamigamo-tezukuri-ichi (Handmade markets) is held along the Nara-no-Ogawa River and is crowded with up to 280 booths. It is crowded on the day of handmade market, so if you want to enjoy nature quietly, you should avoid that day.
Imformation
Hours: 5:30~17:00
Admission: Free
Take-no-Michi (Muko City) ~Bamboo Grove Path walking course~
The Bamboo Grove Path in Arashiyama is famous, but there is also a large bamboo grove called Take-no-Michi in Muko City.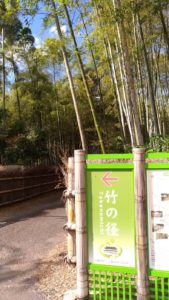 Muko City, which is located in the southwest direction of Kyoto City and has a small area and population, is also called The birthplace of the Kaguya-hime legend (The tale of the Princess Kaguya) because it has many bamboo forests. There're usually small bamboo groves in the backyards of elementary schools and residential areas.
The bamboo grove is about 1.8 km long, and unlike the bamboo grove in Arashiyama, it has a quiet and calm atmosphere. There're no tourists, and they hardly pass each other even on holidays.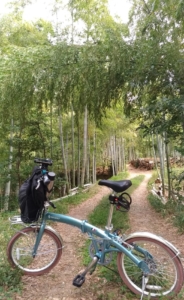 The bamboo fences on both sides have various names, and it's fun to walk while observing their characteristics. You can ride a bicycle, but there are many curves, so please slow down and be careful of pedestrians.
If you go by car, the parking lot of Rakusaichikurin Park is close and convenient.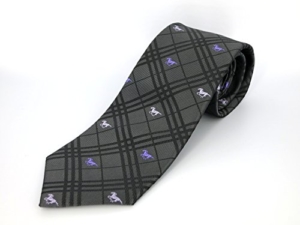 A variety of Nishijin-ori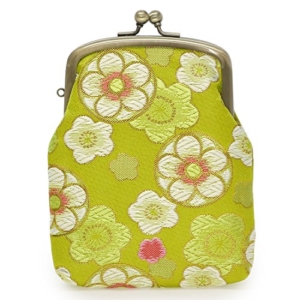 Japanese cute gamaguchi

Imformation
Visit: Available for 24 hours
---