Unique Places in Kyoto – Shrines and Temples
There're many unique shrines and temples in Kyoto.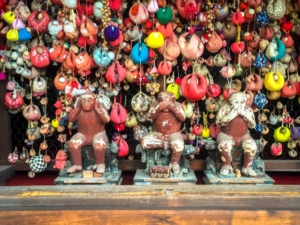 Even if you are not interested in the divine favor itself, it will be a fun little souvenir story when you visit. Of course, many people come to worship from far away for that purpose.
Most of the precincts are small, so you can stop by when you go nearby.
Seimei-jinja Shrine ~The Most famous power spot in Kyoto~
Seimei-jinja is a shrine dedicated to the Heian Period renowned Onmyoji (Fortune-teller) Abe-no-Seimei, and is popular for its blessings on warding off evil, healing, family well-being, and car purification. ✡️
You can drink the spring water of Seimei-no-ido (Water well) in the temple grounds, and it's said that it is good for recovery from illness.
Seimei-no-ido
In addition, the Yakuyokemomo (Peach shape) in front of the main shrine is stroked by visitors to ward off evil, so the surface is shiny.
It's a peach to ward off evil.↓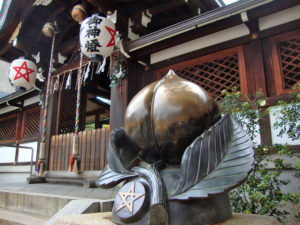 It's a small shrine in the city, but it is a power spot that We want to visit once when we go to Kyoto.
Imformation
Hours: 9:00~18:00
Admission: Free
Horin-ji Temple ~Sacred place of Daruma fans~
Horin-ji is a Rinzai sect Myoshin-ji School temple located in Kamigyo Ward and is affectionately known as Daruma-dera.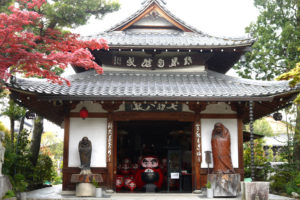 Within the Daruma-do Hall are many daruma dolls of different shapes, colors, sizes, and expressions, and you will be overwhelmed by the number and power of these. There're about 8,000 different Daruma dolls from all over the country in the precincts.
You can receive a goshuin (temples' or shrines' scarlet seals) with a picture of a daruma doll. Many charms and souvenirs have Daruma as a motif, so I might buy many of them.
Imformation
Hours: 9:00~16:00
Admission: 300 yen for high school students and above, 200 yen for junior high school students, 100 yen for children
It's near Nijo-jo Castle.↓
Shiramine-jingu Shrine ~Guardian god of sports~
At first glance, Shiramine-jingu looks like an ordinary shrine, but it is famous as the god of improvement in sports and martial arts, and many visitors come to see the way.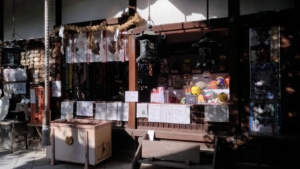 Kemari (Football) courts are reproduced in the precincts, and balls of famous athletes are dedicated. Some balls were dedicated by Yoichi Takahashi, the author of Captain Tsubasa.
It is said that all sports and martial arts, especially ball games, have good luck.
Did Zico, the god of soccer, also visit this shrine?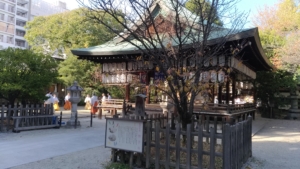 I was lucky enough to see him playing kemari in the precincts. ↑ (Left back of the photo)
Imformation
Hours: 8:00~17:00
Admission: Free
It's in the city near Seimei-jinja Shrine ↓
Mikane-jinja Shrine ~Power Spot for Golden Fortune~
At shrines and temples, praying to be rich can be somewhat reprehensible, but at Mikane-jinja, you can do so with confidence.
It's a very small shrine specialized in money, but it's said to be the best power spot for money in Kyoto.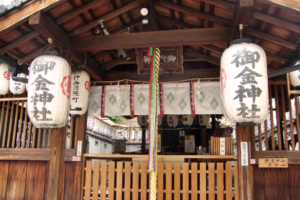 There's a large ginkgo tree in the precincts, which turns golden in autumn. If you take the fallen leaves of the ginkgo tree home and put them in the fortune wallet sold in the precincts, your fortune will improve.
In the season when there are no fallen leaves of ginkgo, you can wash coins in the purification fountain of the shrine and put them in the fortune wallet.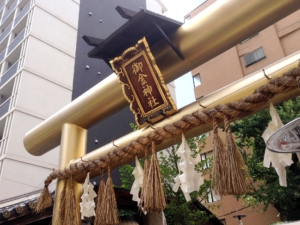 If there's a lottery stand in this precincts, visitors from all over the country will rush.
The golden Torii Gate is rare and worth a look.
Imformation
Hours: 24 hours
Admission: Free
Yasui-Konpiragu Shrine ~God of ending bad relationships~
Yasui-Konpiragu is a shrine where bad relationships are ended and good relationships are made (Enkiri-Enmusubi).
The Enkiri-Enmusubi Monument on which a lot of bills called katashiro (tag of paper) are put is impressive.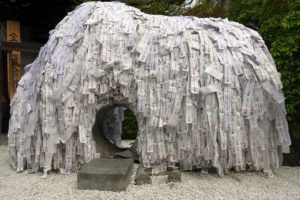 The general way of praying is to write a wish on this katashiro and cut off the bad match by going through the hole from the front side of the monument while holding katashiro, and then go through the back side to make a good match. And finally, we put katashiro on the monument and pray.
It's said to be the best place in Kyoto to pray for bad match and is often visited by people who want to stop human relations, illness, and gambling.
The prayer written on the katashiro is quite vivid, and it makes me think again that human relations can't be carried out only by beauty.
Imformation
Hours: 9:00~17:30
Admission: Free
Kongo-ji Temple ~God, Buddha, and Monkey~
Kongo-ji is a Tendai sect temple in Higashiyama, and is worshipped as Japan's first Koshin pilgrimage site. The common name is Yasaka-Koshin-do Hall.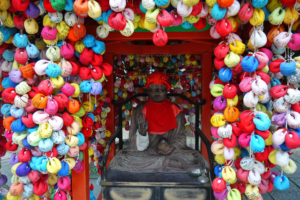 Koshin is a belief that came from China, and is a complex belief in which Buddhism, Shinto, Shugendo (Japanese mountain asceticism-shamanism incorporating Shinto and Buddhist concepts), magical medicine, and various beliefs and customs of the Japanese people are intertwined.
Colorful kukurizaru (amuket of monkey) are offered everywhere in the precincts, and they are popular among women because they look great.
The secret to making your wish come true is to endure one desire that prevents you from making an effort to make your wish come true.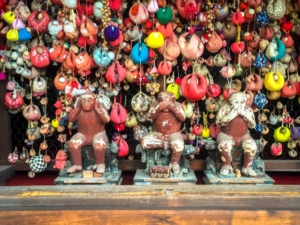 🙉 🙈 🙊
In the main hall, there're statues of the three monkeys, the viewing monkey, the hearing monkey and the speaking monkey.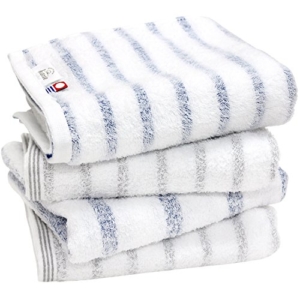 Imabari Towel Most Popular in Japan

Imformation
Hours: 9:00~17:00
Admission: Free
Geino-jinja Shrine ~Artist Power Spot~
The Geino-jinja, a sub-shrine of Kurumazaki-jinja, is famous as a prayer hall for enhancing the fortunes of performing arts and artistic activities.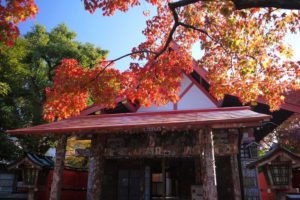 More than 2,000 vermilion-lacquered Tamagaki Fences are dedicated in the precincts, and you can see many celebrities and artists felling out over the fence.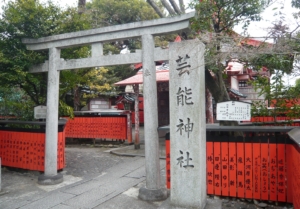 If you can find a Tamagaki Fence with your favorite person's name on it, you will surely be more lucky.
Imformation
Hours: 8:30~17:30
Admission: Free
Otagi-Nenbutsu-ji Temple ~1,200 statues of Rakan~
Otagi-Nenbutsu-ji is a Tendai sect temple in Sagano, Ukyo Ward. It's also called the Temple of the 1,200 Arhats.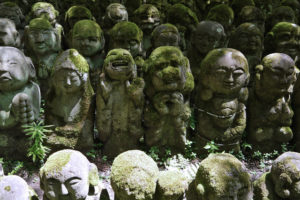 There're about 1,200 stone statues of Rakan carved by visitors in the precincts.
Rakan is a person who is qualified to attain enlightenment through Buddhist ascetic practices and receive the respect and memorial services of people, and is the highest rank that an ascetic can reach.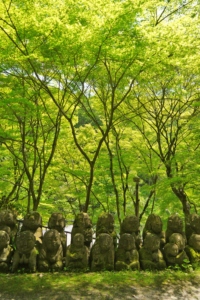 The Rakan statues with various expressions are lined up. There're statues of Moai and Rakan like President Trump. They are very unique.
It is located in the back of Sagano, so there're few people and it is quiet.
Japanese organic skincare

Imformation
Hours: 8:00~17:00
Admission: 300 yen for high school students and above, free for elementary and junior high school students
Denden-gu Shrine ~IT related power spot~
Denden-gu is a rare electrical and radio shrine on the way to the Horin-ji in Arashiyama.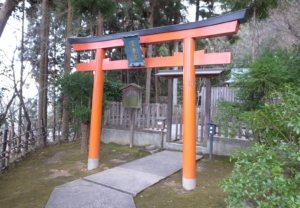 Although it's a small temple precinct, it's worshiped as a guardian deity of related businesses such as electricity, electronics and communications, and many visitors visit it.
There's a stone pagoda dedicated to Edison and Hertz on the right side of the entrance.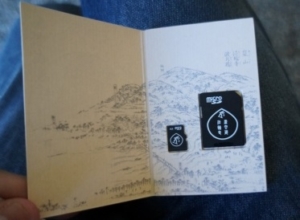 SD card charms are sold. It has a capacity of 8GB and can be used normally. The SD card contains the image data of Kokuzo-Bosatsu, so please don't delete it by mistake.
Imformation
Hours: 9:00~17:00
Admission: Free
You can find it easily if you go to Horin-ji Temple.↓
Tanden-an Temple ~Temple where graffiti is not scolded~
Tanden-an is famous as a temple where you can pray for graffiti and is also called Rakugaki (Grafiti) Temple.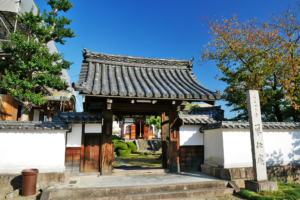 Although it is called graffiti, you cannot write anywhere, and you can write your wish on the white inner wall of the Daikoku-do Holl. It's said that the wall of Mido hall is a substitute for Ema (votive picture).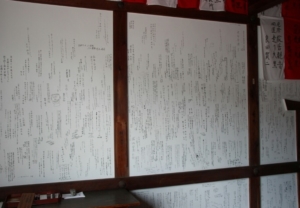 I heard that the wall is replaced every year on New Year's Eve. It'll be a good year if you can make your first visit to the white wall on New Year's Day.
There's a paper with instructions on it, so please read it first and then pray for graffiti.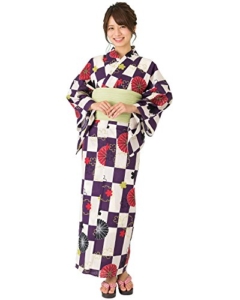 Women's Japanese Yukatas

Imformation
Hours: 9:00~15:00
Admission: 100 yen, Prayer fee: 300 yen
---