5 Kobe Beef Restaurants at Reasonable Price – Umeda, Osaka 🥩
Kobe beef is selected from Tajima beef, which is said to be the origin of most brand Japanese beef, and meets certain quality standards.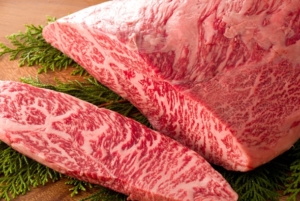 I recommend eating Kobe beef around JR Sannomiya Station in Kobe City for a reasonable price. From Osaka Station, it takes about 40 minutes by train.
If you can't take the train for 40 minutes with an empty stomach, there is a restaurant in Osaka where you can eat Kobe beef at a reasonable price.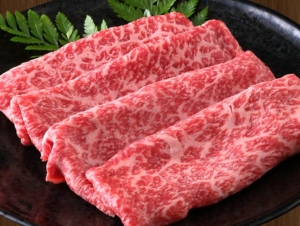 This time, I'll introduce restaurants and menus where you can eat Kobe beef such as teppanyaki, shabu-shabu, Sukiyaki and yakiniku at reasonable prices around JR Osaka Station and Hankyu Umeda Station.
The Most Expensive Bento – KOBE BIFUTEKITEI DELI
Teppanyaki RIO
This restaurant is a 3 minute walk from JR Osaka Station and has a chic and relaxed interior with iron plate counter seats.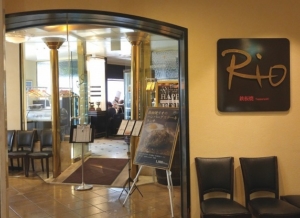 You can enjoy Japanese beef such as Kobe beef and seafood teppanyaki here. High quality Japanese black beef such as Kobe beef and Yamagata beef, seafood and vegetables are carefully grilled to keep the original goodness of the ingredients inside.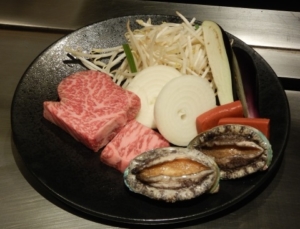 I recommend the teppan lunch of beef fillet and seafood (3,350 yen). Lunch includes 120 g filet, seafood with rice, salad, soup, dessert and coffee or tea for a very reasonable price.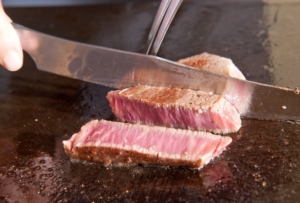 You can also enjoy a performance of grilling your Kobe beef in front of you.
Teppanyaki Rio is a popular restaurant, so I recommend you to make a reservation.
Information
Hours: Lunch 11:30~15:00 (L.O.14:00), Dinner 17:30~22:00 on weekdays, 17:00~22:00 on weekends and holidays (L.O.21:00)
Open all year round
Steak House WA-GOU (Teppanyaki)
At this restaurant, you can enjoy teppanyaki made with Japanese black beef and Kobe beef. There are a lot of alcohol that goes well with beef dishes.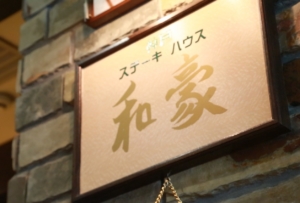 The entrance has a retro atmosphere that combines Japanese and Western styles, and the interior is unified in brown, giving you a space where you can feel the warmth of wood. Time passes slowly.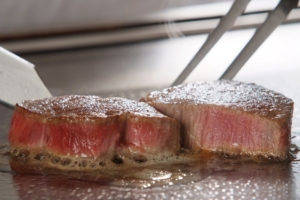 Let's enjoy the chef's performance baked in front of you. The roasting sound and fragrance stimulate your appetite. You can also enjoy waiting for the beef to be served.
I recommend the sirloin steak lunch (3,990 yen ~). The sirloin steak of Kobe beef cooked in front of you is truly superb. You can feel the juiciness of the meat, and it is a luxurious taste that the meat melts in your mouth while it is elastic.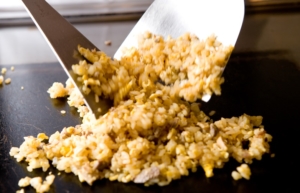 The hidden and popular Garlic fried rice (1,100 yen) is a superb fried rice that uses beef tallow as a hidden flavor so you can feel the flavor of the meat. Eggs are used to make it fluffy.
This restaurant is also popular, so let's go early or make a reservation.
Information
Hours: Lunch 11:30~14:00 on weekdays and Saturdays, Dinner 18:00~23:00 on weekdays and Saturdays, 18:00~22:00 on holidays
Closed: Sundays
TAJIMAYA Lucua 1100 (Dry aged beef)

【Closed】
It is located on the 10 floor of the commercial facility LUCUA 1100, and the interior made of bricks creates a luxurious time for adults. It is a teppanyaki restaurant where you can enjoy wine with steak.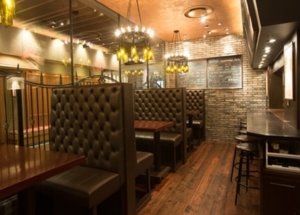 Since its establishment, this restaurant has been specialized in handling Japanese black beef, and is truly a professional meat restaurant.
The beef is aged for more than 45 days under strict temperature and humidity control. The restaurant buys a whole cow, so you can also enjoy rare beef.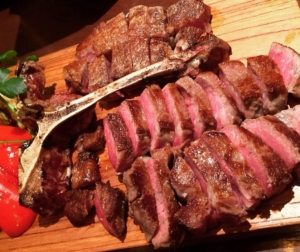 The recommended menu is Long-Term Aged Black Japanese Beef Sirloin Steak (4,200 yen). Uses only the highest quality parts of aged meat.
The meat cooked exquisitely on the iron plate spreads the original sweetness and flavor of the meat as soon as you put it in your mouth. The dishes goes very well with wine.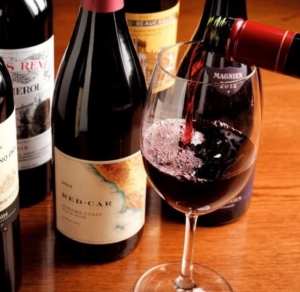 The teppan style of grilling in front of you gives you a sense of realism, and you will be able to directly feel the restaurant's commitment.
Information
Hours: Lunch 11:00~17:00, Dinner 17:00~23:00 (L.O.22: 00)
Open all year round
Kobe Beef ISHIDA Herbis Plaza (Sukiyaki and Shabu-shabu)
It is the first Kobe beef sukiyaki and shabu-shabu restaurant in Osaka. You can enjoy your meal in a private room with a high quality Japanese interior.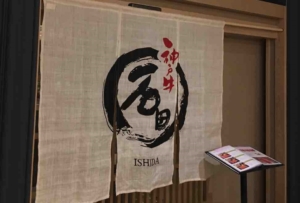 For Shabu-shabu, you dip meat in hot water for a few seconds and eat it with ponzu or sesame sauce. It is recommended to take it out from the hot water when the color of meat starts to change a little. It melts with the exquisite taste and sweetness of the moment you put it in your mouth.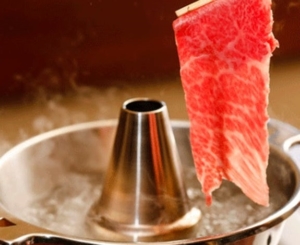 Sukiyaki is a typical Japanese hot pot with beef. The taste of Kobe beef stands out in the firm seasoning. You will get addicted if you eat it with a mild egg.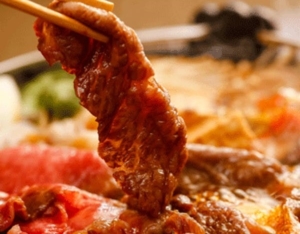 I recommend the course meal with all-you-can-drink alcohol for 2 hours. There are various kinds of alcohol such as draft beer, chuhai, cocktails and wine.
At lunchtime, I recommend Sukiyaki-jyu, broiled fatty beef and steak lunch.
Information
Hours: Lunch 11:00~15:00 (L.O.14:30), Dinner 17:00~23:00 (L.O.22:30)
Open all year round
Kobe Yakiniku ABURI-BOKUJO honten (Main store)
It is a yakiniku restaurant where you can eat high-quality Kobe beef and Kuroge Wagyu at a reasonable price.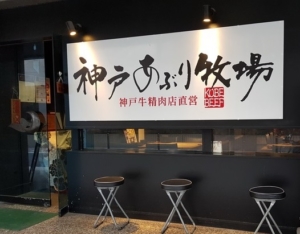 This is because restaurants don't buy meat for steak, but bulk buy meat parts that are good for yakiniku.
The popular menu is Aburi-bokujo Set (4,980 yen). It's a gorgeous arrangement.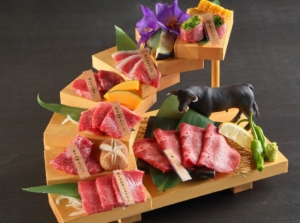 The set includes salted tongue, 1 kind of Kobe beef specially selected part, 2 kinds of Kobe beef, 2 kinds of Kuroge Wagyu beef, sparerib wrapped in green onion, and 4 kinds of grilled vegetables. This menu changes daily, and the meat parts change daily.
Recently, meat sushi which is popular in other restaurants is also served in this restaurant. You can enjoy the performance because they grill the meat right in front of you after it is delivered.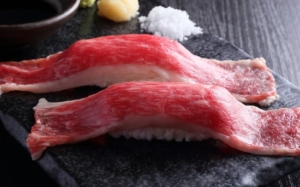 Aburi-niku Sushi (1 piece 280 yen)
The meat and vinegared rice match surprisingly well and are very delicious. And there is plenty of gravy. The soft meat melts in your mouth.
Kobe Beef Lunch Course (2,750 to 4,400 yen) is recommended for litchi time. If you order lunch, you can have rice, soup, cabbage and oolong tea all for free.
Besides the main store, there are also Hankyu Higashidori store and Kita Umeda store.
I really recommend this restaurant for people who want to eat a lot.
Information
Hours: Lunch 11:00~14:00, Dinner 17:00~23:30
Open all year round
Kobe beef is the title only allowed for the highest-grade beef in Tajima beef. The meat is characterized by fine, soft and beautiful marbling.
It's so soft that it dissolves quickly at room temperature, and once you eat it, you'll get hooked on it.
If you suddenly want to eat Kobe beef while you are staying in Osaka, please refer to the restaurant I introduced!
The Most Minor Information Site about Japan


#reasonable  #kobebeef  #wagyu  #teppanyaki  #sukiyaki  #shabushabu  #yakiniku
5 Kobe Beef Restaurants at Reasonable Price – Namba, Osaka 🥩
5 Kobe Beef Restaurants at Reasonable Price – Namba, Osaka 🥩
---