Best Fugu (Pufferfish) Restaurants in Namba, Osaka 🐡
There may be many people who have seen a big fugu lantern swimming in Shinsekai, Osaka. There're many fugu restaurants in Osaka that consume 60% of the fugu catch.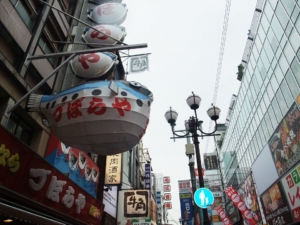 But from a foreigner's point of view, Japanese who eat poisonous fugu seem crazy.
The liver and ovaries of fugu contain a deadly poison called tetrodotoxin, which used to kill some people. However, as research on fugu poisons has developed, only fugu that have been carefully selected according to the standard values for hygiene specified by the government are distributed for sale.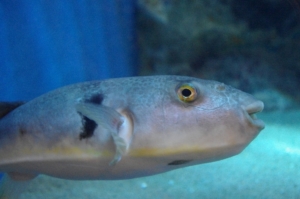 In addition, only cooks who are licensed to cook fugu are allowed to eat fugu at the restaurant, so you can eat fugu at ease.
Fugu is so delicious that the more we chew it, the sweeter it tastes. There's no substitute for its appeal. The strong desire to eat fugu confronts the poison, and has led to the establishment of a culture of eating fugu with peace of mind.
Everyone wants to avoid being poisoned by fugu. Cooks who are qualified to cook fugu pay close attention every day to prevent accidents. It can be said that current Japanese fugu cuisine is the safest in the world.
The Secret of the Deliciousness of Fugu
Fish meat is mainly divided into red meat fish and white meat fish, but fugu is a typical white meat fish.
It has more protein and less fat than normal white fish. In addition to being low in calories, the skin contains a lot of collagen, making it a good fish for beauty and health.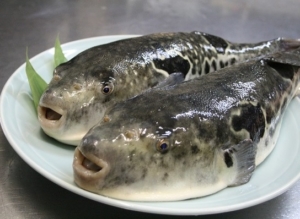 Fugu has a lot of fiber, so it's elastic and very chewy. Therefore, fugu sashimi is very thinly sliced compared to normal sashimi.
Fugu meat that contains a lot of umami ingredient has sweetness.
Chew well and savor the aftertaste!
1. Fugu Sashimi (Tessa)
The standard dish of fugu dishes is sashimi called Tessa. This dish is recommended for people who want to enjoy the original sweetness and chewy texture of fugu.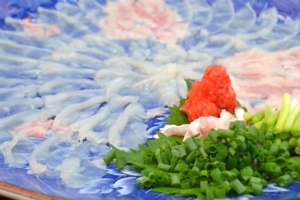 The fugu sashimi is sliced so thinly that it looks translucent, and the way of eating it's connoisseur is to scoop several slices of sashimi with chopsticks and eat them with condiments and soy sauce.
2. Fried Pufferfish (Fugu-no-Karaage
)
Fried pufferfish, which is deep-fried peeled fillets, is the best dish to go with alcohol. The crispy coating and the fluffy meat are irresistible. We can eat it casually with lemon juice or salt.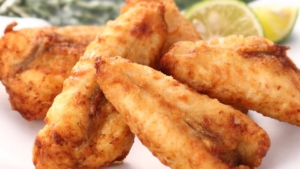 3. Grilled Pufferfish (Yaki-Fugu)
For grilled pufferfish, plump white meat and milt are grilled over charcoal. We can enjoy different tastes depending on the restaurant, such as lightly sprinkling salt to eat, or grilling with rich sauce.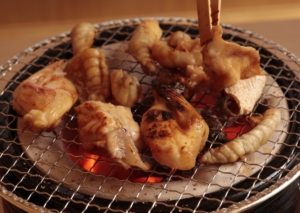 It will stimulate our appetite if we smell the fragrant smell as fugu is baked.
4. Pufferfish Hot pot (Tecchiri)
In Kansai, Fugu hot pot is called Tecchiri. It's a dish in which fugu white meat, bones, vegetables and mushrooms are boiled in an earthenware pot.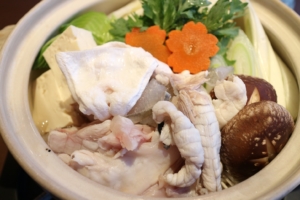 The hot broth made from kelp wraps up the flavor of the ingredients gently. It will be delicious if we add condiments or ponzu if we like.
There're many kinds of fugu dishes, and only people who eat fugu know how delicious they are.
I'd like to recommend some fugu restaurants in Namba, Osaka.
Gozafuku
Gozafuku has a calm atmosphere that doesn't make we feel the hustle and bustle of downtown.
All rooms are private and we can see the view of Dotonbori river from the room. It's popular for banquets and couples.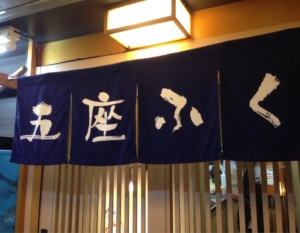 The most popular course meal is the full course including Tessa, Fugu-no-Karaage, Tecchiri, Zosui (Rice porridge) and dessert for 5200 yen. We can eat Fugu dishes at a reasonable price.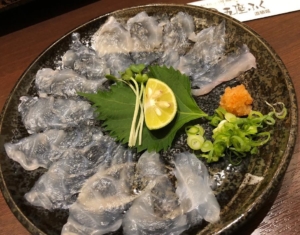 Gozafuku also has crab dishes and is recommended for winter when crabs are in season.
Information
Hours: 16:00~0:00, Weekends and National holidays 12:00~0:00
Open all year round
Dotombori Jihei
Jihei is a restaurant where you can relax and enjoy delicious fugu dishes at Hori-kotatsu seats, which are nice for foreigners.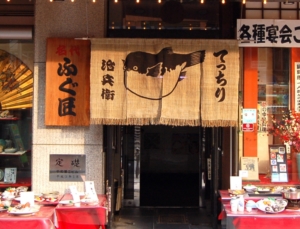 They provide us with Tessa and Tecchiri that are cooked with domestic tiger puffer throughout the year.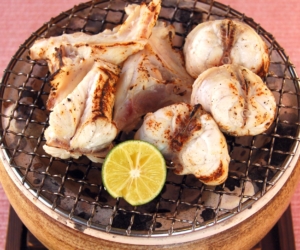 The course that comes with 7 dishes such as Tessa, Tecchiri, Fugu-no-Karaage and dessert is 5500 yen.
If you get a coupon on the Tabelog website and make a reservation, you can get up to half the price of fugu dishes.
Information
Hours: 11:30~23:00 (L.O.22:30)
Open all year round
Fugutenjin
This is one of the Namba shop of Fugutenjin which has 3 restaurants in Osaka city.
They cook live tiger puffer after they receive an order.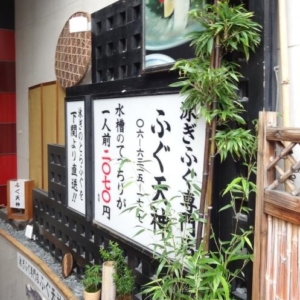 The milt in winter and the Yaki-fugu baked in a charcoal brazier in summer are highly recommended. The homemade ponzu sauce is addictive once you eat it and is a superb dish that accentuates the flavor of the fugu.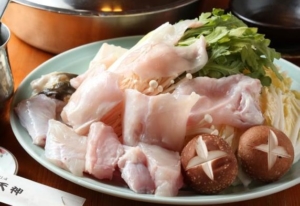 If you get a coupon on the Tabelog website and make a reservation, you can get a free Hirezake.
Information
Hours: 16:00~0:00
Closed: Mondays
We can eat various parts of fugu such as whitefish, skin, fillet and milt in a wide range of cooking methods such as sashimi, karaage and hot pot dishes.
Please enjoy the charms of traditional Japanese fugu at these reliable restaurants!
---