5 Kobe Beef Yakiniku at Reasonable Price, Around Sannomiya
Along with Matsuzaka beef and Omi beef, Kobe beef is known as one of Japan's top 3 beef brands.
There're many Yakiniku restaurants in Kobe City, but some of them are not Kobe beef but cheap domestic beef.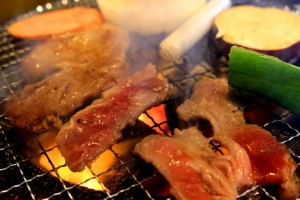 Since you came all the way to Kobe, you want to eat Kobe beef.
This time, I'll introduce 5 restaurants which serve delicious Kobe beef at a reasonable price.
5 Kobe Beef Restaurants at Reasonable Price in Sannomiya 🐂
Mangetsu
It's a little far from JR Motomachi Station by 10 minutes on foot, but the restaurant is wooden and has an elegant red lantern light.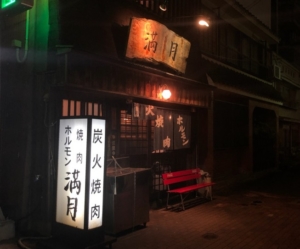 The thick-sliced meat baked in Shichirin is popular and it's full every day.
We can dip it in sauce, but the ingredients are good, so we can enjoy it with just salt.
The course is from 4,500 yen. We can enjoy a la carte dishes such as Chinese cabbage kimchi at a reasonable price.
All the menus are recommended!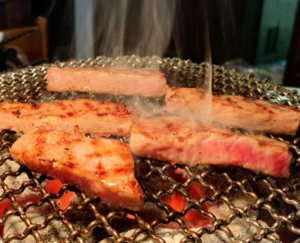 It's a popular restaurant, so please make sure to make a reservation before you go.
Information
Hours: 17:00~23:00 (L.O.22:00)
Closed: Tuesdays
ISHIDAYA
Ishidaya is a 2-minute walk from JR Sannomiya Station. We can enjoy the highest quality Kobe beef as a course meal or a la carte.
This restaurant is directly managed by a meat wholesaler and purchased from a contracted farm, so we can eat fresh meat at ease.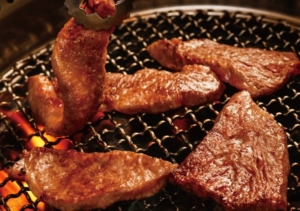 For yakiniku, there's a reasonable course for 5,980 yen which includes cold noodles, bibimbap, dessert and all-you-can-drink.
If you splurge a little, there's also a course of 7,980 yen which Ishidaya carefully selected such as fillet, sirloin, tongue and offal.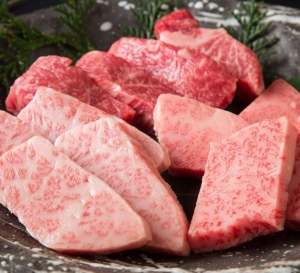 Ishidaya has 4 restaurants in Sannomiya, Honten, Tor Road, Hanare and Hanare-no-ue, so we can choose the one you like.
I recommend you to make an online reservation before you go.
Information
Hours: 17:00~23:30 (L.O.22:30)
Closed: Mondays
Marufuku 【closed】
There's a restaurant called Marufuku in a corner where we walk for about 10 minutes from JR Sannomiya Station.
There're some red lanterns of yakitori restaurants around, which is one of the oldest towns in Kobe.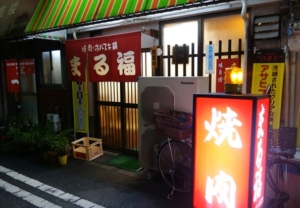 The atmosphere inside the restaurant is reminiscent of the Showa era in Japan. Small table, square gas stove, cluttered counter…
This is a long-established restaurant loved by the locals, and the taste that has been loved for many years is very stable.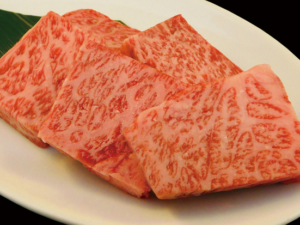 They use Kobe Kuroge Wagyu (Kobe beef), and Kalbi and Salted Tongue are very popular. And the price is reasonable.
It's a price that they can offer because it's a simple restaurant.
Actually, this is one of the restaurant I don't want to introduce. I think it's better to go there when you want to eat with 2~3 friends rather than going there with many people.
Information
Hours: 17:00~23:00
Closed: Tuesdays
UMAKA
This is a yakiniku restaurant near JR Motomachi station, near Motomachi shopping street, Chinatown and Daimaru department store.
This is a restaurant where we can enjoy a variety of meat, and we can enjoy Wagyu beef and Kobe beef carefully selected by the manager.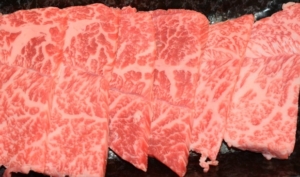 We can also eat pork, chicken and horse meat as well as beef. The original miso sauce goes well with that kind of meat. This miso sauce is addictive.
In addition, the homemade gyoza is also excellent.
I recommend you to make an online reservation before you go.
Information
Hours: 11:00~14:00, 17:00~23:00 (L.O.22:30)
Closed: Mondays
Niku-no-Irie
This restaurant is also popular because we can eat cheap and delicious yakiniku.
We can choose from counter seats, tatami rooms and tables, and we can use the restaurant with a small number of people, families and banquets depending on the occasion.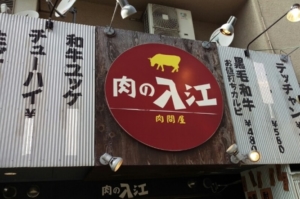 We have a wide variety of menus from standard yakiniku to rare parts. Among them, "Tsubozuke-Harami (880 yen)" is very popular because of its soft texture.
We have more than 50 kinds of drink menu.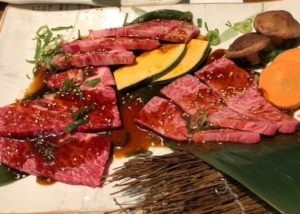 The "Yaki-shabu (780 yen)" which is a dish of lightly grilled thin marbled meat is only available here.
I recommend you to make an online reservation before you go.
Information
Hours: 11:30~14:30 (L.O.14:00), 17:00 ~24:00 (L.O.23:30)
Open all year round
Extra…
Finally, for those who don't have much money, I will introduce Juban where you can eat delicious yakiniku donburi (rice bowl) easily.
Yakiniku-don Jyuban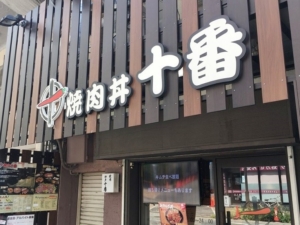 Juban is a famous yakiniku donburi restaurant in Kobe city.
The Kalbi-don made with the secret sauce that has been used since opening is superb.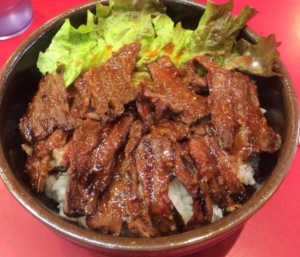 There's also a new restaurant called Kobe-juban on the 2nd floor where you can enjoy yakiniku style. The Kobe Beef Course (3,000 yen) and the all-you-can-eat course are offered at low prices.
Information
Hours: 11:00~24:00 (L.O.23:50)
Open all year round

No Reservations
There're still many reasonable and delicious yakiniku restaurants in Kobe.
When you visit Kobe, why don't you come to look for a new restaurant?
5 Kobe Beef Restaurants at Reasonable Price in Sannomiya 🐂
Do you know Omi Beef? – 3 Major Wagyu 🐂
---