Zen Meditation Experience – 5 Temples in Kyoto
The Zen meditation is recommended when you tend to lose your condition due to the disorder of your private life.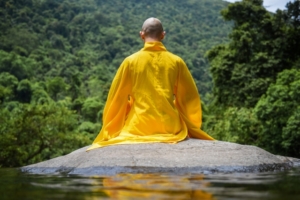 There is no doubt that the Zen meditation experience that you can do at a historic temple in Kyoto will be a priceless time.
By straightening your posture, adjusting your breathing, clearing your mind, and practicing Zen meditation in a quiet environment, your mind naturally calms down.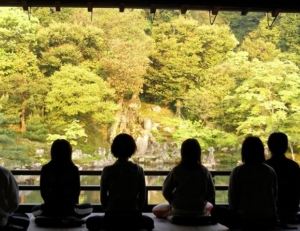 When you get upset, why don't you go somewhere you can relax?
So, I will introduce 5 temples where you can experience Zen meditation experience.
Kennin-ji Temple
Kennin-ji is located in Gion, a must-see area for sightseeing in Kyoto. Located at the end of Hanamikoji-dori Street, it is a tranquil space surrounded by silence after a step.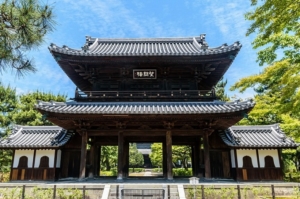 It is known as the oldest Zen temple in Kyoto, and once flourished as a training hall.
It is about a 7 minute walk from Gion-shijo Station of Keihan Railway and about a 10 minute walk from Kawaramachi Station of Hankyu Railway.
The main attraction of Kennin-ji is Fujin-Raijin-zu. You can see the treasures in Japanese history textbooks up close. Replicas are usually displayed, but you can take pictures instead.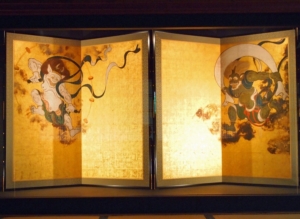 On the ceiling of the Hatto (lecture hall), there is a picture of two dragons, and it stares at you. The brave dragon of the ink painting is so powerful that you can't help trembling.
There are many other beautiful works displayed in Honbou and Hojo, but I especially recommend Karesansui Garden.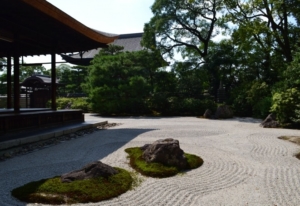 The Hojo's Daioen is a famous garden designated as an Important Cultural Property of Japan, where you can enjoy the elegant scenery with the Hatto in the background.
How about spending a luxurious time lying on tatami while looking at the garden?
The Zen meditation experience at Kennin-ji is held on the second Sunday of every month.
A folding screen of Unryu-zu (Dragon in Clouds) with a straight back is displayed nearby.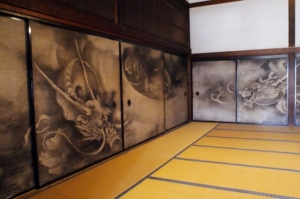 You don't need to make a reservation or pay for the Zen meditation experience. You can also experience copying the sutra at any time.
Information
Tofuku-ji Temple
Tofuku-ji, famous for its autumn leaves in Kyoto, is located on the east side of Kyoto Station, shortly after crossing the Kamo-gawa River. It takes about 10 minutes on foot from JR Tofukuji Station.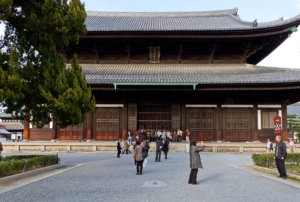 Tofuku-ji is full of attractions. The large grounds make up one of the largest monasteries in Kyoto, and you can relax just by looking around.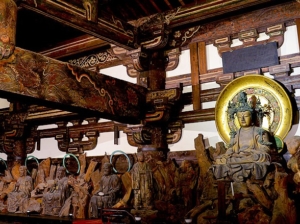 Don't miss "Sanmon Gate" which is a national treasure and "Rokuhara-mon Gate" which is an important cultural property designated by the country.
The garden of the Hojo Tofuku-ji, also a national treasure, is a must-see. Hojo is a place that used to be a priest's residence. There is an additional charge for this tour, but it is a recommended spot.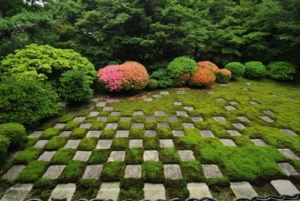 The four gardens with different tastes from north, south, east and west are truly beautiful landscapes of works of art.
The Zen meditation experience at Tofuku-ji is held on Sunday mornings throughout the year.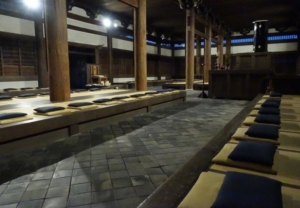 It's held at a Zen hall near the main hall. From 6:30 to 7:30 in the morning.
How about an early morning activity where you can find yourself in the clear air?
Information
Tenryu-ji Temple
The World Heritage Site Tenryu-ji is famous for its breathtaking gardens and is a must see spot if you are visiting Arashiyama.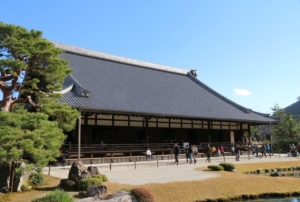 In addition to the large site and many places to see, it is also close to famous spots in Arashiyama such as Togetsu-kyo Bridge and Chikurin no Komichi (bamboo forest path), so it is recommended to go sightseeing together.
It is about a 13 minute walk from Saga-Arashiyama Station on the JR Sagano Line and about a 15 minute walk from Arashiyama Station on the Hankyu Railway.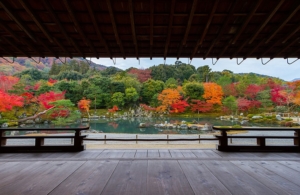 In the Sogen pond garden, the mountain range of Arashiyama rising against the background of the large pond is wonderful. In autumn, you can see colorful fall foliage as if they were painted with various colors.
You need to pay an admission fee separately from the building such as the Hojo, but the view is so beautiful that I can understand its value.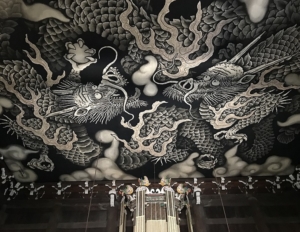 The Unryu-zu on the ceiling of the Hatto looks as if a dragon is glaring at it from the sky.
Zen meditation experience is held at Yuunan on the east side. From 9 o'clock to 10 o'clock on the second Sunday of every month, it's time to calm down and look at yourself.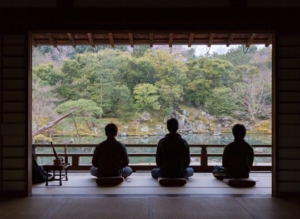 Even beginners can participate without worries. Let's sit and meditate while gazing at the beautiful Yuunan garden that changes with the seasons.
Information
Enko-ji Temple
Enko-ji in Ichijoji in the northern area of Kyoto was founded by Tokugawa Ieyasu.
This is also a famous spot for fall foliage, and the early summer green maple leaves are also worth seeing.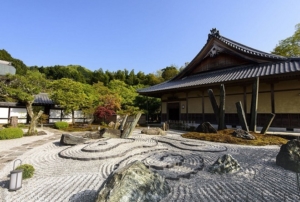 It is a beautiful sightseeing spot where Japanese wabi-sabi are scattered, and the heart is naturally washed.
It takes about 20 minutes on foot from Ichijoji Station on the Eizan Electric Railway.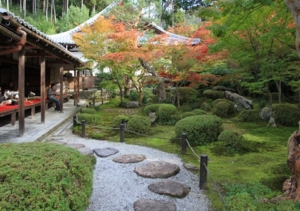 The main attraction of Enko-ji is the Jugo Garden seen from the main hall.
The scenery is like a folding screen painting and attracts many people.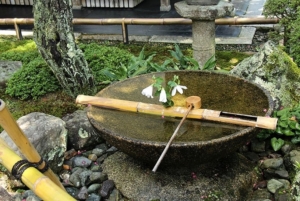 In front of the main hall, there is Suikinkutsu of Japanese garden art. Please enjoy the sound of Keene.
There is a cute Jizo statue smiling and lying in the garden. It's very Japanese.
The Boonryunei garden with beautiful sand patterns is also a must-see.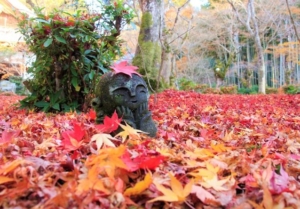 One of the characteristics of Enko-ji is the experience of ascetic practices such as Zen meditation. I mean, Enko-ji was the only training hall for nuns in Japan since the Meiji period.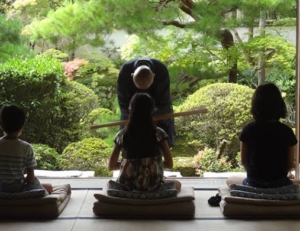 The Zen meditation experience is held at the Baryuku Zenso in front of the garden, next to the main hall. It is held in the early morning of Sunday, so it is easy to use even when traveling alone on weekends.
Please face yourself with the breathing method that you are taught carefully and arrange your mind.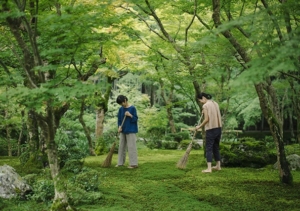 I recommend the cleaning experience of the temple along with the Zen meditation experience. Time to broom, pull weeds, and face yourself through actions.
If you clean in a beautiful garden, your heart will be washed.
Information
Daisen-in sub-temple of Daitoku-ji Temple
Daisen-in is a sub-temple of Daitoku-ji located in Kita Ward, Kyoto City and is known as the largest Zen temple in Japan.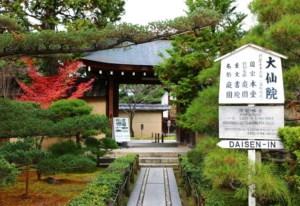 Daitoku-ji was founded in the Kamakura period in 1319, and Daisen-in was founded in 1509.
Daitoku-ji has more than 20 sub-temples. There are many famous gardens, including the Karesansui-style garden of Daisen-in.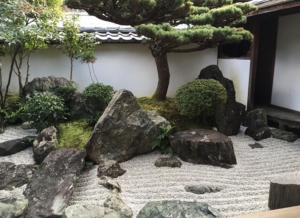 It is also a place that SEN no Rikyu often visited. The Karesansui garden, which expresses a waterfall from Mt. Horai and flowing to the ocean with sand, is designated as a special place of scenic beauty. Photography is prohibited in this beautiful garden, so please burn it in your eyes.
Daisen-in holds the Zen meditation on weekends, Saturday and Sunday evenings. The meditation time while looking at the garden in the main hall of Daisen-in is exceptional.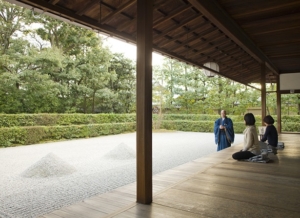 If the timing matches, you can experience Zen meditation in the sunset. Sunset is said to have a healing and calming effect, so it will be a meaningful time to calm your mind by synergistic effect. You can make a reservation by phone.
Information
The experience of Zen meditation while looking at the good old Japanese scenery, which has never changed, takes away the murmur of the mind and makes you feel calm again.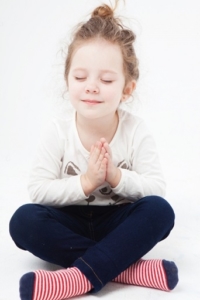 It will teach a beginner how to do it carefully, and it can be used in real life because you can do it with only your body.
Why don't you experience Zen meditation while feeling the gentle wind of Kyoto?
Temple with Afro Hair Buddha – Konkai-Komyoji
---