Temple with Afro Hair Buddha – Konkai-Komyoji
Konkai-Komyoji Temple was built in 1175 and is a historical and prestigious temple. The precinct is very large and has a large Sanmon gate and a three-storied pagoda.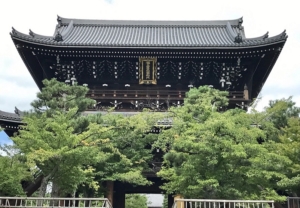 Sanmon gate
It's also known as the birthplace of Shinsen-gumi, who worked hard to maintain public order in Kyoto at the end of the Edo period (1603-1868), but it's a quiet temple with few tourists because it's far from sightseeing spots in Higashiyama.
By the way, do you know that this temple has a rare Afro-hair Buddha statue?
Don't you mind what kind of Buddha statue it is? Let's go and see it right away!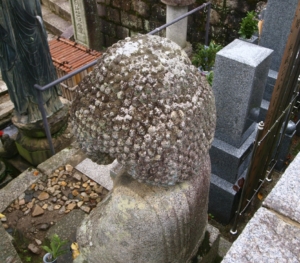 Back image of Buddha statue
The Buddha statue is in the cemetery, a few minutes' walk from the Sanmon gate.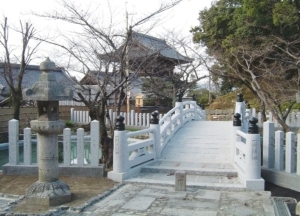 You need to cross the bridge over the pond to go to the cemetery. A three-storied pagoda stands far from the bridge.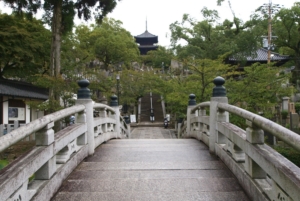 There's a guide board of a Buddha statue at the end of the bridge.
Is it a famous Buddha statue? Expectations are growing.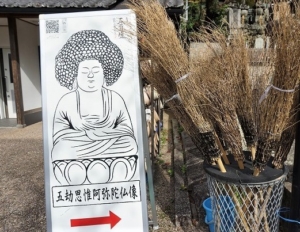 If you look closely, there's a QR code on the upper left of this guide board. When you hold it over the reader of your mobile phone, it jumps to the explanation page of Buddha statue of Konkai-Komyoji Temple.
Temples are getting more and more IT. Unfortunately, the page only in Japanese.
Next, as you climb the stone steps lined with gravestones on both sides, you'll find an Afro-hair Buddha statue. You won't miss its strong presence!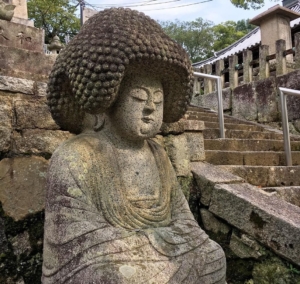 And it's huge!
I was afraid to touch it, so I spread my hand and measured the approximate size, but is the head circumference about 2 meters? The hair style looks like Matsuri, but the face has a mild expression. The gap is irresistible!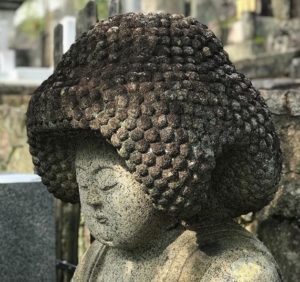 Many Buddha statues have a hairstyle called "Rahotsu" and are considered the symbol of the enlightened Buddha. The usual Buddha statue is only one layer of Rahotsu, but this one is so huge because of the layers.
This Afro-hair has a reason.
It means that the training was so hard and long that he didn't notice the huge amount of hair.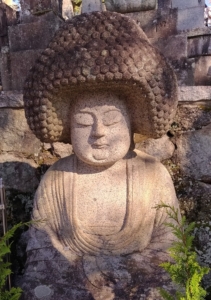 This Buddhist statue is called "Gokoshiyui Amidabutu Statue", and there're only 16 in Japan. Gokoshiyui Amidabutu Statue other than this Konkai-Komyoji also has a fine Afro hair.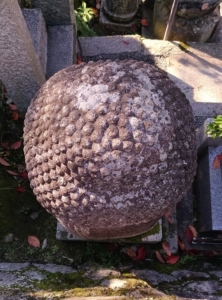 It looks like a stone ball from above.
The one of Todaiji is a hidden Buddhist statue, but the one of Konkai-Komyoji is dedicated by the family of the person who died in the Edo period, so it's easy to see.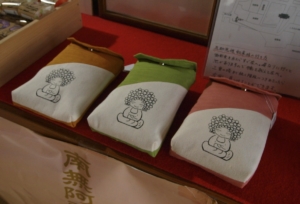 Cute pouches of Afro-hair Buddha statue are sold. There're other different goods of Buddha statue. It's the mascot of this temple.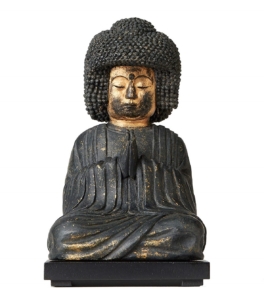 Figure of Gokoshiyui Amidabutu Statue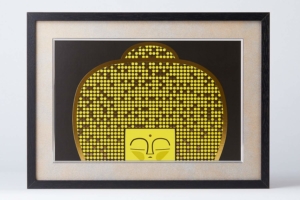 Gold leaf art of Gokoshiyui Amidabutu Statue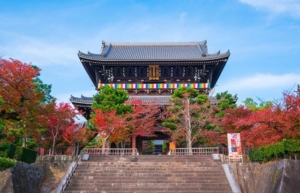 This is a thankful Buddha who thinks for the common people until his head can grow freely. How about visiting it?
The temple itself is also wonderful, so I recommend you to visit it along with Nanzenji, Eikando and Heian-jingu Shrine.
Information of Konkai-Komyoji
Hours: 9:00~16:00
Open all year round
Admission: Free
---