Dinosaur Wonderland in the Cave – Wakayama 🦕
There's an unusual sightseeing spot in Wakayama prefecture that is not well known.
It's a unique facility where you can see dinosaurs while walking through a maze of intricate caves.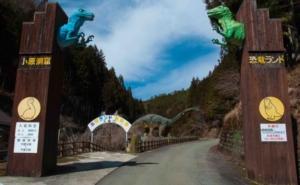 It's a full-scale structure because it uses a tunnel that was used as a mine until 1962. You'll feel like you've slipped back in time to an ancient time in a labyrinthine cave with dinosaurs.
And the surprise is still in the back of the cave…
The 1st Surprise!
The facility is called Kyoryu-Land (Dinosaur Land), and when you enter through the gate, the first thing you see is a giant dinosaur standing in a bush.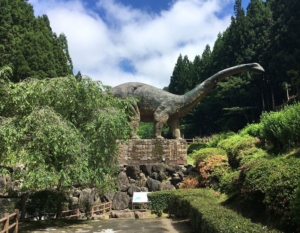 It's the Prontosaurus, the largest dinosaur on Earth, 22 meters long and weighing 30 tons. You may be surprised by the power that suddenly appears from the peaceful scenery.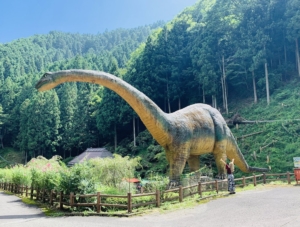 Inside the cave are more than 20 dinosaurs, including Tyrannosaurus and Triceratops. In addition, the atmosphere of wild bats flying around is perfect!
The 2nd Surprise!
You can buy an admission ticket at the kiosk.
Let's start exploring the cave!
The temperature inside the cave is 12~13 degrees Celsius throughout the year, so it's cool in summer and warm in winter. If you come back safely, the expedition will take 40~60 minutes.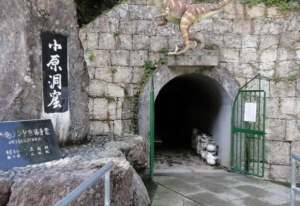 The interior is illuminated with red and green lights, creating a fantastic atmosphere. There's a junction on the way, and it seems that they are really exploring caves.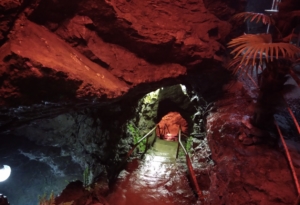 Suddenly, a Tyrannosaurus appeared with a loud cry. The left hand is moving back and forth. And above, Pteranodone is flying. You'll be surprised by both sight and hearing!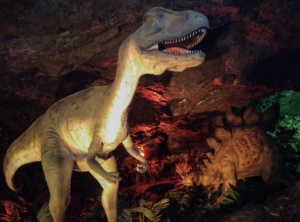 If you go to the back of the cave, there're stones on display for some reason. It's illuminated by a black light.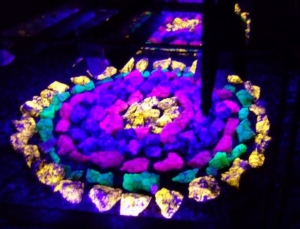 This cave was originally a gold mine. Is it a rare stone mined at that time?
When a black light is applied to a stone, the light color changes according to the component of the stone.
The 3rd Surprise!
After that, when you walk on another way, the Buddhist statue suddenly appears. Why Buddhist statue? You may think, but if you go a little further, you'll see why.
And from here, you enter the world of hell.
In Buddhism, it's believed that people who commit evil deeds in this world are brought to hell after death. You can experience the world of hell here.
But you don't actually suffer like hell just by looking at it, so don't worry.
This is a scene where a human being is taken by an ogre and sent to hell. Their eyes are glowing and eerie!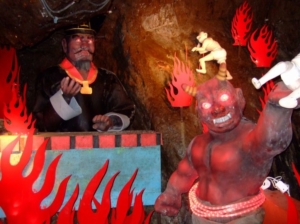 Is this a monster? As you approach, their eyes will suddenly glow red, and you'll be surprised.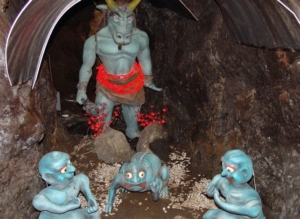 Women who have done wrong are boiling down in the pot. You can hear someone calling for help out of nowhere.
What bad things did they do?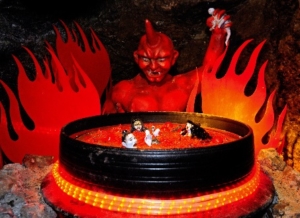 This hell area was built to reaffirm the Buddhist teaching that if people do bad things, they will be taken to Hell with ogre.
How is it? It's only here and Ikuno Ginzan in Hyogo prefecture that use the abandoned mine as a tourist attraction like this.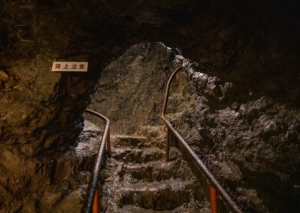 This is a Wonderland full of surprises, discoveries and fun, with cave exploration, dinosaurs, hell and glowing stones at once.
Why don't you experience a different sightseeing than usual?
Information
Hours: 9:00~17:00
Closed: Open every day from March to September, Closed on Thursdays except national holidays from October to February
Admission: 900 yen for high school students and above, 600 yen for children (3 years old to junior high school students)
---