Yuasa Castle Onsen Hotel in Wakayama, Japan 🏯
Yuasa-cho in Wakayama Prefecture has a historic townscape and is known as the birthplace of the Soy sauce which is essential for Japanese people.
There's a 5 story castle inn called Yuasa Castle in this area. It's one of the few accommodations in Japan where we can feel like a princess or a lord. 🏯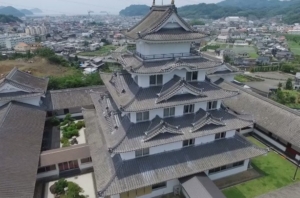 Recently, it has attracted attention from foreigners as a facility where we can enjoy a Japanese-style castle, onsen and accommodation together.
Yuasa Castle is a castle inn standing on a hill overlooking Yuasa Bay. (It is not a real castle.)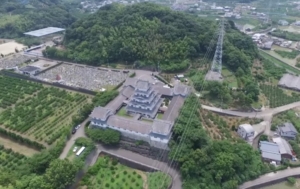 The castle, which looks like a symbol of Yuasa-cho, is surrounded by mandarin orange fields, and it takes only 5 minutes by taxi from JR Yuasa Station. It's a very convenient inn for sightseeing Yuasa and is popular among people of all ages.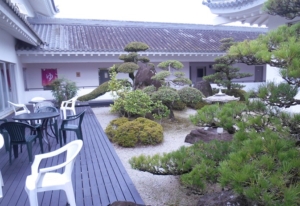 The guest rooms are located on the 1st floor where you can see a beautiful Japanese garden, and on the 2nd and 3rd floors with a good view, and the inn has both Western-style and Japanese-style rooms.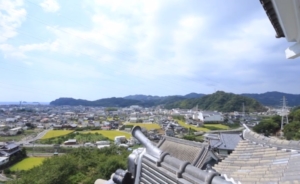 You can see the tiled roof and turret from the window especially from the rooms on the 2nd and 3rd floors, so you can feel like staying at the castle tower.
Anyone can go to the 5th floor of the castle tower and enjoy a 360 degree panoramic view outside. The view of the town of Yuasa, Yuasa Bay and the famous tangerine orchards in Wakayama is the best.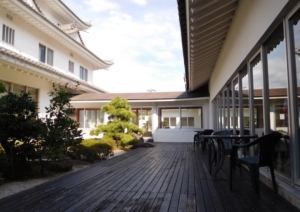 There's a rest area in the courtyard on the 1st floor where you can take a break while looking at the Japanese garden and the castle tower.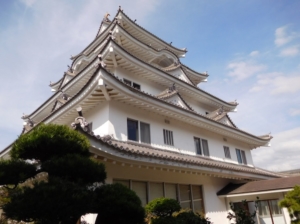 You can look up at the castle tower from the corridor on the way to the large bath on the 1st floor, and you can see the view of Yuasa-cho and Yuasa Bay from the window of the large bath.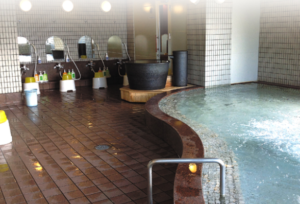 There's a sauna in one of the baths for men and women. The baths are in the morning and at night, and the men's bath and the women's bath are switched, so if you stay one night, you can take both baths.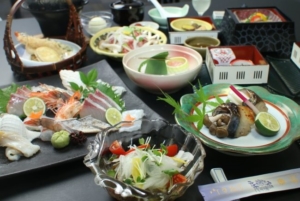 Local vegetables and fresh seafood are used for the dishes. You can enjoy Kaiseki dishes made with Yuasa's original soy sauce and local specialty miso as well as Ise lobster and Kumano beef from the Kii Peninsula.
There're almost no restaurants or convenience stores around Yuasa Castle, so I recommend the plan with meals to the guests.
The shop on the 1st floor has souvenirs from Yuasa-cho, snacks, juices, ice cream and other necessities.
Find out more!

How was it? If you stay at the castle and look out from the castle tower, you'll feel like a lord or a princess!
Information
Solaniwa Onsen – Hot Spring Theme Park in Osaka ♨
---