Sandanbeki Cave – Mystical Experience in Shirahama
Sandanbeki Rock Cliff, a sightseeing spot in Wakayama, stands in the deep blue sea like a folding screen.
The superb view is dynamic. It's said that the cave formed by the erosion of the waves under it was a place where the navy used to hide its ships.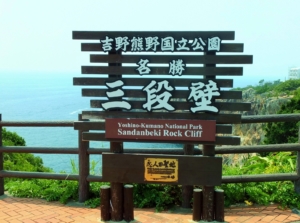 Along with the superb view of the Pacific Ocean, let's take you to the exploration of history and Roman caves.
View of the Pacific Ocean
Sandanbeki has a 50 meter high pier which continues 2 kilometers from north to south.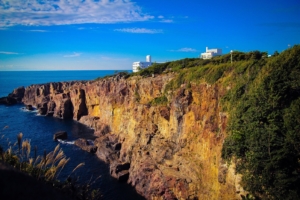 It was once used by fishermen to find boat movements and school of fish, and now has an observation deck with a magnificent view of the Pacific Ocean. Just below this observation deck, Sandanbeki Cave opens its mouth.
And you can explore the cave.
To the cave by high-speed elevator
To get to Sandanbeki Cave, take a high-speed elevator from inside the building where the reception desk is located and go down to 36 meters below the sea surface.
The corridor in the Sandanbeki Cave is about 200 meters long, but it's well maintained and easy to walk in, so you don't have to worry about your clothes or shoes.
The atmosphere inside the cave is dark and mysterious like this, and cool air flows.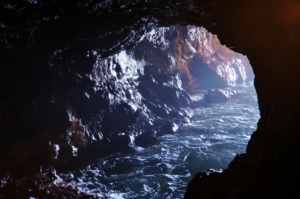 The place facing the sea in the cave is a powerful view with the sound of the roaring waves entering the cave and the rugged rock surface.
There's a legend that this cave was used by the Kumano navy to hide the ship, and the guard house is a reproduction of the hut that was used by the Kumano navy as a resting and waiting area during the battle, where armor, spears and other weapons are placed.
You can enjoy the wonders of nature with the dynamic images of the waves that surged from the Kumano-nada Sea on the eroded rock surface.
Sometimes the breaking sound of the waves echoes suspiciously through the cave.
There's also a tide blowing rock, and depending on the size of the wave, it blows up to a height of several meters.
It's like a whale blows the tide.
The cliff is thrilling!
Let's walk on the cliff after taking a walk in the cave. There's no fence here. Let's enjoy the thrill of standing on a precipitous cliff.
You can also see the Sandanbeki Cave making holes.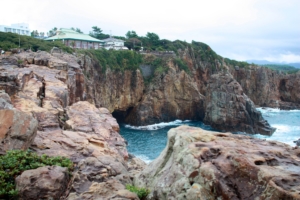 There's a free foot bath near here so you can enjoy the view of the ocean while soaking in.
The Sandanbeki which is the center of the Nanki-Shirahama sightseeing is naturally moved by the scenery, but you can feel the power of nature, mystery, and historical romance.
You may be drawn to the beauty of the sea, but this is a famous place for suicide, so please be careful.
Information
Hours: 8:00~17:00
Open all year round (Temporary closed in December)
Admission: 1,300 yen for junior high school students and above, 650 yen for elementary school students, Free for children
---