Kobe Otter Cafe – Kitanozaka Kawauso Cafe 🦦
Kobe City's Kitanozaka Kawauso Cafe where you can spend a relaxing time while interacting with otters has become a hot topic on SNS.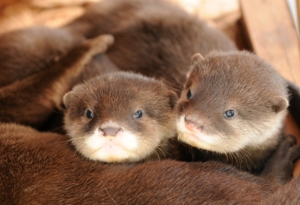 Not only otters but also ferrets, flying squirrels, hedgehogs, small birds and many other small animals welcome you.
And this shop adopts a system which is a little different from a normal animal cafe.
I will introduce a shop for people who like small animals.
Location
The Kitanozaka Kawauso Cafe is located in one corner of a multi-tenant building in Kitanozaka, less than a 10 minute walk from JR Sannomiya Station.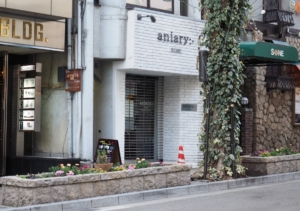 The entrance is small, so if you don't walk carefully, you might accidentally pass by, so be careful!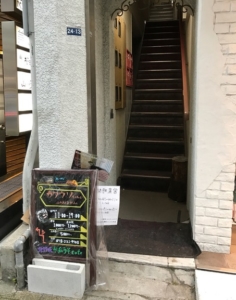 If you go up the stairs, you will see a door with the name of the cafe. At first glance, "Is there a cafe here?". It feels like that, but when you go inside, many small animals welcome you.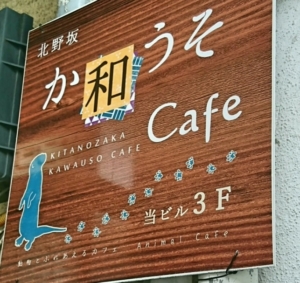 It is a good location to take a break during sightseeing, but it is often full, so it is better to make a reservation before visiting.
E-mail: kawausocafe.kitanozaka@gmail.com
About system
In this cafe, animals are not relaxing freely in the shop like cat cafes. A variety of small animals including otters welcome you in cages at each table.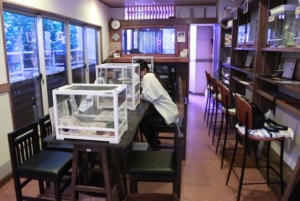 If you don't order the option, you just drink while looking at the small animals in the cage. If you want to touch animals, you have to order separately. If you order, you can touch each other for 3 minutes in the exclusive petting room.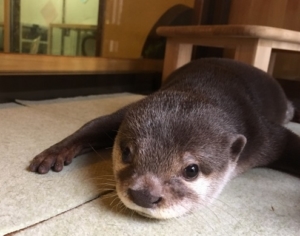 The fee is 1,200 yen on weekends and holidays (1 hour with 1 drink), 1,000 yen on weekdays, and an additional 500 yen for petting animals.
When you enter the restaurant and get seated, you order drinks first. At this time, the staff will ask if you want to touch animals. Let's order if you want to touch.
Even if you don't order it, you can have a blissful time just by drinking soft drinks and watching animals.
It's time to touch animals!
When the time to interact with animals comes, the staff will call out to you and support you.
In the case of cat cafes and dog cafes, I think some people may care about stress to animals. But this shop has a style where you touch each other with the lead of staff who know each animal's character.
This is the shop's policy not to give stress to animals as much as possible.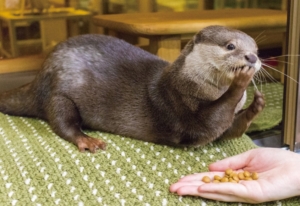 First, it's otter snack time. If you put a snack on her palm and serve it, she clutches it with her hand dexterously and eats it quickly. Her hands are small, but they are soft and comfortable. She loves this snack and she will be so excited that she will eat it very fast.
Next, the staff will open the cage door and let you touch her. She seems to like to be stroked gently on her face.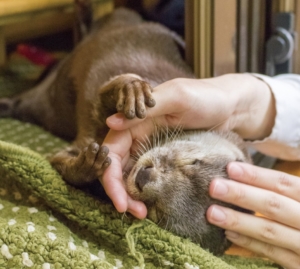 The otter's hair looks hard, but it's surprisingly soft. When you stroke her, she looks very comfortable and wiggles. It's really lovely!
She remembers you and she becomes more attached to you after going there 2 ~ 3 times.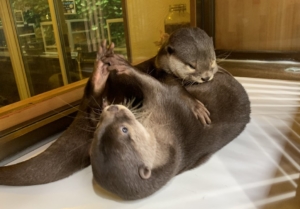 There are two otters in this shop. Both are full of energy and always playing with each other. Just looking at it is fun and comforting.
Otter Cafe LOUTRE in Kyoto, Japan 🦦
ROCKSTAR Reptile Cafe in Osaka -Snakes, Lizards, Chameleons 🐍
Also, small animals other than otters are so cute that you might want to scream. Please visit Kitanozaka Kawauso Cafe for healing!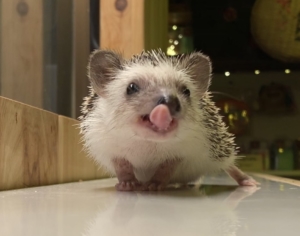 When you visit an animal cafe, please follow the rules and enjoy it so as not to give stress to animals!
Information
Hours: 11:00~14:00 (Last entry: 13:30), 15:00~19:00 (Last entry: 18:30)

Closed: Irregular holidays

Reservations available: 11:00, 12:00, 13:00, 17: 00, 18: 00

Admission: 1,200 yen (1 hour with 1 drink), 1,000 yen on weekdays,

Additional fee: 500 yen for petting otters
---