Arashiyama Monkey Park Iwatayama – The Wild Japanese Monkeys 🐒
Arashiyama is one of the best sightseeing spots in Kyoto. Among them, there's a very deep but popular spot. Its name is Arashiyama Monkey Park Iwatayama.
Many foreign tourists visit this theme park where you can feel close to wild monkeys. You can overlook the scenery of Kyoto, and it's killing two birds with one stone!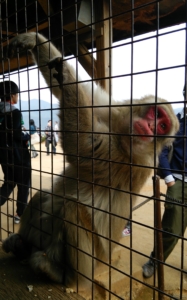 Actually, many people don't know. Let me introduce Arashiyama Monkey Park.
What's Arashiyama Monkey Park?
Arashiyama is one of the famous sightseeing spots in Kyoto. There is Arashiyama Monkey Park at the end of Togetsu-kyo Bridge in Arashiyama. It's a precious place where you can touch wild Japanese monkeys.
What kind of charm is hidden in this place?
Let's climb the mountain road.
After passing through the entrance, a gentle mountain path continues. Let's enjoy hiking while loving the flowers of the four seasons. Monkeys welcome you wherever you go.
You can see the relaxed monkeys here and there and relax. After going through the mountain path, you will arrive at the observation deck and feeding place.
How to get along with wild monkeys.
You might think scary in front of a powerful adult monkey, but if you follow the rules, you can safely touch and get along with them. In fact, monkeys also follow the rules.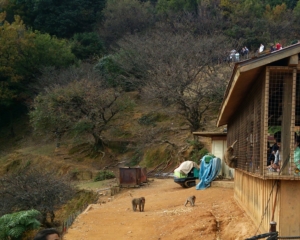 ▼Rule 1: Not making eye contact
Don't make eye contact with monkeys. Also, there're monkeys who hate it when they get too close. If you stare in your eyes, you may get angry or intimidate.Especially small children, please be careful.
▼Rule 2: Don't show you food or drink.
You don't know where the monkeys are watching. Don't serve food or drinks outside the designated area. You can also feed the monkeys at the rest area of the observation deck.
▼Rule 3: Don't carry too much baggage.
Sometimes monkeys show interest in plastic bags and cute paper bags. Try not to carry too much baggage.
People go into the cage.
The specialty of Arashiyama Monkey Park is feeding monkeys, and the view is very unique.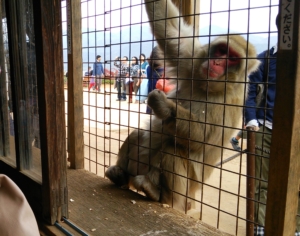 The monkeys follow the rules and have good manners Arashiyama Monkey Park, but there's no difference among wild monkeys. For safety, people go into the hut and feed through the lattice.
Great view from the observation deck
The top of the mountain is 160 meters above sea level, which is actually quite high. Actually, Arashiyama Monkey Park is a famous spot where you can see the whole city of Kyoto.
How was it?
The Arashiyama Monkey Park Iwatayama where you can enjoy the cute monkeys, the nature of Kyoto and the scenery of the city at once was a really attractive spot. If you haven't been there, why don't you visit there?
Information
Hours: 9:00~16:30 (16:00 from October 1 to March 14)
Open all year round
Admission: 550 yen for high school students above, 250 yen for children
---