Kintetsu Yamato-Saidaiji Sta. – Amazing Station in Japan
Yamato-Saidaiji Station in Nara Prefecture. There're many tourist spots nearby, such as Heijo-kyo (Nara Palace Site).
This station is popular among railway fans because it's the number one station in Japan.
What's the number one in Japan?
To the shopping mall observation deck
There's a shopping mall Time's Place at Yamato-Saidaiji Station of Kintetsu. There's an observation deck inside, and you can see the train right above the railway.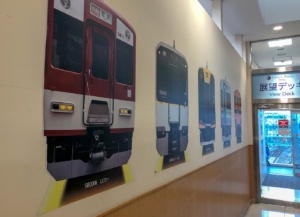 The entrance of the observation deck is at the back of the shopping mall. There're pictures of Kintetsu trains near the entrance.

Time's Place (observation deck) is located inside the ticket gate, so it's free if you use the train, but if you don't, you need a station ticket.
Observation deck covered with glass
When you enter the observation deck, it's all glass. It's made of glass from the bottom, so you can see the trains running under it well. Small children who like trains will cheer.
The observation deck is very popular among railway fans because it has 5 railroad tracks toward Osaka and Kyoto and can be seen from above the power line.
And all of these lines are connected by crossing right and left. This is the reason why railway fans gather at Yamato-Saidaiji Station.
In other words, it's famous because there're so many switching points. There're as many as 28 switching points in the station, which is said to be the most in Japan.
Kintetsu N gauge

Japan's most complex tracks
From the observation deck you can see the western side towards Osaka and Kyoto, but you will be more surprised if you see the eastern side towards Nara.
How complicated!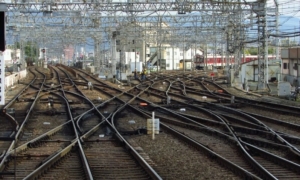 There're as many as 6 tracks connected by a switching point.
Isn't this the realm of art?
Even if you don't like trains, you will be amazed at the unusual sight.
It looks like this from the sky, but it doesn't look too complicated.
Both up and down lines of the station are complicated, and the number of this switching point is the largest in Japan.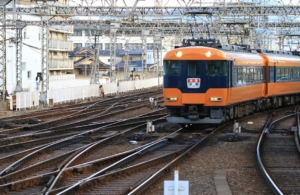 By the way, there's a shopping mall in this station, so there're many shops such as local souvenirs and lunch boxes, and even people who are not interested in trains can enjoy it.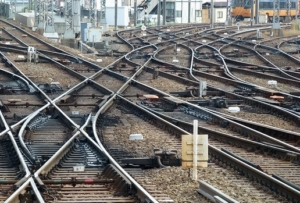 Yamato-Saidaiji Station is a terminal station, so it's easy to access. It can be visited from all the major stations in Osaka, Kyoto, Hyogo, Mie and Nara all on one line.
Please visit if you have time.
Information
Hours: 9:30~21:30
Open all year round
---