Shiga Hikone Castle – Top 5 Castles in Japan 🏯
Speaking of castles in Kansai, Himeji Castle which is a World Heritage is famous, but there's also a historic famous castle in Shiga prefecture.
It's Hikone Castle, one of the 5 castles designated as National Treasures.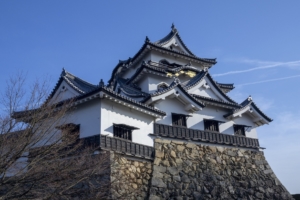 Standing on a deep green mountain, the Hikone Castle is a castle built by Ieyasu Tokugawa 400 years ago for fighting.
The castle, which survived many wars, continues to fascinate many people with its history and beauty.
A number of strategic turrets
The site of Hikone Castle is very large, and it's surrounded by two moats, the inner moat and the middle moat around the castle tower. There're even high schools and universities in the castle grounds.
If we go inside through the moat where water flows slowly, we can see many turrets built on the stone wall.
There're many obstacles such as stone steps and stone walls before reaching the castle tower. This is considered to prevent the enemy from attacking at once.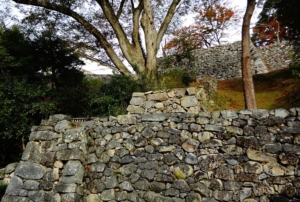 In order to disturb the pace of the attacking enemy, the angle and width of the stone steps are intentionally irregular. It makes me feel more interesting to go this way imagining a battle 400 years ago.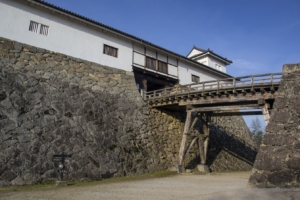 As you go further, we will see a wooden bridge over your head. This is Tenbin-yagura which is an important cultural property.
Seen from the front, the shape of Yagura is symmetrical around the bridge. This bridge was built to bring down the enemy at that time, and it can be seen that it was a key point of defense of Hikone Castle.
Let's climb the Castle Tower.
Finally, we arrived at the national treasure castle. It was visible from the castle town, but when we see it with our own eyes, it has an overwhelming presence.
Although small for a Japanese castle, it has a very elegant and beautiful appearance.
It's also superior in its original military function.
There're many defensive holes called Teppo-Zama in the castle. This hole was hard to notice from outside, and they were attacking enemies with guns and spears from here.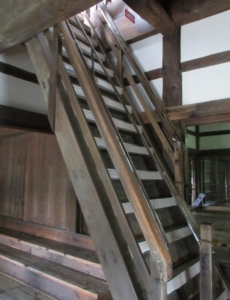 And when we look at the stairs, it's quite steep.
Even if the enemy invades inside, the angle is steep (62 deg.) so that the enemy coming up the stairs can be pushed from above.
A panoramic view of Hikone City
The view from the top of the tower is also superb!
We can look around the castle town of Hikone. We can also enjoy the magnificent view of Lake Biwa.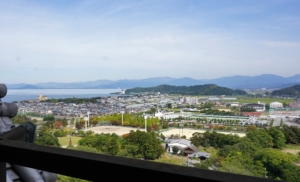 At that time, they might have confirmed the enemy's attack from here.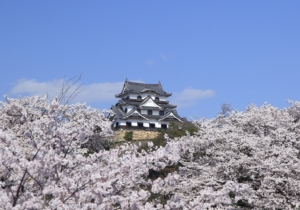 It will be more fun if we look at it while thinking about how it was 400 years ago. Please visit Hikone Castle, which has a long history and is familiar to locals and many people.
Oh, and if you come to Hikone, you may be able to meet Hikonyan, a cute mascot character.
Information
Hours: 8:30~17:00
Open all year round
Admission: 800 yen for high school students and above, 200 yen for junior high school and elementary school students
Yuasa Castle Onsen Hotel in Wakayama, Japan
---