Osaka Tsuruhashi Delicious & Unique Yakiniku Restaurants
The area around Tsuruhashi Station on the JR Loop Line is one of the most competitive areas in Japan for yakiniku restaurants.
Under or around Tsuruhashi station, there're many yakiniku restaurants, and even small alleys are lined up.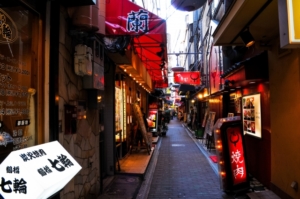 In the early 1900s, many Koreans moved around Tsuruhashi and Korea Town was built. Yakiniku is one of Korea's most famous gourmets, and many yakiniku restaurants opened because it matched the Japanese palate.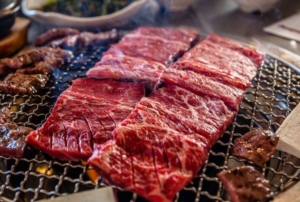 Now many Japanese, not just in Osaka, know that they can eat delicious yakiniku if they go to Tsuruhashi.
For those of you who don't know which restaurant to go to in this yakiniku battleground, here are 3 delicious, unique and fun restaurants!
Yakiniku Sosomon
Yakiniku Sosomon is conveniently located as it's a 3 minute walk north of JR Tsuruhashi Station, so you can eat authentic yakiniku without going to Korea.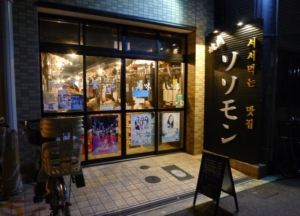 There're many people who use it for girls' groups who like yakiniku, and the biggest feature is that the meat is grilled on the famous drums in Seoul, Korea.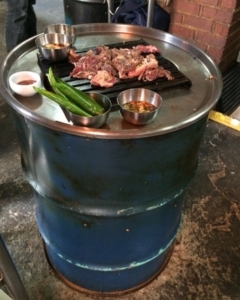 Not only is it unique in appearance, but of course you can eat delicious high quality meat. Restaurants change their menus every day to serve the best meat of the day.
Most people order Tsuke-kalbi (pickled kalbi) and Tsuke-harami (pickled harami) at Sosomon. They are marinated in a special sauce, so you can eat them more deliciously.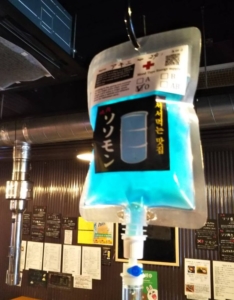 Wearing Korean military uniform or drinking juice like a drip bag will be good memories for sightseeing.
Information
Lunch Hours: Wednesday to Friday 12:00~15:00 (L.O. 14:30), Weekends and holidays 11:30~15:00 (L.O. 14:30)
Dinner Hours: Tuesday to Saturday 17:00~23:00 (L.O. 22:30), Sundays and Holidays 17:00~22:30 (L.O. 22:00)
Closed: Mondays
Kushihatchin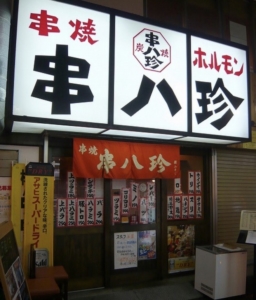 Speaking of Japanese food on skewers, yakitori and kushikatsu are famous, but here you can eat yakiniku on skewers (kushiyaki).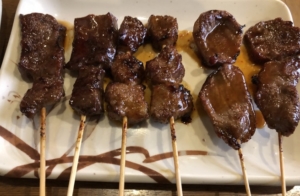 The restaurant is lively and always crowded with many people. Kushiyaki has a variety of menus and is very reasonable at 100 ~ 200 yen for 1.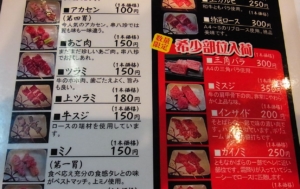 Since Kushiyaki does not use chopsticks, it's easy to eat and goes well with beer. You can enjoy various kushiyaki including rare parts of Japanese beef at a low price.
Information
Hours: 16:30~23:00 (L.O. 22:30)
Closed: Sundays and Mondays
Katteni Yakiniku
This is a self-serve yakiniku restaurant run by a butcher shop.
After buying the meat sold in packs at the shop, you can grill it in the store without taking it home.
The feature is that you can actually see the meat you want to eat and choose it. The meat is particular about the sweetness of the fat and the fineness of the meat. In the case of domestic beef, only meat grade A3 or higher is served.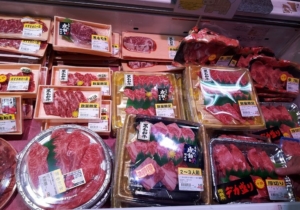 In addition to the standard parts such as kalbi and harami, the variety of items from rare parts of Japanese beef is attractive. If you don't know what to eat, ask the shop staff for recommendations.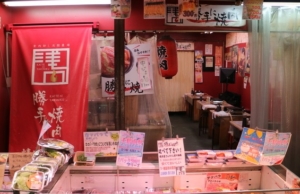 It's located in a 3 minute walk from JR Tsuruhashi Station in the arcade of various . It looks like just a butcher shop, but there're several tables and grills in the shop. There's also a shop in Tenjinbashi in Osaka.
Information
Hours: 11:00~14:00 (L.O. 13:30), 15:30~21:00 (L.O. 20:30), Sunday and Tuesday 15:30~20:00 (L.O. 19:30)
Closed: Wednesdays
Tsuruhashi has the unique atmosphere of the largest Korean town in Japan, and it's a place you should visit at least once if you are sightseeing in Osaka.
Tsuruhashi has a variety of delicious yakiniku restaurants, so please visit if you find a restaurant you like, not just the one I introduced this time.
---