Super Cheap TAKOYAKI in Osaka – KAN-EI-DO
There're many super cheap shops in Osaka, but this time I'll introduce a Takoyaki shop.
It's a shop called "Kan-ei-do" which is locally known as Osaka's cheapest Takoyaki shop.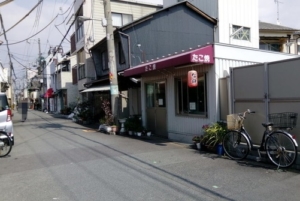 Kan-ei-do is about a 5-minute walk to the east from Denpo Station on the Hanshin Namba Line. It's a quiet residential area.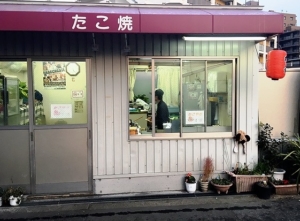 The appearance of the shop is like a regular town Takoyaki shop. The sign doesn't have the name of the shop, it just says "Takoyaki" and you may be confused at first.
If you look at the price list on the window of the shop, you can be sure it's this shop. The price list says 100 yen for 15 and 50 yen for 7. Plus tax included.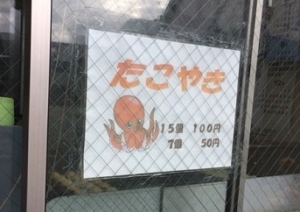 I'm worried if this will make it possible to run a business. But this shop has been in business for 50 years, so there should be no problem.
For now, I ordered 15 pieces. I can take it home, but I can eat it in the shop.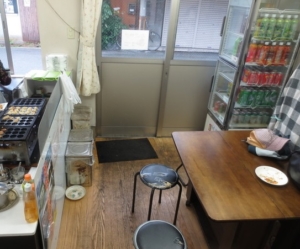 The size of Takoyaki is determined by the shape of Takoyaki iron plate, but it's a little smaller Takoyaki. These days Takoyaki is getting bigger, so I feel a little nostalgic.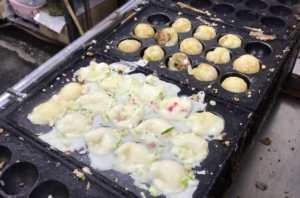 As for the taste, the surface is fluffy and the inside is thick. The lightly spread sauce and the flavor of the dough are perfectly balanced.
Basically, there're only sauce and Ao-nori (green laver) on top of Takoyaki, but mayonnaise is also available for an extra charge. When I asked the price, it was 10 yen, so I ordered without hesitation.
Anyway, this shop's Takoyaki is too cheap. It's 6.67 yen per 1. We can buy 150 if we pay 1000 yen.
Octopus in Takoyaki is not big, but it's properly put in. It's simple but very delicious!
We can buy 15 for 100 yen, but we can buy 7 for 50 yen. This shop is kind to children. It must be the cheapest Takoyaki in Japan. I want a shop like this in my neighborhood.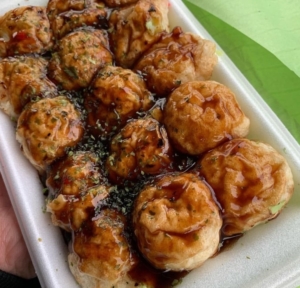 Recently, the number of nationwide chain Takoyaki shops has been increasing, but I hope that such traditional Takoyaki shop will continue to exist.
Information
Hours: 12:00~18:00
Closed: Fridays
---