Supermarket Tamade, Get 1 Yen Items 🤩
There are many extremely cheap restaurants and clothing stores in Osaka, but supermarkets are no exception.
Tamade is a super cheap supermarket known to most people who live in Osaka city, with 42 stores in Osaka and one in Hyogo.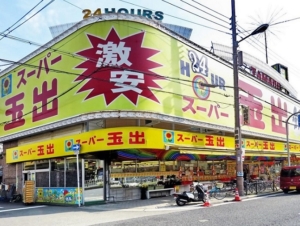 I'll talk about how cheap it is, but it's also popular among foreign tourists, and it's included in the schedule as a sightseeing spot.
Don't you have any interest in what kind of place is a supermarket that can become a sightseeing spot?
What a gorgeous appearance!
I have a sudden question, do you know any Japanese pachinko parlors?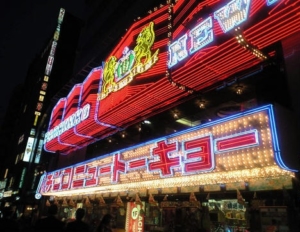 Pachinko parlor
Pachinko parlors are small, legal casinos in Japan. You may have seen it when you visited Japan.
The appearance of Tamade is the easiest to understand if you imagine the pachinko parlor.
It has a showy and eye-catching decoration. If you don't know anything about Tamade, you'll be hesitant to get into store.
You can see a big signboard and a flashy decorations with a strong impact at a glance even from a distance.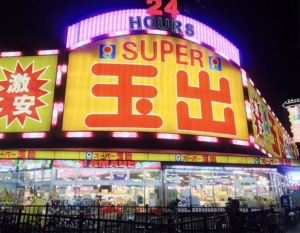 Supermarket Tamade
"Oh, where am I now? Las Vegas? or Macau?"
Most of Tamade's stores are open 24 hours a day, so even in the middle of the night when people are asleep, the stores glow like the sun.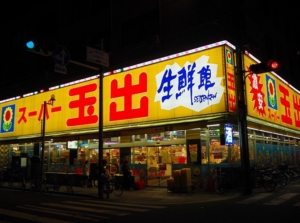 The main store is in Tamade, Nishinari-ku, Osaka.
So if you're staying near Tamade, you won't get lost when you return. Don't think of Tamade as a typical Japanese supermarket exterior. That is quite special.
Large quantities of food items in the store
Then, how is the inside of the store?
The store is crammed with items. There are a wide variety of instant foods such as seasonings and miso soup, as well as alcoholic drinks, so it would be fun just to look at them.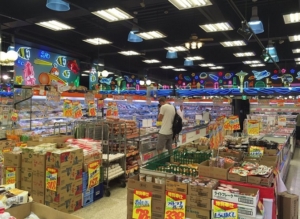 The display of such items is eye-catching, but what is surprising is the showy interior. The neon sign indicating each product area is self-asserting.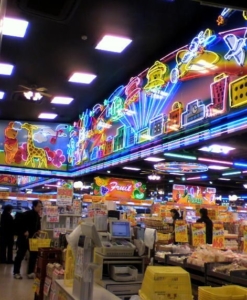 In Osaka, the Glico sign in Dotonbori and the colorful signboard of Shinsekai are impressive, but Tamade has inherited the spirit of showy and outstanding.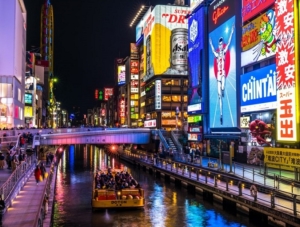 It's the cheapest in Kansai!
The most popular item in the store is a packed Bento (Japanese lunch box).
Every Bento comes with 3 ~ 4 pieces of fried food, crammed with white rice and even an egg, and is priced around 300 yen. Other supermarkets will double the price.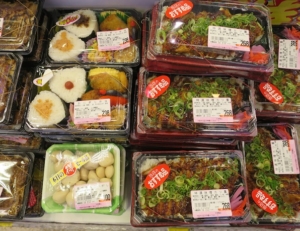 Pasta is less than 200 yen with fried egg and wiener.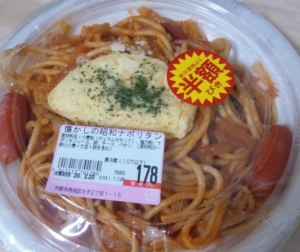 Canned beer and canned chuhai are also around 100 yen (350 mL), so even if you buy them together with Bento, you can get the change for 500 yen! .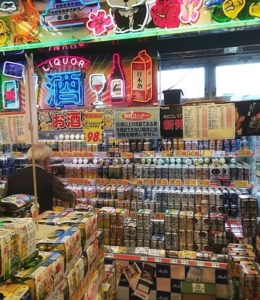 Recently, there has been an increase in the number of inexpensive lodging facilities around the Tamade Suomachi store in Shinsaibashi.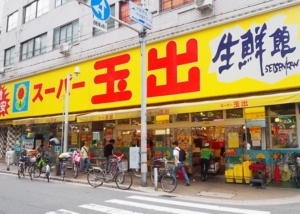 Some people buy food here and eat calmly at a lodging facility.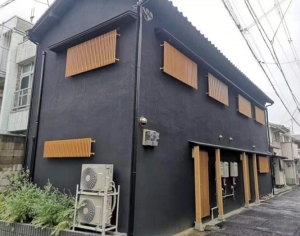 It's because croquettes and tempura are sold at a low price of about 50 yen each, and there are also many simmered dishes and grilled dishes that are suitable for one person.
Among them, fried chicken, Deep-fried dishes, chicken Nanban and teriyaki-chicken are popular. Sushi and sashimi are also popular.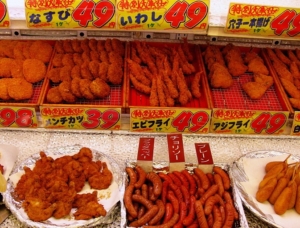 In addition to that, it is good for tourists that there are various kinds of beer!
Most of the guests leave their luggage at the inn, take a shower, and then go to procure food, and about 80% of them are foreign tourists at night.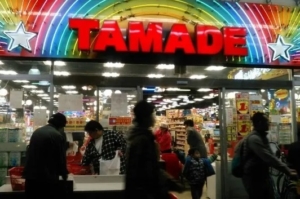 Many of the food items in the showcases in the evening are empty the next morning and the flow of people in the store is continuous for 24 hours.
How about souvenirs?
Nisshin cup noodles are popular as souvenirs. They are sold in their own country, but there are many people who prefer Japanese taste.
And sweets like chocolate are also popular. Strong flavored snacks such as "Calamucho" and "Pizza potato" are selling like hot cakes to people in Korea and Thailand.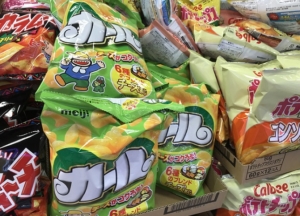 Of course, Japanese sweets with wasabi flavor and takoyaki flavor are also popular.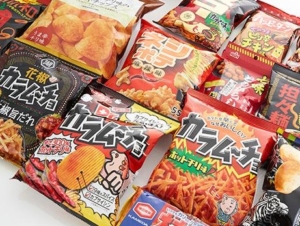 Wagyu (Japanese beef) is selling well as a unique souvenir. It is because you can buy it cheaply at Tamade.
"You can go home in 2 ~ 3 hours in Korea, so do you take it home with ice? "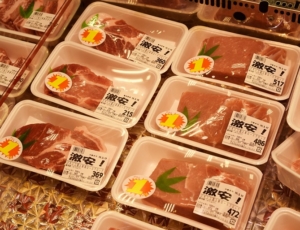 I'v seen foreigners buying some pumpkins. Is this also a souvenir? It's a mystery.
How to buy more cheaply ~ Half off stickers, 1 yen sale
Tamade is obviously cheaper than other supermarkets. However, there is a way to buy it cheaper.
Many supermarkets in Japan put discount stickers on unsold Bento when they close. The discount rate varies depending on the item and the expiration date, but is between 20% and half.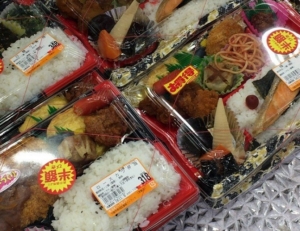 Round stickers are half price stickers
For example, if the store closes at 9 o'clock in the afternoon, the sticker will be put on around 5 o'clock in the evening.
Then, in the case of Tamade which is open 24 hours, around what time will the discount sticker be put on?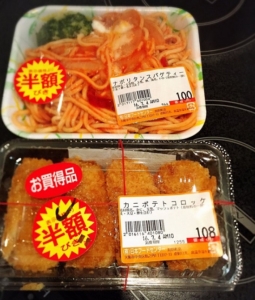 It's half of 108 yen.
Basically, discount stickers are put on when there are few customers. Of course, it depends on the situation of the day, but it often happens from 4 to 5 o'clock in the morning.
If you find a half-price sticker, you're lucky, but the expiration date is getting shorter so eat it as soon as possible.
And another way to buy cheaper is to use the 1 yen sale.
Tamade sells 3 ~ 4 kinds of items every day for 1 yen to attract customers. There is no way not to utilize it.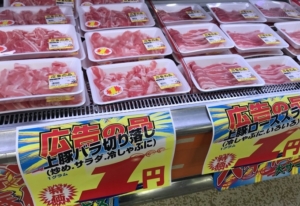 All the meat is 1 yen.
But you can't easily buy it for 1 yen. If you buy more than 1,000 yen, it will be 1 yen for 1 piece only.
Also, please be aware that 1 yen items are sold in limited quantities.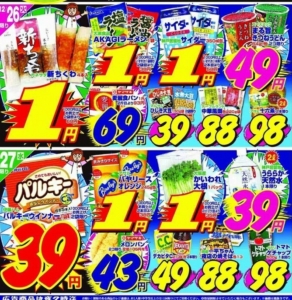 Tamade flyer
If your favorite item is 1 yen, you will be excited. If you have a chance to go to Tamade, please check it out.
How about these?
There are several Tamade stores, and although there are some differences, their showiness is the same.
If you see them anywhere, please stop by.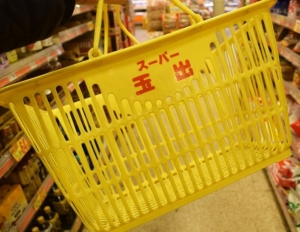 I can't be responsible if you don't want to leave the store.
Information
Tamade store (Main store)

The origin of the name of Tamade is the place name.
Tamade, Nishinari-ku, Osaka is the birthplace of the supermarket Tamade.
Suomachi store (Open 24 hours)

Nippombashi store (Open 24 hours)

---