Jidai Matsuri Festival – How to Enjoy, Kyoto 🏮
Jidai Matsuri is one of the three major festivals in Kyoto along with Aoi Matsuri and Gion Matsuri. A large procession dressed in costumes from each period of Japan, said to cost a total of 1 billion yen, walks through Kyoto City.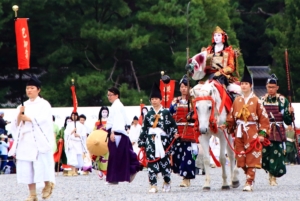 Aoi Matsuri and Gion Matsuri have a history of more than 1,000 years, but Jidai Matsuri has a history of only more than 100 years.
I'll introduce the charm and the way to enjoy it.
About Jidai Matsuri
Jidai Matsuri is a festival of Heian-jingu Shrine in Kyoto City and began in 1895 as an event to celebrate the founding of Heian-jingu Shrine and the 1,100 anniversary of the transfer of the capital to Heian-kyo.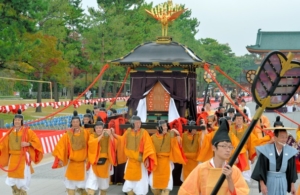 About 2,000 participants, dressed in traditional Japanese costumes, leave Kyoto Gyoen (Kyoto Imperial Palace) at noon and walk to Heian Shrine for about 2 hours.
It's held on October 22 every year, but in 2019 it's exceptionally held on October 26. It's Saturday, so many spectators will come.
Procession  Route
The head of the procession leaves Kyoto Imperial Palace at noon and arrives at Heian Shrine at 2:30 pm. It takes about 2 hours for the end of the procession to leave Kyoto Imperial Palace, so the head of the procession will be near Heian Shrine by that time.
The figure below shows the time the head passes through.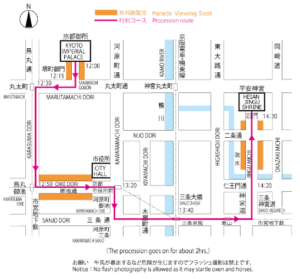 The procession that departed from Kyoto Imperial Palace goes south from Marutamachi-dori to Karasuma-dori, then marches along Oike-dori, Kawaramachi-dori and central Kyoto, and from Sanjo-dori to Jingu-michi to arrive at Heian Shrine.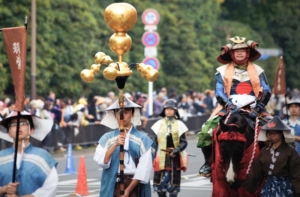 The linear distance from Kyoto Imperial Palace to Heian Shrine is about 2 kilometers, so even if you walk, you can see the procession again at Heian Shrine.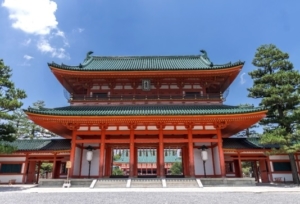 Heian-jingu Shrine
Heian Shrine is located in Okazaki and Okazaki Park is a large, wooded area along the Lake Biwa Canal, with many attractive tourist spots nearby, including the Kyoto City KYOCERA Museum of Art, the National Museum of Modern Art, Kyoto City Zoo, Yasaka-jinja Shrine and Nanzen-ji Temple.
What do you see in the procession?
Point to check 1
There're many Maiko in Kyoto in the procession of Jidai Matsuri. Real Maiko wear real costumes and furnishings and participate in it, and you can enjoy the gorgeous atmosphere.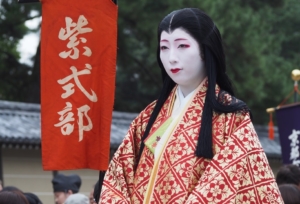 Point to check 2
The costumes and furnishings are made with "Real" that has been thoroughly researched and reproduced from the past. Even hair ornaments and hairstyles are reproduced in details.
You can see all the traditional craft techniques that Kyoto has developed over 1,000 years in just 2 hours. The total amount is said to be 1 billion yen.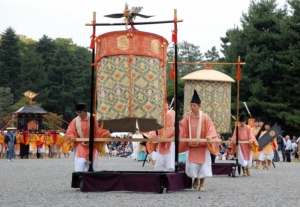 Point to check 3 (Highlights of each period)
It's in the order of the procession.
◆Meiji Restoration period (Around 1868)
Shishi (The leading spirits of the Restoration) such as Ryoma Sakamoto, Takamori Saigo and Kogoro Katsura (Kido Takayoshi) who were active from the end of Edo period to the beginning of Meiji period walk.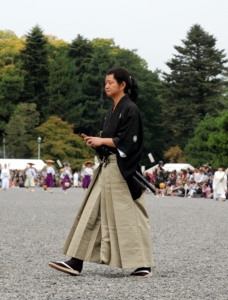 Ryoma Sakamoto
◆Edo period (1603-1868)
The gorgeous costumes of the women's procession attract attention. Women wear natural hair, not wigs. This period is the period of the Tokugawa family.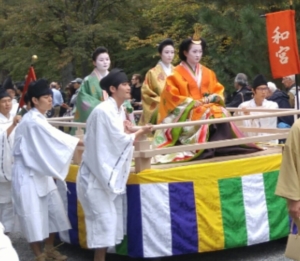 It's elegant beauty.
◆Azuchi-Momoyama period (1568-1600)
It was the time when Nobunaga Oda and Hideyoshi Toyotomi were active. You can't see Hideyoshi Toyotomi because he is riding on an ox-drawn carriage, but this ox-drawn carriage is of the highest quality.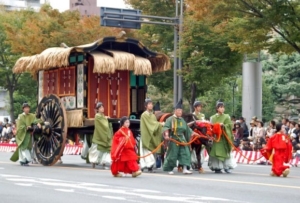 Hideyoshi Toyotomi is inside.
◆Muromachi period (1336-1573)
Men's costumes are beautiful in this period. Also, a woman called Oharame who carries firewood on her head is impressive. Furyu Dance will be performed near Heian Shrine. This dance is the prototype of the Bon Festival dance in Japan.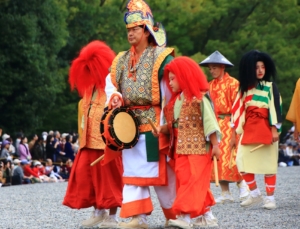 The red costume stands out.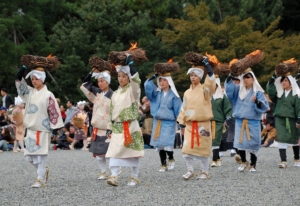 Oharame (Ohara's women)
◆Kamakura period (1185-1333)
It was the time when Samurai was born in Japan. From this time, the government changed from Emperor to Samurai. The samurai era lasted until the end of the Edo period (1868).
Samurai on horseback
◆Women's procession of the Heian period (794-1185)
It's the last women's procession that makes men happy. Murasaki Shikibu, Sei Shonagon and Ono no Komachi are famous and beautiful.
Kyoto was the capital of Japan for about 1,000 years from the Heian period to the Edo period (794-1868).
Murasaki Shikibu (left) and Sei Shonagon
Recommended places to see
For those who want to relax and watch until the end, pay seats are good, but there're some places where you can enjoy for free from the roadside.
I'll show you the places I recommend, so please take a look.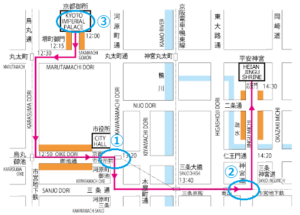 Recommended place
 ①
Around the intersection in front of Kyoto City Hall (Shiyakusho-mae): You can see well here because there're no spectators' seats. Basically at the corner, it takes time for the ox-drawn carriage to turn, so you can watch it slowly.
Recommended place ②
Between Higashiyama Subway Station and Jingu-michi: This area is not crowded every year because it's far from downtown. It's close to Yasaka Shrine, so it's convenient for sightseeing after seeing the procession.
Map of Higashiyama Subway Station
Recommended place ③
Near Kyoto Imperial Palace: In the morning, participants in the procession are waiting near the Kyoto Imperial Palace. This is the perfect time to take a commemorative photo with participants wearing costumes. I think it's a good idea to take a picture here in the morning and go ahead and move to ① or ② when the procession starts.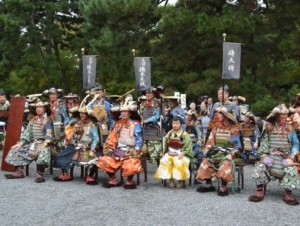 I recommend you to take measures against the cold as it gets quite cold in this season when the autumn deepens.
If you have a chance to come to Kyoto in autumn, please go to Jidai Matsuri!
---