Cat Cafe MOCHA in Kawaramachi, Kyoto 🐱
The Kawaramachi area in Kyoto is popular among young people who like new things, because, in addition to visiting temples and eating around, stylish cafes are opened one after another.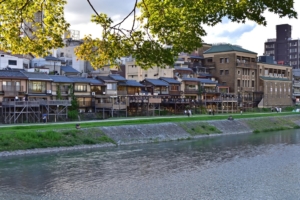 There's a cat cafe MOCHA in Kawaramachi which is mainly in Tokyo. We can not only interact with cats in the clean interior, but also complete with comics and games.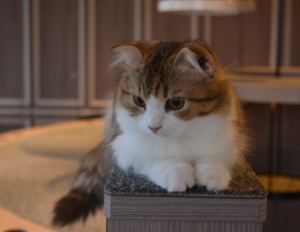 This is an evolutionary cat cafe that has never existed before. In addition, we can see the streets of Kyoto from the window in the shop, and the view is great!
Let's see what it looks like!
What's the atmosphere of the shop?
MOCHA is located on the 4th floor of MINA KYOTO, a shopping building popular among young people.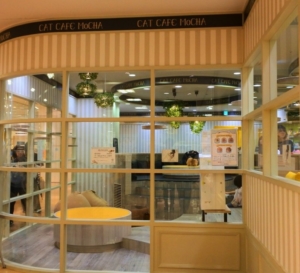 Cat cafe MOCHA is a glass-walled shop on the 4th floor. Take off our shoes and put on slippers before entering. After we finish the reception, disinfect our hands and put everything except our smartphone in the locker.
We have to pay later. Inside, we can have a space with fashionable cats. Well, what kind of cat can we meet?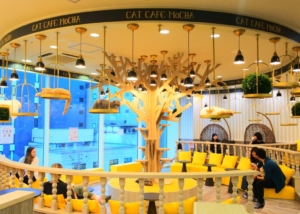 The spacious interior is bright and spacious. The feature of this shop is the space that spreads around the pillar that is inspired from a big tree. Below that is a sofa where we can relax and interact with the cats.
Let's go get a drink first. At the drink bar, there're not only coffee and cafe latte but also cola and matcha latte.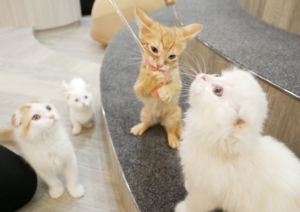 There're many cats near the big wooden object. Each of them has different characters and movements, so it's fun to watch a natural cat.
And there're more than 20 cats as the main characters. There're many kinds, and we can touch a rare kind of cat that we don't often see. It's like heaven for cat lovers!
Meals twice a day!
After a while, the time for cat's meal come.
Meal times twice a day at 11: 30 and 19: 00 are must-see. It's very popular as it's cute when cats line up and eat their meal. 🐱🐱🐱🐱🐱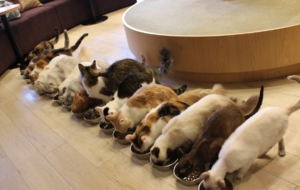 In general cat cafes, we spend a lot of time caring about cats, so sometimes we get tired when we come here to be healed. However, we can use this shop from 200 yen for 10 minutes, so we can easily visit it for various purposes such as between work and waiting time.
It costs 350 yen as a separate drink charge, but we can drink as much as you like. If we pay the maximum fee of 2,400 yen, the time is unlimited.
Let's give snacks to your cat!
The shop also sells cat snacks, and we can give dry food (100 yen) with the capsule toys in the shop, or we can be popular with cats by being surrounded by cat ice cream (500 yen).
Cat snacks are limited in quantity, so please buy them soon.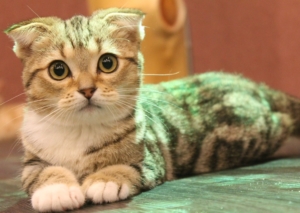 This place is not only a cafe, but we can also enjoy comics and games. There's a space with a sofa bed all over, and we can lie down like a cat, so we can just relax.
Why don't you visit a cat cafe MOCHA in your spare time from work, on a date, or on a rainy day?
Information
Hours: 11:00~20:00 (Last entry is at 19:30)
Closed: January 1
Admission: 200 yen per 10 minutes, Maximum fee is 2,400 yen for general. ※Drink bar fee is an additional 350 yen.
Kobe Otter Cafe – Kitanozaka Kawauso Cafe
---