Maiko Theater – Enjoy with Maiko 👘
I think there are many people who want to see Maiko when they visit Kyoto. However, real Maiko practice dancing and manners during the day, so they don't have many chances to meet.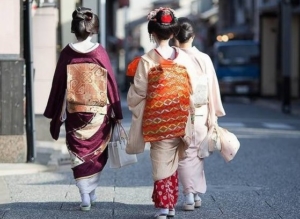 Most of the Maiko you can see in the town during the day are ordinary people dressed as Maiko.
Ryotei (Japanese‐style restaurant) where you can enjoy food and alcohol with Maiko are not allowed to enter without introduction from someone who is acquainted with Maiko.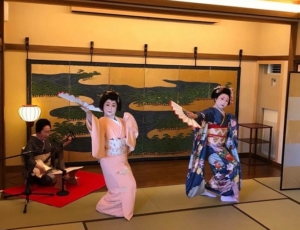 In addition, it costs at least 50,000 yen just to call 1 Maiko. In addition to Maiko, meals for those who play musical instruments or support Maiko are added to the fee, so it often costs more than 100,000 yen.
Just as most Japanese have no chance to meet real Maiko, it is not practical for foreigners to spend several 100,000 yen to go to a Ryotei in order to experience Japanese culture.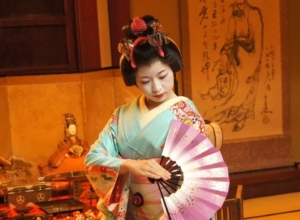 There is a facility in Gion, Kyoto where you can meet Maiko at a reasonable price.
You can talk to them and take pictures with them, but what kind of experience can you have?
The facility where you can meet Maiko is located relatively close to Kiyomizudera Temple and is called Maiko Theater.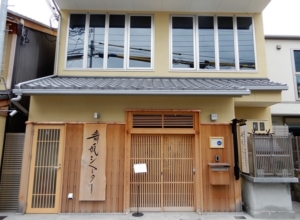 The facility opened in December 2016 and has a stage and audience seats. The nearest station is Kiyomizu-gojo Station on the Keihan Line.
The inside of the theater is bright and large tables and seats are lined up. When you enter the theater, there is a stage on your right, where Maiko perform dances. This stage is very close to the audience, less than 1 meter from the front row.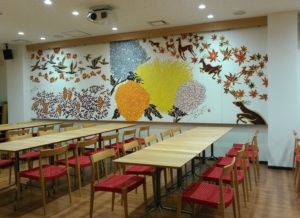 You need to choose from 5 courses and make a reservation in advance. If there is a vacant seat, you can make a reservation on the day. The capacity is 36 people per 1 performance.
Among them, "Ofuku Course" is popular for its reasonable price of 7,000 yen for an adult (tax included) with the following services provided by Maiko.
・Explanations about Maiko (About 10 minutes.)
・Tea ceremony performances by Maiko (About 20 minutes.) *Comes with green tea and Japanese sweets.
・Dance performances (2 songs/about 20 minutes)
・Free Talk with Maiko (About 30 minutes.)
・Commemorative photo with Maiko (About 10 minutes.)
*The time of each program depends on the number of people on the day.
Considering the expensive price at a Ryotei, it is really an exceptional price. There is a course that comes with a lunch box, so you can enjoy Maiko's show while enjoying the meal.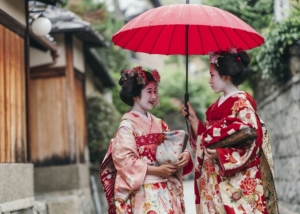 The culture of the Kagai (red-light district) which Kyoto has nurtured with great care, and the Maiko living there, I had an image of being somewhat distant because of the high threshold.
However, the idea that there should be a place to meet, know, and enjoy them more closely led to the idea that "Maiko Theater".
When you are guided to a theater with a stage, what is the difference between Maiko and Geiko? While listening to the basic explanation, you can watch the video on the screen.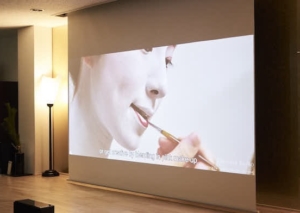 It shows a young girl who longs for traditional performing arts in Kyoto becomes a Maiko and aims to become a Geiko while practicing asceticism. You can't wait to see a real Maiko appear when you watch her practice and make up.
And now Maiko appeared from the side of the stage!
Cheers are heard from inside of the theater … As expected, Maiko who see closely has aura.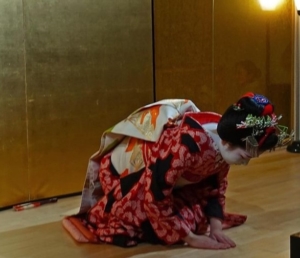 The first act is the tea ceremony by Maiko. Tea sweets are prepared and you can have the tea made by Maiko. You can enjoy an extraordinary time with green tea and Japanese sweets.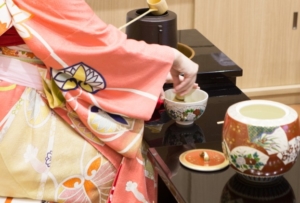 You can enjoy green tea at the table and chairs here, so even foreigners can enjoy it.
The tea ceremony by Maiko is performed at limited events recently, but I heard that they rarely make tea in public on a daily basis.
The dance starts next. Two songs are performed in about 20 minutes. You'll be fascinated by the smooth and glossy dance from start to finish. The long furisode of kimono is for Maiko, and the one for Geiko is shorter.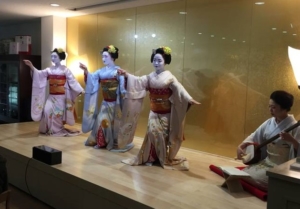 It is impressive that you can see Maiko's supple dance so close that you can even hear her breath.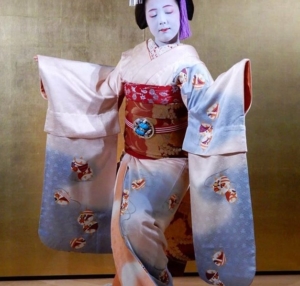 Maiko practice for a few years, and even if they start working with customers in earnest, they still practice hard during the daytime.
As long as they are Maiko or Geiko, they have to continue to improve their skills.
Finally, each group takes a commemorative photo with Maiko.
How is it?
The Maiko Theater is also a place for Maiko to present their daily training. You can have a valuable experience of seeing Maiko who live in the performing arts through the performance.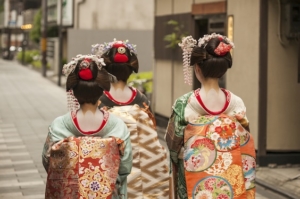 Knowing more about Maiko will deepen your interest in Kyoto!
Information
Hours: 12:00~22:00 (until 17:30 on Sunday)
Reservation is required until 1 day before the performance. If there is a vacant seat, it is possible on the day.
Closed: Irregular holidays
Kagai Miyagawa-cho, Unknown to Tourists
---