Kyoto Ramen-koji Recommended Menus 🍜
There are many famous sightseeing spots such as Kyoto Tower, Kyoto Aquarium and Nishi Honganji around Kyoto Station.
Do you know Ramen-koji in Kyoto Station?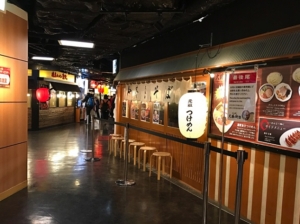 Popular ramen shops from all over Japan gather here. Therefore, you can enjoy popular ramen from all over the country without going to various places.
As of 2021, there are 8 ramen shops, and although ramen shops sometimes change, every shop is crowded with many people.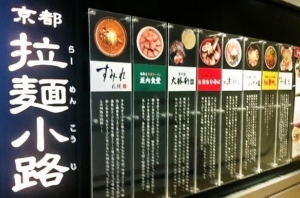 But you will be wondering which ramen to eat. This time, I will introduce the features and menus of the recommended ramen shops.
Why don't you find your favorite ramen and enjoy at Ramen-koji?
※Please buy a meal ticket in advance at the ticket machine of each ramen shop.
Ikkousha (Hakata Ramen)
Speaking of Hakata ramen, it is one of the most famous ramen in Japan and is based on pork bone broth (Tonkotsu soup).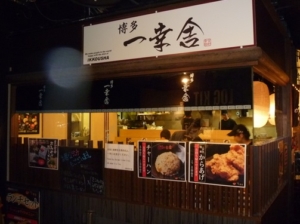 It is a real Hakata ramen made by a ramen chef who trained in Hakata. I think there are many people who like this shop the best in Ramen-koji.
The soup is made by boiling the pork bones over high heat and the flavor is condensed. The fine foam of the soup is a proof of genuine pork bone soup. The creamy soup is not too heavy and easy to eat.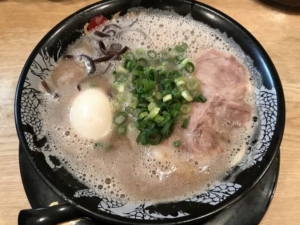 The noodles are thin noodles that go well with the soup and are exclusive to the shop. They are characterized by the natural scent of wheat and a chewy texture.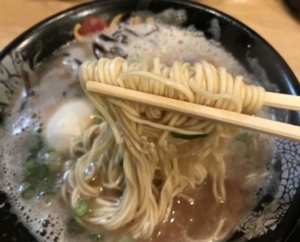 What I recommend the most is Ajitama-negi-tyasyumen (ramen with seasoned egg, green onions and roasted pork fillets). You can enjoy rich and creamy Tonkotsu soup with Ajitama (seasoned egg).
Ajitama is delicious because the taste permeates well. The roasted pork fillets are thinly sliced and have a light taste.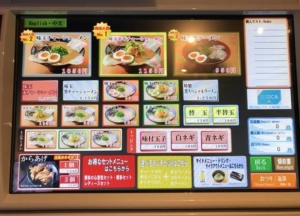 The most popular ramen is in the middle of the top row.
Ikkousha is a popular shop where you can enjoy Hakata ramen which is popular in Japan. If you are new to Ramen-koji, why don't you visit this shop first?
Bannai Shokudo (Kitakata Ramen)
Here you can enjoy Kitakata ramen which is popular in northern Japan. Characterized by its clear soup and thick char siu (roasted pork fillet), it is especially recommended for people who like plain taste ramen.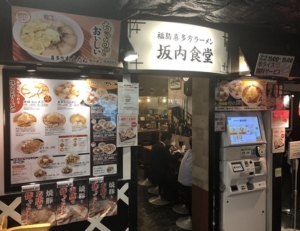 Please buy a meal ticket at the ticket machine at the entrance.
This ramen has the most orthodox taste among Ramen-koji and is popular among everyone.
The noodles are slightly thick flat noodles. The chewy noodles go well with the light soup.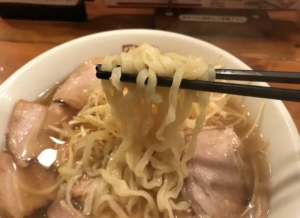 I recommend Yakibuta-ramen with plenty of char siu topping. As you can see, there are so many char siu that you can't see the noodles.
You will be happy with the sweetness of the fatty meat and the filling of the meat!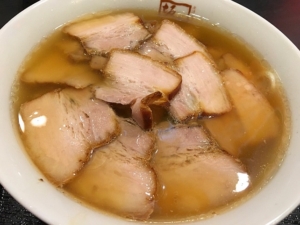 Yakibuta-ramen
This restaurant has been popular in Kitakata in Fukushima for more than half a century, so why don't you try it once?
Todai (Tokushima Ramen)
This is a famous ramen shop that originated in Tokushima Prefecture and is one of the best in Tokushima.
This ramen is characterized by its pork belly and raw egg which are boiled sweetly like sukiyaki. (You can add a topping of raw egg for free.)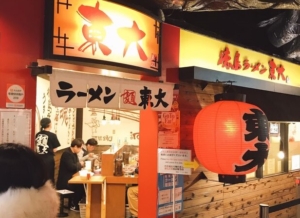 The soup is based on pork bones and chicken broth is added. It has a strong sweet taste like Sukiyaki, so many people eat it with rice.
The noodles are thick and straight, and they have presence as strong as thick soup.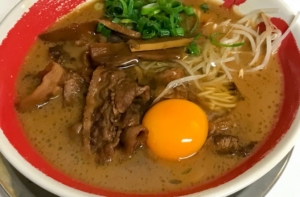 The recommended menu is Nikumashi-ramen (ramen with extra meat). There is a lot of simmered pork belly on the noodles.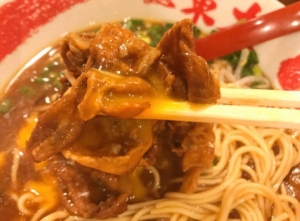 Many people get addicted to Sukiyaki-style ramen once they eat it. I recommend this ramen shop to those who want to eat a lot with rice.
Masutani (Kyoto Ramen)
It is a long-established ramen shop established in 1948. There are not only ramen, but also a variety of side dishes and beer, so you can drop by for a little meal.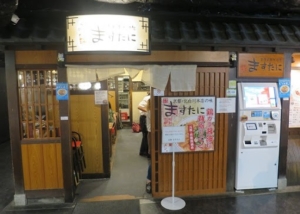 The ramen that is loved by people of all ages is a soup that mixes chicken bone soup and soy sauce sauce in an exquisite balance, and it is so delicious that you will want to drink up to the last drop.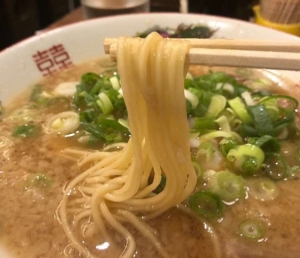 The soup looks thick, but the taste is light, so I recommend it especially to those who don't like thick ramen.
The noodles are thin and straight and a little soft. The surface is smooth and the texture is good.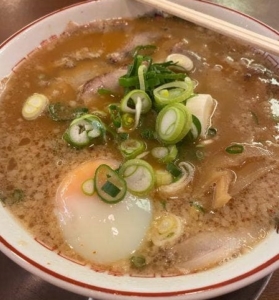 The standard menu is Char-siu-men with poached egg. It goes well with light but rich soup and thin straight noodles.
The main store is in Kitashirakawa, Kyoto.
Nakamura-shoten (Osaka Ramen)

Nakamura-shoten mainly serves salt based ramen which originated in Osaka. It has been newly opened in Ramen-koji since June 2020.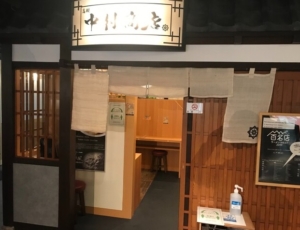 I recommend Kin-no-shio Char-siu-men (Golden Salted Char-siu-men).
The soup has a clear golden color and light taste and the flavor of chicken bones is effective. The noodles are medium thick and the soup is entwined so it goes through your throat well.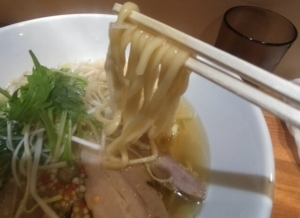 Other than ramen, I recommend fried rice. You can feel the taste of the meat well, and the taste comes out every time you chew. A set of Kin-no-shio Char-siu-men and half fried rice is also good.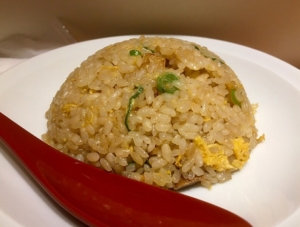 This is a recommended restaurant when you want to eat salt based ramen.
Taishoken (Tokyo Ramen)
The main shop is in Higashi-Ikebukuro, Tokyo, and it is famous as the birthplace of Tsukemen. You can eat it in Kyoto.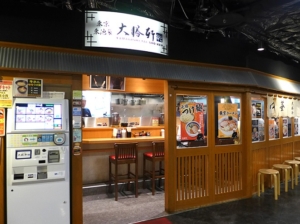 Among Tsukemen, Gyokai-tukemen (seafood tsukemen) is especially recommended. The soup is characterized by its mellow taste and seafood flavor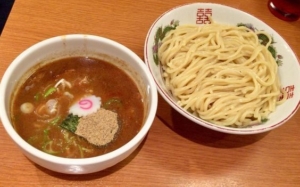 The soup has been improved in various ways since its establishment, and it is made to mix well with noodles. It looks rich, but the taste is surprisingly light.
The noodles are medium thick and straight, and smooth. It has a chewy texture and the more you chew, the more delicious the noodles are.
It's one of the few places where you can eat delicious Tsukemen in Kyoto, so please try it.
How was it?
There are many restaurants where you can enjoy delicious ramen in Ramen-koji, and it is easy to access.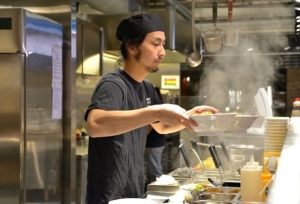 Please refer to it when you are worried about choosing a ramen restaurant in Ramen-koji.
Information
There are two main routes to get to Ramen-koji.
The first way is to go up the big stairs of Kyoto station. There is an escalator on the right, so go to the top and you'll find it on the left side of the stairs.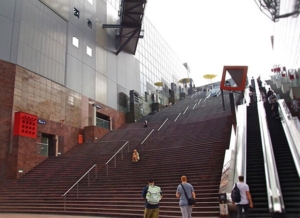 The second way is to use the elevator of Isetan department store. Please get off at the 10th floor of the south elevator and follow the information board.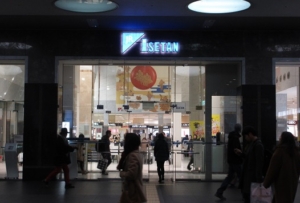 Isetan department
Hours: 11:00~22:00 (Last order 21:30)
Closed: Irregular holidays
Kyoto Station Building (West Zone), 10th Foor, at the south side of the department store and big stairs
Kobe Cherie-tei – Popular Ramen in Kansai 🍜
---