6 Restaurants with Extra-large Menus, Osaka
Osaka is famous as a gourmet town, but for those who are bigger than Japanese, don't you think the amount of food is less?
However, there are some restaurants that serve super large menus that will surprise even such a big person.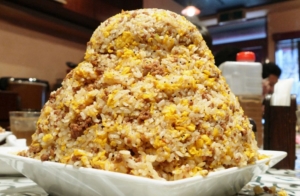 Among them, I'll introduce 6 restaurants that offer a recommended super large menus. (+ 1 extra one)
If you go to one of these restaurants, you will be very satisfied if you want to challenge yourself to eat a lot or if you want to be cheap and full!
Takeru (Steak & Hamburger)
This is a restaurant called Takeru that sells "1 Pound Steak & Hamburgers".
Takeru is a chain store with several stores in Osaka, but the closest one from JR Osaka station is Fukushima store.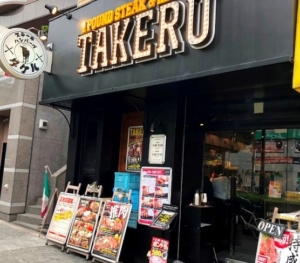 Fukushima is one of the best gourmet areas in Osaka, and the Fukushima store is located a short walk from Fukushima Station on the Osaka Loop Line.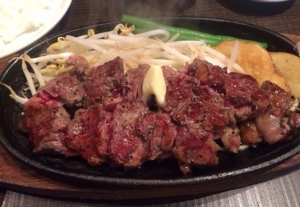 Takeru's steak and hamburgers are all authentic yet reasonably priced. It is a popular restaurant with a wide range of customers, from young people such as university students to middle-aged people, and has many fans.
"Premium Steak Rice Bowl" (940 yen) is limited to 5 meals a day due to the considerable cost performance. It is by far the most popular menu.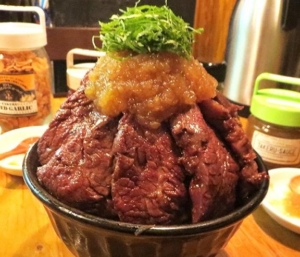 The main feature of Takeru is that you can have another helping of meat!
You can add in units of 100 g, such as refill of fillet steak after eating sirloin steak. Of course, you can order from the beginning even if it is not after eating.
If you want to eat a lot of meat, come here and your wish will come true.
Information
Hours: Lunch 11:30~15:30 (L.O.14:30), Dinner 18:00~22:30 (L.O.22:00)

Open all year round
Yokoduna (Deep-fried skewers)
Yokoduna is a kushikatsu (Deep-fried skewers) restaurant with 10 branches in Osaka.
As Yokoduna is the name of the restaurant, the walls are decorated with pictures of sumo wrestling and lanterns, and the atmosphere is full of sumo.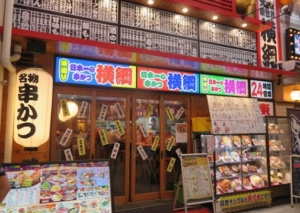 You can enjoy the crispy texture of Yokoduna's kushikatsu with thin batter. It's not too greasy and you can eat a lot. Kushikatsu goes very well with beer.
The extra large kushikatsu is three times bigger than usual. It has the image of a sumo Yokoduna (grand champion) wrestler.
Actually, there are about 10 kinds of super large menu other than Kushikatsu.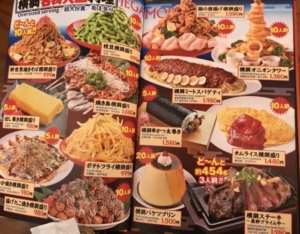 You can order a super large portion of your favorite standard menu items such as Takoyaki, French fries, onion ring tower, Futomaki, omurice, meat sauce pasta and gyoza.
For example, this amount of fried chicken is 1,580 yen. I don't think many people eat this by themselves, but I have to say it's a big bargain for 1,580 yen.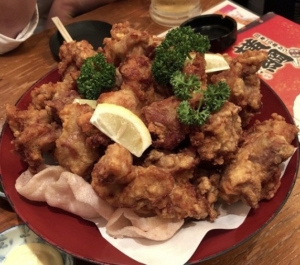 Yokoduna is a holy ground for Osaka's gluttonous eaters!
Information
Hours: Open 24 hours a day

Open all year round
Kirin KELLER Yamato (Omelette rice)
"KIRIN KELLER yamato" is a beer bar located about 5 minutes walk from Higashi Umeda Station.
It is a famous beer bar where you can drink delicious Kirin beer.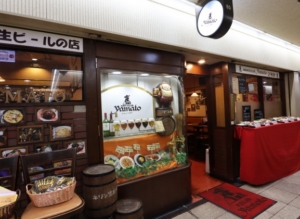 The restaurant is famous for its extra large "Katsu-omudomu".
But this is not on the menu list.
If you look at the menu list, you can order a large size for extra 100 yen, but the super large size is not on the menu.
However, if you ask the staff, you can order it for extra 300 yen.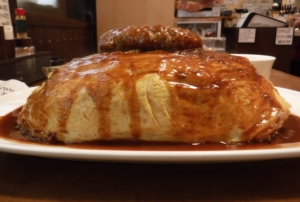 The super large size for extra 300 yen
The photo shows regular size and super large size. It looks like Ayers Rock!
It is a voluminous menu with a cutlet on a huge omurice. Mix it with a generous amount of demi-glace sauce.
The regular size is 770 yen, but you can eat it just by adding 300 yen. The cost performance is outstanding!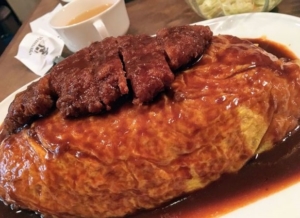 One thing to be careful is that you can eat super large size only at this branch in the 3rd building in front of JR Osaka station.
It is not on the menu so you may be worried if you can really eat it, but please tell the staff "Can I get a Katsu-omudomu with extra 300 yen.".
Information
Hours: Lunch 11:00~15:00, Dinner Mon-Fri 16:30~23:00, Sat 16:30~22:30, Sun and holiday 15:00~21:30

Closed: 3rd Sunday
Futsu no Shokudo Iwama
This is a set meal restaurant known for its large menu which is a 5 minute walk from Namba Station.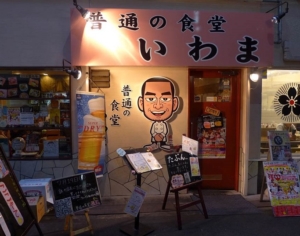 There are a lot of dishes on the menu, and it is very voluminous. It is crowded with many businessmen during lunch time on weekdays.
I recommend the set menu. Because all the set menus are in large size, and the essential taste is also delicious and superb.
If you want to enjoy a lot of shrimp, I recommend "Fried prawn rice bowl".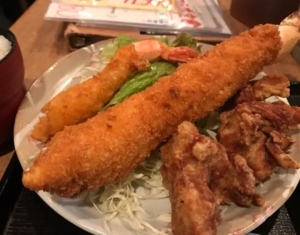 It is a rice bowl with one extra-large shrimp and one regular shrimp on it, and it is a very filling and popular menu.
The fresh shrimp is plump and the salty-sweet sauce goes well with the white rice, so you will be very satisfied. And with this volume, the price is only 1,000 yen.
There is a set menu that you can order only at night. I recommend Toritama-tendon. It costs only 800 yen for this volume.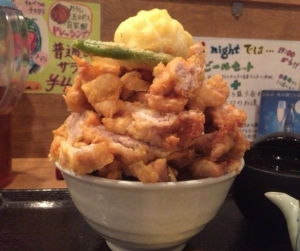 Toritama-tendon
Because it is too cheap, the menu is limited to 10 meals a day.
There are many other snacks that go well with alcohol. You will be a regular customer if you notice.
By the way, the restaurant name "Futsu no Shokudo" means "Ordinarily Restaurant" in English. I think they should change to "Great Restaurant".
Information
Hours: Sun-T

hu 11:00~22:00 (L.O.21:30), Fri and Sat 11:00~22:30 (L.O. 22:00)
Closed: Wednesday
Osaka Tonteki (Pork steak)
Tonteki is Pork steak. The steak is cooked using a unique cooking method developed to retain its umami flavor and soft texture.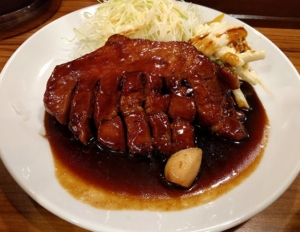 Osaka Tonteki has several stores in Osaka, but the closest one from Osaka Station is the store in the 2nd building in front of Osaka Station.
Tonteki looks rare, but it's well cooked, soft and easy to eat. Thickly cut shoulder roast is cut into the shape of a glove and grilled with garlic and lard until it browns beautifully and is mixed with special sauce.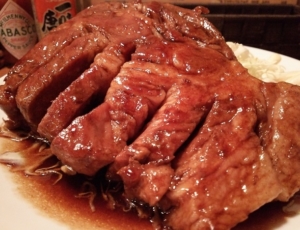 Tonteki's menu comes in three sizes, 200 g, 300 g and 500 g, and the 500 g Tonteki (1,400 yen) is just a big serving.
Tonteki, which is eaten with a special garlicky sauce, goes very well with rice and is delicious.
I would like you to try it when you visit Osaka.
Information
Hours: 11:00 ~22:00 (L.O.21:00), Sunday and holidays: 11:00~21:00 (L.O.20:00)
Open all year round
Kissa Y (Breakfast and lunch)
Located on the east side of JR Osaka Station, Nakazaki-cho is an area lined with stylish general stores and cafes.
"Kissa Y" in the area is a cafe where you can have a large breakfast (600 yen).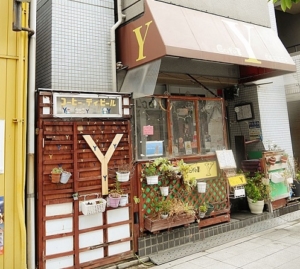 Breakfast at Japanese cafes is relatively inexpensive, but the breakfast here is exceptional.
Bacon and eggs are 4 fried eggs topped with salad and 4 thick slices of bacon. And it comes with very thick toast with plenty of butter.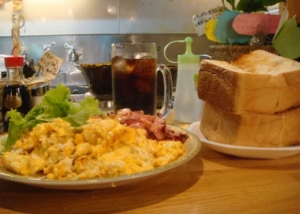 Another popular large menu is sandwiches (1,000 yen).
This is a thick bread filled with eggs, bacon, and lettuce. One piece is big enough to satisfy you, but this is for one person with 3 pieces.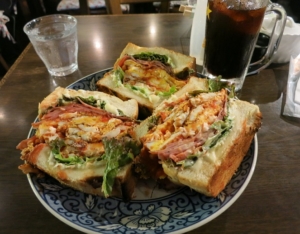 The name of this sandwich is "half sandwich" but half doesn't mean half a person, it means half a loaf of bread.
Kissa Y has a lunch menu, but everything costs around 1000 yen. It is a recommended cafe that is delicious, voluminous and cheap!
Information
Hours: 8:00 ~18:00
Closed: Sundays and holidays
Kanariya (Parfait)
It is a parfait specialty shop in Tsuruhashi, Osaka.
Tsuruhashi is known for its many yakiniku restaurants, but Kanariya is located in that area.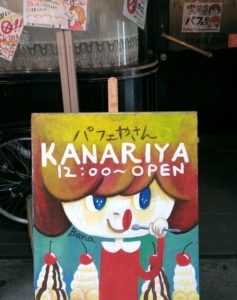 It is reasonable and there are many kinds. And a huge tower parfait is waiting for you.
This is a huge tower parfait that is about 60 cm long. It is a common taste with ice cream, whipped cream, cornflakes and chocolate sauce.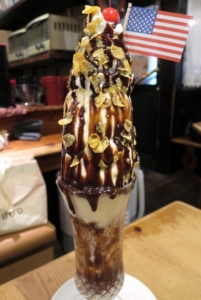 The main tower is made of ice cream. How many ice creams are piled up?
This is a parfait recommended for people who want to eat a lot of ice cream.
There is often a line in front of the shop. If there is a snake-like line in front of the shop, you can leave the shop once. And there is a service that you can get a call from the shop when a table is available. (However, if you do not answer the phone twice, it will be automatically cancelled.) Reservations are only for students.
Information
Hours: 11:00~20:00 (L.O.19:20)  ※Close it when the ice cream is gone.
Closed: Irregular holidays
I introduced some restaurants and cafes in Osaka where you can have super large menus.
However, you won't know the greatness of it unless you actually experience it, so please try it when you visit Osaka. Then take pictures and show them off to your family and friends!
#reasonable  #largemenus  #kushikatsu  #parfait
Kobe Cherie-tei – Popular Ramen in Kansai 🍜
---