Jipane Ice Cream – Unique Dessert in Amerikamura, Japan 🍦
Do you know Jipane ice cream?
Jipane means a cane in Korean. It's a cool sweet from Korea, and they serve ice cream stuffed in a special corn that looks like a cane made from corn.
Where's the shop?
The shop is located in Shinsaibashi, Osaka. It's near Sankaku Park in Americamura, a town for young people. The lively POP advertisement is the landmark.
You can choose from vanilla ice cream (300 yen), chocolate vanilla ice cream (400 yen) and chocolate ice cream (400 yen).
I chose chocolate vanilla this time.
The ice cream melts in your mouth. You can fully enjoy flavor of vanilla and chocolate. The crunchy and fragrant corn has a rich corn flavor. You'll never forget the taste once you eat it.
Ice cream is the main part of soft ice cream, but this jipane ice cream has a rich taste of corn so that it can be said that corn is the main part. It was an unprecedented soft ice cream. Anyway, this impact is great.
Tatsumaki-poteto

 is also popular.
This time, I reported on Jipane Ice Cream, and they say Tatsumaki-poteto (Tornado Potatoes) which is fried 1 sliced potato is also a popular product.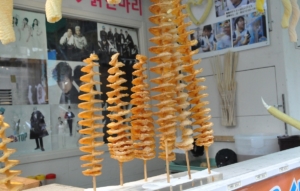 I recommend both products if you are looking for popular sweets. Check it out!
Information
Hours: 11:00~19:00
Closed: Tuesdays
---