Recommended Gourmet at Nishiki Market 🍘
Nishiki Market, which is familiar to the people of Kyoto, is a market that stretches about 400 meters long on Nishikikoji-dori Street, which runs from east to west one block north of Shijo-dori Street, the central street of Kyoto City.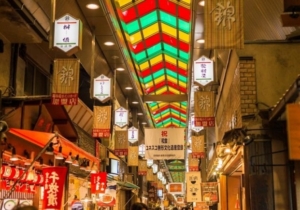 There are about 130 shops and restaurants lined up, and each ones has its own delicious gourmet food.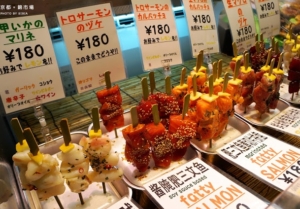 Among them, I will introduce the gourmet that I especially recommend. I list them in order from the east entrance of Nishiki Market so that you can find them easily. Please refer to this article and enjoy delicious Japan!
Eating around in Nishiki Market has been prohibited since 2019. Because with the increase of tourists, it became dangerous to eat and walk in the narrow Nishiki Market.
If you want to enjoy gourmet at Nishiki Market, please eat it in the restaurant or on the bench in front of the shop.
Kyotanba (Roasted chestnuts)
Roasted chestnuts baked in a nostalgic grill. It retains the flavor of chestnuts as it is, and it is popular because it is additive-free and has an original mild taste.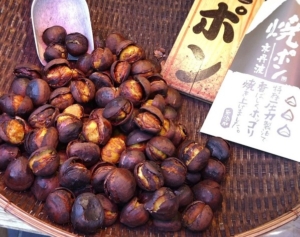 There is a big crack in the chestnut, so it is easy to eat, and you can enjoy the soft and simple taste.
Prices start from 650 yen (130 g), you can share it with your friends.
Tsunoki (Sake)
A sake shop established more than 200 years ago that sells local sake from all over Japan including Fushimi in Kyoto.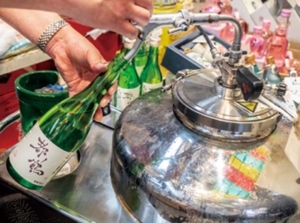 There are a variety of high quality sake, and you can also enjoy barrel sake at the shop, so it's perfect for those who like sake. If you talk to the staff, they will recommend one you like!
Houkyuuan (Skewered tempura)
The tempura fried minced high quality fish at this shop is moist, chewy and delicious and filling. They are skewered one by one so that you can eat them easily.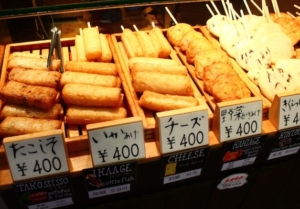 No preservatives are used, and sun-dried salt containing a lot of minerals is used.
At the shop, steaming comes out from a big bamboo steamer, and you can enjoy freshly fried and hot stick-type tempura with various ingredients such as octopus, potatoes, butter and cheese.
Miki Keiran (Japanese rolled omelette)
This is a long-established shop specializing in rolled omelette with soup stock.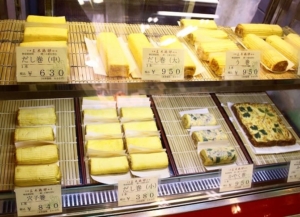 The omelette made with soup stock made from kelp from Rishiri and carefully selected dried bonito flakes and special soy sauce is hand-baked one by one at the shop.
The rich flavor of the broth spreads inside your mouth. The standard small omelette is 480 yen.
Karikari Hakase (Takoyaki)
This is the only takoyaki shop in Nishiki Market and there is a smell of delicious sauce around.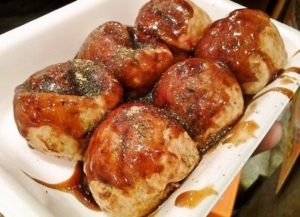 Jumbo Takoyaki is 1 pack of 6 for 180 yen. It has a fluffy texture and a gentle taste of broth. It tastes different from Osaka's takoyaki, and the reasonable price is also attractive.
Uoriki (Pike conger dish)
This is a shop where you can easily eat a pike conger, a high-class ingredient of Kyoto, for 500 yen per coin. Yakihamo (Grilled Pike Conger) has a fragrant odor and stimulates your appetite.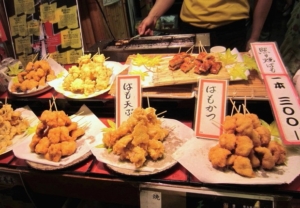 For eating around, Hamoten (Pike Conger Tempura) and Hamokatsu (Pike Conger Cutlet) are recommended. The sweet crunchy coating and the pike conger that is light but rich in flavor are the best match. It's so delicious that you'll want to taste it with sake.
Tsunori (Baby octopus and egg)
It's a shop that sells seasonal seafood. In addition to tilefish, mackerel and high-grade dried baby sardines, there are also sea products from all over Japan such as additive-free dried baby sardines with sansho pepper and overnight-dried baby sardines.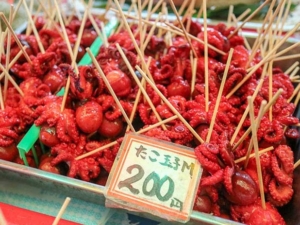 In the midst of all this, the red octopus is one of the most eye-catching things in the shop. Tako-tamago, a small octopus with quail eggs on its head, is a specialty of Nishiki market.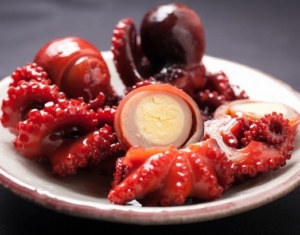 Some shops in Nishiki Market sell them, but you can buy them for 200 yen, which is a little cheaper than other shops. It tastes like vinegared octopus, and the more you chew it, the more delicious it tastes. Perfect with sake.
Genzo (Beef sinew and radish)
This izakaya has a nostalgic atmosphere like old Japan. It has a variety of menu such as Namafu Dengaku, Yuba, Oden, Kushikatsu, Stewed dish and Kyo-Udon.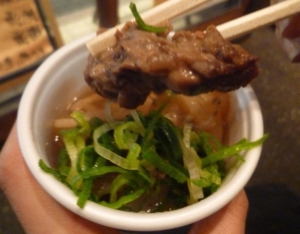 Gyusuji-daikon
Kujonegi-manju and Negiyaki, which use plenty of fragrant and elegant sweet Kujo green onions, are popular.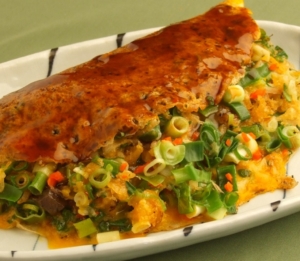 Negiyaki
Gyusuji-daikon (Beef sinew and radish) and Kasujiru are sold at shop during the winter season, so you can enjoy them easily.
You will be able to experience the food culture of the common people in Japan.
Sawawa (Green tea soft serve)
This shop has sweets using Uji Matcha ground with a stone mill.
The soft serve ice cream (Matcha flavor, 500 yen) is made with powdered green tea from the best season.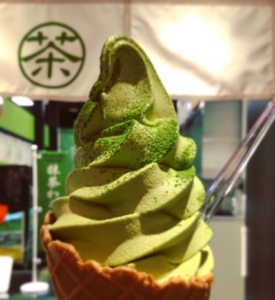 You can enjoy exquisite sweetness and bitterness with deep and rich taste of Matcha.
Kimura Fresh Fish (Skewered Sashimi)
This is a long-established fish store that has been running since the Edo period, and it wholesales to restaurants such as high-class restaurants, and it is also known for its good quality. Skewered sashimi is very popular among foreign tourists.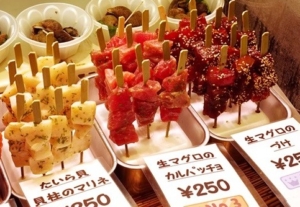 Starting with the most popular fatty salmon carpaccio, seasonal fish skewers such as raw tuna zuke, carpaccio and marinated raw octopus are available at the store. It also has cod milt and anglerfish liver with ponzu sauce (350 yen each), so you can eat fresh and good quality fish easily.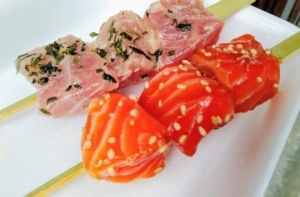 Hatanaka (Squid with roe)
This is a fish store that sells daily side dishes. The standard popular dish is Kensakiika with roe (Squid with roe).
When you order it, it will be grilled again on the net and the fragrant flavor of soy sauce will be brought out more.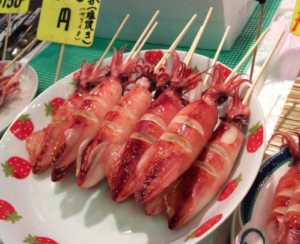 It is soft and just the right size for when you are a little hungry. It's nice that 1 skewer is from 150 yen.
Konna Monja (Soy milk donuts)
This is a sweets shop that uses tofu and soy milk. The soy milk donuts made by tofu shop are popular, and people from the local area to tourists line up for them every day.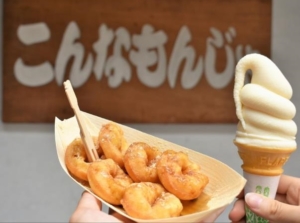 You can also enjoy healthy tofu sweets such as soy milk ice cream and Kyoto hot dog.
Donuts with syrup for eating such as chocolate, brown sugar syrup soybean flour and caramel are 6 for 300 yen. It will be fun to choose and buy your favorite taste a la carte.
Hatanoken (Yakimochi)
This is a Japanese confectionery shop established in 1912.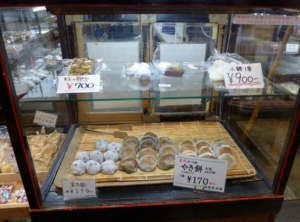 Kuri-mochi (Chestnut rice cake), which uses chestnuts from Tamba, Kyoto's standard confectionery Namafu-manju, and Yaki-mochi (Baked rice cake), which uses baked Daifuku-mochi, are among the many types of Japanese confectionery available.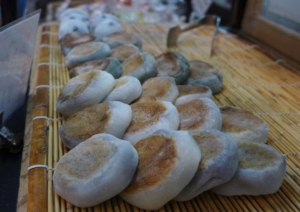 Yaki-mochi
Yaki-mochi is a name unique to Kyoto. There are 2 kinds of Mochi, white Mochi and Yomogi Mochi, which contain light Tsubuan.
How was it?
In addition to the shops I introduced this time, there are many delicious gourmets from food to sweets that are unique to Kyoto.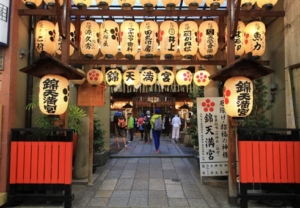 Nishiki Tenman-gu Shrine
Why not enjoy the unique taste of Kyoto that is evolving while preserving tradition?
Find your favorite store!
Ichijo Yokai Street – Meet the Japanese Monsters in Kyoto 👹
---