Kyoto Karafuneya Coffee – Lots of Amazing Parfaits! 🍨🍨🍨
There's a coffee shop in Kyoto's Sanjo called Karafuneya Coffee which is famous for its parfait.
They have a line-up of more than 150 kinds of parfaits. Even if you keep going every day, it takes at least half a year.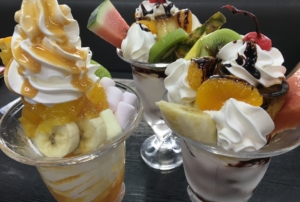 Karafuneya Coffee Shop was founded in 1972, and it's a cafe chain that has 11 shops centering on Kyoto including the main shop in Sanjo.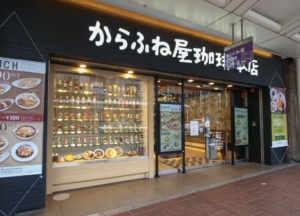 If you are going there, you should definitely go to the Sanjo main shop which is very accessible.
I'll introduce a unique coffee shop that became famous for its parfait.
Let's go into the shop.
You'll be surprised to see a line of parfait samples as you enter the shop.
The total number of seats on the 1st and 2nd floor is about 100. You can also make a reservation.
If you look at the menu, there're really a lot of parfaits. Everything looks delicious and it will take time to choose.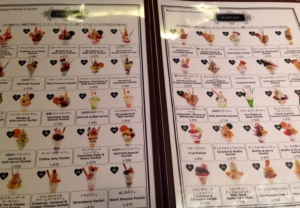 There's also a series of jumbo parfaits designed to be shared by multiple people. The largest one is for 20~25 people, but of course you need to make a reservation in advance.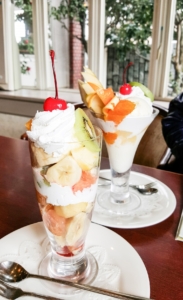 Funny Parfait
There're not only normal parfaits but also very unique parfaits.
It's a parfait with fried food which is served only at Sanjo main shop.
There're 5 kinds of parfait: French Fries Parfait, American Dog Parfait, Fried Prawns Parfait, Fried Chicken Parfait, Fried Pork Cutlet Parfait.
If you're not satisfied with a regular parfait, why not try these?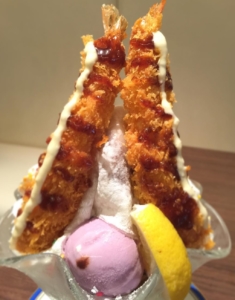 By the way, all the fried food on these parfaits are freshly fried. It takes a little time, but it's hot and crispy and delicious.
It's designed so that the heat is not transmitted directly to the ice cream. You can feel your obsession in various parts.
Giant Parfait
In addition, the feature is the super large parfait!
The power of the parfait served in a large container like a bucket is amazing.
There're as many as four of these.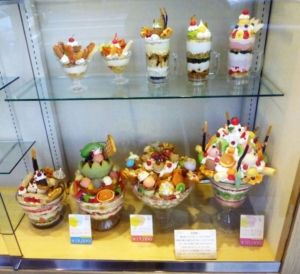 The largest one is Le Reve (50,000 yen).
It's an extra-large parfait with 75 kinds of ingredients such as ice cream, fruit and roll cake. It's said that it serves about 20~25 people.
It sounds like a dream menu for people who have a sweet tooth.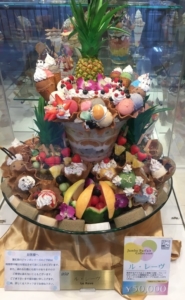 I think you will have a pleasant time if you visit on weekdays.
It's a shop that continues to evolve by always sending out new and special parfaits.
I'm sure you'll find your favorite parfait.
Parfait food samples

Information
Hours: 9:00~next 1:00 (Holiday day before, Friday, Saturday), 9:00~23: 00 (Sunday to Thursday)
Open all year round
Popolo Hiroba is Paradise of Parfait! – Kyoto Fushimi 🧁
---