Kyoto Gion Mametora – Cute Bean-like Sushi
Famous for its mamesushi, the restaurant Gion Mametora is located just behind the Kyoto style Hanamikoji, close to Kennin-ji Temple. It's a location where you can fully enjoy Gion that you can't have more than this.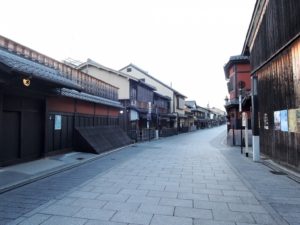 To make it easy for maiko to eat, the one-bite size of the mame sushi is so beautiful that you can't help shouting. If you come all the way to Gion, why don't you enjoy a little extravagant authentic lunch with the atmosphere of Kyoto?
Of course, it's great to enjoy the seasonal course while enjoying the atmosphere of Gion at night.
Origin of the restaurant's name
Mame in Mame-tora means beans. It's said that it was once popular among the aristocracy in Kyoto to enjoy drinking while eating snacks and snacks of sake on a small plate.
Taking over the tradition, you can eat bean dishes using various bean plates at Mame-tora.
Tora comes from the proverb become a tiger which means a person who drinks.
It also means a restaurant where you can enjoy alcohol while having dishes on a small bean-like dish.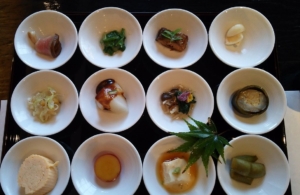 Various bean dishes in various shapes and colors. The popular bean dish where you can enjoy a lot of seasonal and delicious food little by little is also one of the fun.
Enjoy the atmosphere of Gion
Just by passing through the noren (a short curtain hung at the entrance of a restaurant) of a Japanese restaurant located along Hanamikoji, which is paved with stones, you will feel gorgeous.
The interior of the renovated town house has a high-quality Japanese space with a good atmosphere.
On the first floor, there's a private room where you can eat while looking at the garden, so you can relax.The sunken kotatsu seats are also attractive. They are decorated with seasonal flowers and pictures of tigers, so you can relax.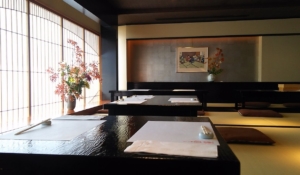 There's a large room for 36 people on the 2nd floor. The wall is decorated with pictures of Maiko and surrounded by the atmosphere of Gion.
There're private rooms for 2 people, 4 people, and 12 people on the 3rd floor, and it's nice that you can choose the room that suits your purpose.
It's only available at night, but the counter seats on the first floor are also popular. It will be fun to see the food being made in front of you.
During lunch time, you need to pay 500 yen for a private room per 1 person.
Anhydrous cooking possible Vermicular

It's delicious to see and to eat.
There're two lunch menus, Mamesushi-Mamezura-zen for 6200 yen (excluding tax) and Mamesushi-zen for 4200 yen (excluding tax).
At night, you can enjoy Mamesushi-Kaiseki and Omakase course with seasonal ingredients.
They value tradition and playfulness. Japanese New Year's Day, Gion Matsuri Festival, moon viewing, and other festivals are incorporated into the dishes in a variety of ways to entertain visitors.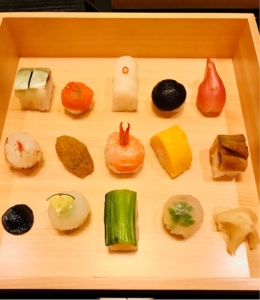 I've been waiting for Mamesushi. When I opened the lid and saw the indescribably cute Mamesushi, I couldn't help but shout, Wow!.
I can't wait to decide which one to eat first. There're materials that are typical of Kyoto and items that you can feel the season.
The brown sugar warabimochi for dessert is a specialty that is particular about its jiggly texture. It will definitely be a satisfying Gion lunch.
I recommend you to have a meal in a private room with a little luxury at Mametora.
This restaurant is available for online reservation.
Information
Hours: 11:30~14:00, 17:00~21:00
Open all year round
---