Toy Train Actually Running – Wakayama Electric Railway
Do you know that the Wakayama Electric Railway has a unique train called Omoden?
This is the world's first train equipped with a capsule toy machine.
Toy is called omocha in Japanese and train is called densya. The nickname of omoden comes from omocha densya.
I'll introduce Omoden which is fun for both adults and children to ride.
What kind of train?
Wakayama Electric Railway is a line that extends to the eastern suburbs of Wakayama City and was spun off from Nankai Electric Railway in 2006.
The train cars of Nankai Electric Railway are used as they are, but they were renewed and painted in cute colors.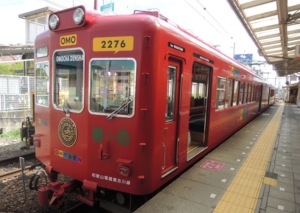 Not only the exterior but also the interior is refreshed, and I don't think it's been 45 years since I started driving. There're many kinds of seat designs, and it's a fun train with various other devices inside.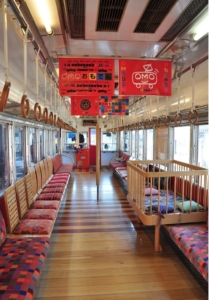 The easiest way to get on the Omoden is to go to Wakayama Station on the Wakayama Electric Railway.
Wakayama Station is next to JR Wakayama Station, so you can easily get there from Osaka.
Capsule-toy vending machines
The most unique part of the train are the capsule toy vending machines. In other words, you can "Gacha-gacha" on the train!
Of course, even in the world, this train has never been seen before. It's actually a surreal design, but it's the true essence of the playful Omoden.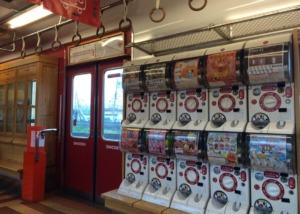 There's also a capsule toy of Omoden goods in the vending machine.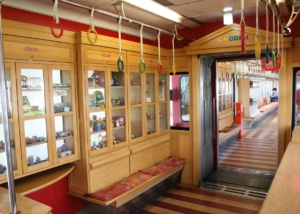 Why don't you try it once as a souvenir?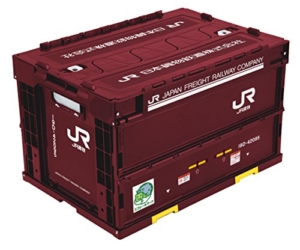 Train products in Japan

Tama Train is also popular.
In addition to Omoden there're Ichigo (Strawberry) Train, Tama Train and Umeboshi Train which are full of fun. Please check the website for details.
I think the reason why Wakayama Electric Railway is so great is that such fun trains run regularly every day and become a means of transportation for people living along the line.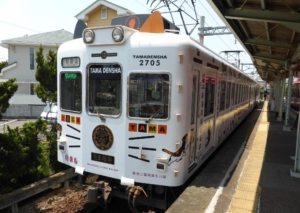 Tama Train is also popular. The Tama Station manager are at Kishi Station and Idakiso Station.
Please check the working hours if you want to meet.
Why don't you take a fun train of Wakayama Electric Railway and have a good time?
Kintetsu Yamato-Saidaiji Sta. – Amazing Station in Japan
---