Best Okonomiyaki in Umeda, Osaka
In Osaka, there're many foods born in Osaka such as Kushikatsu and Takoyaki which is a representative of powdered food.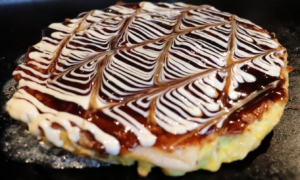 Among them, Okonomiyaki is also a typical food born in Osaka.
I recommend a good Okonomiyaki restaurant that you can eat in Umeda, Osaka's largest downtown area.
Yukari
A well-established restaurant established in 1950. There're many kinds of menus, and the name is unique. The huge Okonomiyaki "Osaka Castle" that can be eaten by multiple people can only be found in Osaka.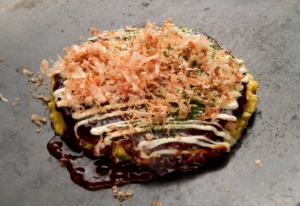 The most popular is the Tokusen-mikkusu-yaki (Special Mixed Grill, 1,220 yen) which includes pork, squid, shrimp and octopus.
Yukari-yaki (1,460 yen) is a crispy batter with pork, squid, scallops and konnyaku filling. I also recommend it.
There're unusual Okonomiyaki such as Japan-yaki (1,000 yen) or Fromage-yaki (1,450 yen) with cheese. If you like cheese, please try these.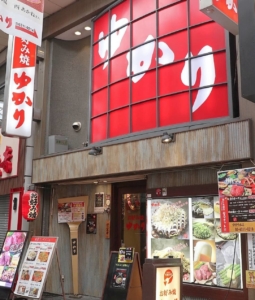 The red sign is the landmark. There're seats on the first and second floors, but the line doesn't end at night. There're many regular customers, and you can eat delicious Okonomiyaki that doesn't betray your expectations.
This is the main restaurant in Sonezaki, but there's also Hankyu-Higashidori shop nearby.
I recommend you to make an online reservation before you go.
Information
Hours: 11:00~next 1:30 (L.O.0:00)
Closed: Irregular holidays
Hirokazuya
Hirokazuya is an Okonomiyaki restaurant in Umeda that has been loved by locals for a long time.
There's a counter table in front of the Teppan (Iron plate) in the restaurant, and it has a retro and calm atmosphere.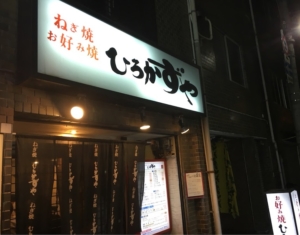 There're various menus such as Okonomiyaki, Negiyaki, Yakisoba and Yakiudon. Carefully prepared ingredients are grilled on a thick Teppan. You will be satisfied with the taste and amount.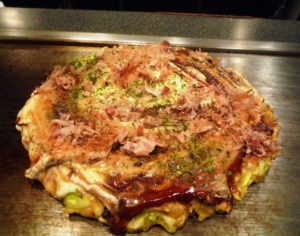 Everything is delicious, but I especially recommend Negiyaki (With green onion). Negiyaki is made with the dough well, so even people who don't like green onion can eat it deliciously without worrying too much.
Negiyaki with light soy sauce flavor. Okonomiyaki with rich sauce flavor.
Which one would you like?
Information
Hours: Monday, Thursday, Sunday, holidays 18:00 ~next 3:00 (L.O.2:30), Friday, Saturday, the day before national holiday 18:00~next 7:00 (L.O.6:30)
Open all year round
Mifune
A voluminous Okonomiyaki with thick meat and roughly cut cabbage. Basically, we mix it by ourselves and grill it on the Teppan in front of us.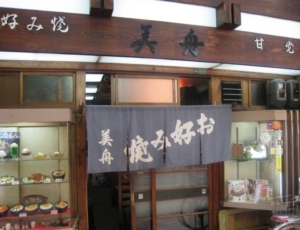 We can enjoy Okonomiyaki which makes use of good ingredients without being influenced by sauce.
There're many regular customers, and they keep the taste from the old days.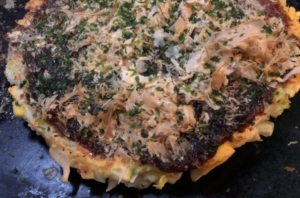 If you have big baggage, you may be refused to enter the restaurant. If you come for sightseeing, it's better to leave your luggage somewhere before you visit.
Information
Hours: 12:00~15:00, 18:00~22:30
Closed: Tuesday
Recently, there're many Okonomiyaki restaurants that have become tourist destinations and have lost their flavor, but here I introduced Okonomiyaki restaurants that are loved by local people.
Please try it when you visit Osaka!
---