Japanese Sakai knives – Many Chefs Love
Sakai City in Osaka Prefecture is one of Japan's three largest producers of knives. (Sakai City, Seki City Gifu Prefecture, and Sanjo City Niigata Prefecture)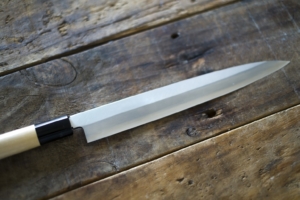 Called Sakai-Uchihamono it's said to have a 600 year tradition, dating back to the 5th century.
The market share of knives in Sakai is small at about 7% in Japan, but the market share of knives used by Japanese professional chefs is more than 90%.
It's exactly the production area of knives that professionals want.
History of Sakai knives
Sakai City has one of the world's largest tombs (Daisen Ling ancient tomb), built in the 5th century.
At that time, capable smiths were gathered in Sakai from all over Japan. And it's said that the origin of Sakai knives is that they made tools necessary for civil engineering work.
It's said that the smiths continued to live in Sakai and the technique of blacksmithing developed.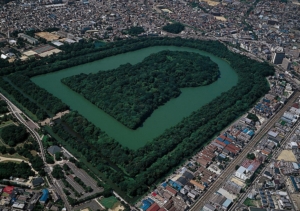 When guns were introduced to Japan by Portuguese people in the 16th century, Sakai knives technology was utilized and it became famous as a production area of guns.
Later, with the end of the turbulent world, the demand for guns decreased, but instead, due to the prevalence of smoking, tobacco knives that cut tobacco leaves were made in Sakai.
In the Edo period (1603-1868), Tokugawa Shogunate began to monopolize Sakai knives as a brand. As a result, the name of Sakai knives have spread nationwide.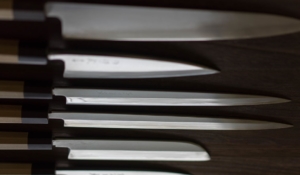 Since then, the craftsmanship of the area has been passed down to the local blacksmiths, and to this day, a number of sharp-edged knives used by professional chefs have been produced.
The share of knives used by professional chefs in Sakai is above 90%.
Even from the high ratio, we can feel the pride of the blacksmiths who make Sakai knives and the trust of the chefs who work there.
Features of Sakai knives
The special feature of Sakai knives is its sharp edge. It's created by forging and sharpening techniques by skilled craftsmen.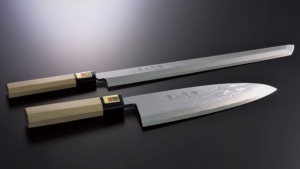 Sakai knives are made by bonding two different materials, soft iron and steel, to combine sharpness and durability.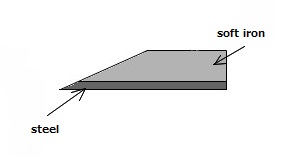 Soft iron is flexible, and steel with a high carbon content is very hard when quenched.
In this way, using hard metal for the edge and soft metal for the back makes knifes that don't break, don't bend, and cut exceptionally well.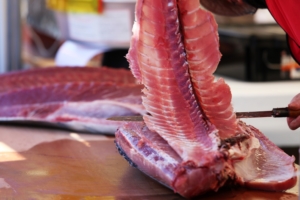 Sakai knives are very safe because they cut hard ingredients without putting extra strength.
These are the reasons why professional chefs come all the way from all over the country to buy.
Unique manufacturing process
The manufacturing process of Sakai knives is unique and it's a form of division of labor.
There're craftsmen who specialize in blacksmithing process, sharpening process, and handle attachment process.
In other words, one knife is made by a craftsman who is very skilled in each process.
The blacksmithing process ↓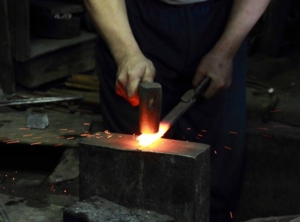 The sharpening process ↓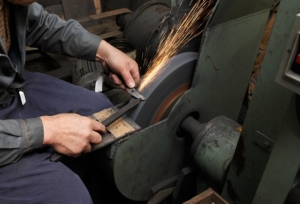 The handle attachment process ↓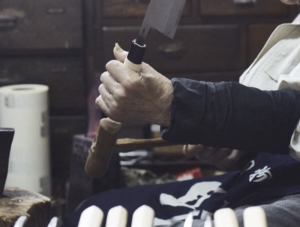 If one craftsman makes one kitchen knife, he needs to learn all the process skills.
However, if one craftsman takes charge of only one process, he can spend three times as much time refining his skills.
Sakai knives are of high quality because there're specialists in each manufacturing process. And the technique has been passed down from generation to generation.
Incidentally, although it's not in Sakai City, there's the only place in Kansai where you can experience blacksmithing.
This extraordinary experience will be a precious memory for you.
Next, I'll introduce a kitchen knife Sakai is proud of.
Sakai Takayuki
Sakai knives has a history of 600 years, and Sakai Takayuki is one of the leading knife manufacturers in Sakai.
Quality in detail is a traditional skill that has been handed down from generation to generation, and it's created by high-quality craftsmanship.
And now they're being exported across the ocean to over 100 countries around the world. The uncompromising and refined kitchen knives have attracted many people across borders.
This is the most popular kitchen knife among Sakai Takayuki who uses Japanese steel.
Sakai Takayuki (Japan Steel) Gyuto 21 cm

Sakai Jikko
Sakai Jikko is a kitchen knife specialty store with over 100 years of history.
To make a beautiful dish, a kitchen knife needs an overwhelming sharpness. But it doesn't mean you just need to cut sharply. The important thing is that the sharpness lasts.
Since its establishment, Sakai Jikko has made the best kitchen knives while talking with chefs.
Another selling point of Sakai Jikko is that you can get a name engraving on the knife for free. By engraving the name of the knife, it becomes one of the original knives in the world. It will be appreciated as a gift.
This is a popular Santoku knife in Sakai Jikko. Santoku knife is an all-purpose kitchen knife and has the advantages of both western and Japanese knives.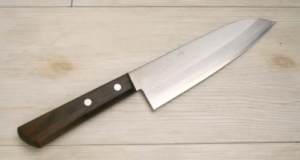 Sakai Jikko (Japan Steel) Santoku 16.5 cm

This kitchen knife is sharp enough for home use and has excellent cost performance. The length is easy for women to use, and of course the engraving of the name is free.
Sakai knives have excellent sharpness and durability by keeping the production method of division of labor.
There's no doubt that this quality has been recognized by professionals.
You can buy all the products in the picture on this page from amazon.co.jp.
However, there're problems such as the products that have not been shipped from Japan to your country, and the overseas shipping cost and overhead costs will increase even if you can ship them. (For example, amazon.co.jp cannot ship all products to Australia.)
You can use Overseas Forwarding Services to solve this problem. This is a very useful service that will make your online shopping more global!
Kitchen knife sharpener

---