World's Most Heavy Rain Experience in Shiga, Japan ☔️☔️☔️
There's a facility in Shiga Prefecture where you can experience the world's most heavy rain (600 mm/hr).
The facility has 4 levels of artificial rain, and it can produce rain in stages from 5 mm/hr.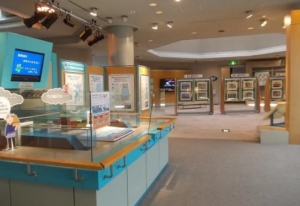 In addition, there're exhibitions, videos, models and games where you can learn about Lake Biwa and the rivers in the Kansai region and it's a spot that both adults and children can enjoy.
And admission is free.
Where's the facility?
The facility where you can experience the most heavy rain in the world is Aqua Biwa. As the name suggests, it's a facility where you can get a lot of information and knowledge about Japan's largest Lake Biwa.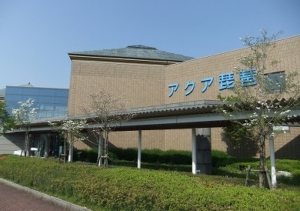 Aqua Biwa
The centerpiece of the facility is Rain Experience Room! Wear boots, raincoat and umbrella provided in the rain room and go inside. You can rent these rain gear for free.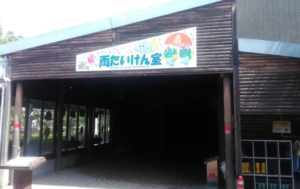 The world record for rainfall is 1870 mm/day recorded in 1952 on the Réunion Island (French Territory) in the Indian Ocean. There's no record for 1 hour, but you can experience 600 mm/hr assuming the maximum rainfall per hour.
Let's experience the rain!
There's a panel explaining the amount of rainfall in the Rain Experience Room.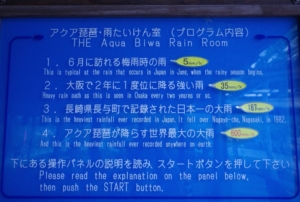 ▼Stage 1: Rain at 5 mm/hr. This is the usual amount of rainfall during the rainy season in Japan. 🌂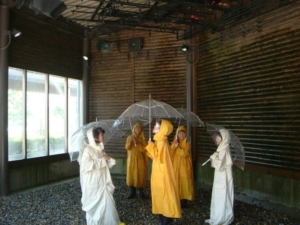 ▼Stage 2: Rain at 35 mm/hr. It's a heavy rain that falls about once every two years in Osaka. ☔️
▼Stage 3: Rain at 187 mm/hr. It was the heaviest rainfall in Japan in Nagasaki Prefecture in the past. It's raining buckets. ☔️☔️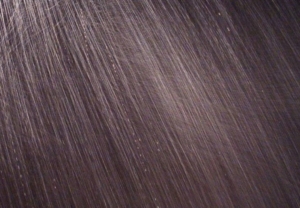 ▼Stage 4: Rain at 600 mm/hr. The strongest rainfall in the world. This is more like a waterfall than rain. If you experience this power, you will feel the threat of nature on your skin! ☔️☔️☔️
The Aqua Biwa introduces the beautiful scenery, history and relationships with people of Lake Biwa through its video hall and panel display.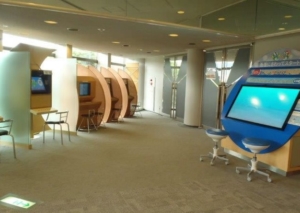 It also introduces the water environment of Lake Biwa, including plankton and organisms that inhabit the lake, in an easy-to-understand way.
It's a facility where you can enjoy learning about Lake Biwa that you still don't know, so why don't you go there? It's an indoor facility, so you can enjoy it even on rainy days!
It's strange to experience rain on a rainy day…
Information
Hours: 9:30~16:30
Closed: Irregular holidays
Admission: Free
---