Kyoto Cycling Tour Project (KCTP) – With English Speaker Guide 🚴‍♀️
It's best to go around Kyoto City by bicycle.
This is because the stress-free travel without congestion improves your footwork and allows you to use your limited travel time effectively.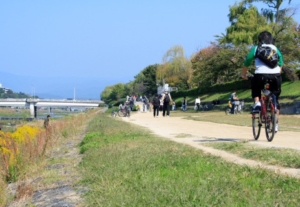 Therefore, in Kyoto, bicycle tourism is established as one of the sightseeing styles.
Located about a two-minute walk from Kyoto Station, Kyoto Cycling Tour Project (KCTP) is Kyoto's largest rental bicycle shop, which rents original bicycles with excellent mobility.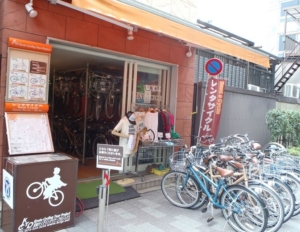 KCTP Kyoto Station Terminal 
There are also daily cycling tours with an interpreter guide for foreign tourists. (Advance Application Required)
It is very popular among foreign tourists because they want to enjoy the real pleasure of cycling.
Bicycle lineup and service fees
KCTP has its own original bicycles for bicycle tourism. They are safe and easy to drive, and are very popular among women and senior customers.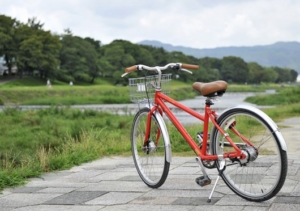 Other than that, it has electric assist bikes, mountain bikes, children's bikes and so on, and you can rent them according to the purpose.
Business hours are from 09: 00~18: 00. You can return it to another KCTP cycle terminal for an additional fee.
Rental only costs from 1,000 yen per day and tour participation costs from 6,500 yen.
About the cycling tours
There are 6 cycling tours in total with English-speaking guides that know Kyoto well.
In Kyoto, there are many hidden sights and alleyways full of atmosphere which are still not in guidebooks. They will guide you to such a spot.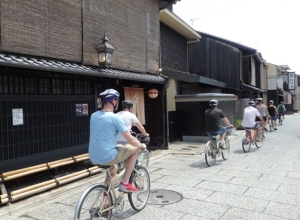 "Back Street Tour" is a tour that takes you around Kyoto leisurely while experiencing the wind and fragrance of Kyoto.
You can fully feel the atmosphere of Kyoto. It takes 3 hours and the fare depends on the number of people, but it costs 6,500 yen per person for 4 or more people.
"Fushimi Inari Shrine & Sanjusangen-do Temple Tour" visits the breathtaking Sanjusangen-do Temple Buddha statues, followed by a visit to Fushimi Inari Shrine, the number one tourist attraction in recent years.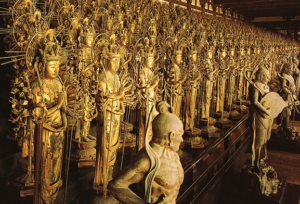 Sanjusangen-do Temple
Even though it is crowded with worshippers, they will guide you to the smooth movement, sightseeing spots and photography spots. After visiting the shrine, you can enjoy Japanese sweets with a fortune slip.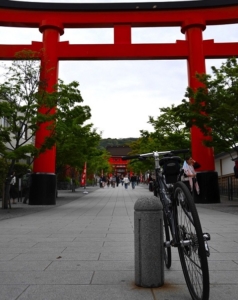 Other attractive tours include "World Heritage Tour" and "Kamogawa Riverside Tour". You can enjoy any tour you choose. >>Tour Details
Safe service in case of emergency
When you ride a bicycle in an unfamiliar land, you are worried about unexpected accidents and troubles.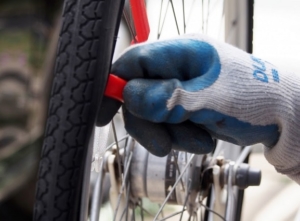 However, property and personal accident insurance is included in the tour fee, and there is also a support service that allows KCTP staff to rush to the site by phone when there is a problem such as a flat tire while driving.
When the tire is flat, the parts, transportation and replacement cars are all free, and it seems to be popular with the users.
How to Use KCTP
The terminal of KCTP is located in "Kyoto Station", "Kyoto Station Hachijo Gate", "South of Gosho" and "Fushimi" which are the key points of sightseeing in Kyoto, and you can use them according to your sightseeing plan.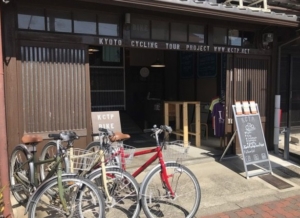 KCTP Kyoto Station Hachijo Gate Terminal 
If you rent only, you can rent on the spot if any terminal has it in stock on the day.
If you want to join the tour, you need to make a reservation at least 3 days in advance on the website. You can make a reservation by the day before if you call.
If there is an English-speaking guide, you can enjoy your first visit to Kyoto with peace of mind.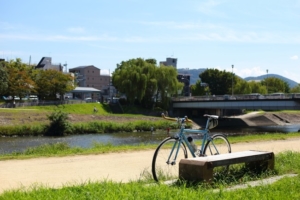 By the way, in Japan, it is a rule that bicycles run on the road on the left side.
However, if there is a bicycle road in the sidewalk, please be careful of pedestrians and drive slowly.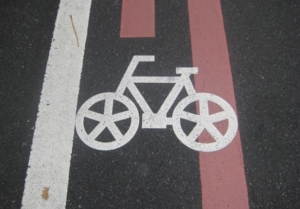 Also, parking on the street is prohibited, so please make sure to park at the bicycle parking lot.
Please enjoy sightseeing in Kyoto by bicycle using five senses such as scenery, wind, fragrance and sound of Kyoto.
Information
Hours: 9:00~18:00
Open all year round
---