Magical Hot Pot Vermicular – Made in Japan 🍳
Do you know a pot called Vermicular?
It's the same kitchen dutch oven as Le Creuset and Staub, and it's very popular in Japan recently because it can make delicious dishes easily.
The feature of cast iron enamel pots is that you don't have to choose a heat source. You can use it for IH cooking heater as well as direct heat.
In addition, the high thermal conductivity reduces unevenness of heat in the pot and makes it possible to heat food evenly.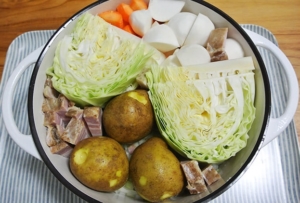 Also, since it has a high far-infrared ray effect, it generates heat from the inside of ingredients, and it's also a feature that you can cook without damaging the structure (nutrition) of ingredients.
There's a good reason why people who actually used kitchen dutch oven say, "The finish is different from other pots!" and "Delicious!".
In addition, it has excellent heat retention, keeps cooked food warm for a long time, and can be used for making jam and vinegar dishes without any problem.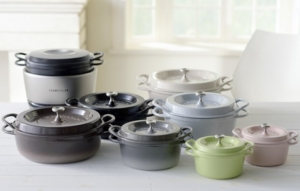 Kitchen dutch oven can cook almost anything, including boiling, grilling, steaming, frying, and smoking, and is perfect for "I want to buy a pot first.". Also, vivid colors are attractive!
Features of Vermicular
The main characteristic of Vermicular is its high airtightness. The joint between the body and the lid is made by a Japanese craftsman by hand. The precision is 0.01 mm, and the airtightness of the body and lid improves the quality of anhydrous cooking.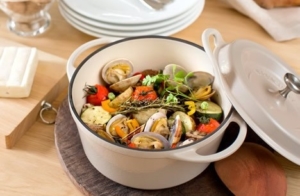 High airtightness means that the moisture and flavor of the ingredients are not lost, and the water and seasonings can be reduced to make dishes that bring out the original taste of the ingredients.
For example, anhydrous curry and nikujaga are one of the dishes that are often made by anhydrous cooking.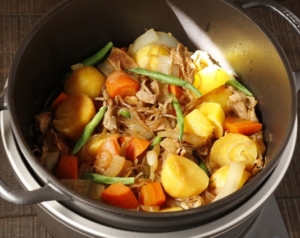 Nikujaga (Meat and potatoes)
And, there're projections on the inside of the lid, and the moisture from the heated food comes down through the projection. It's designed to return the moisture evenly to the pot, and it's similar to Staub.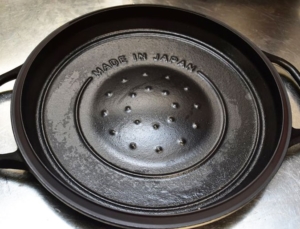 Unlike Staub, Vermicular have a streamlined design around the lid, which allows steam to circulate more efficiently.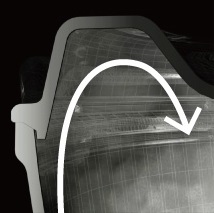 Because it can be cooked with less water, nutrients that dissolve easily in water, such as water-soluble vitamins, are not lost. For example, the data shows that the loss of vitamin C in potatoes is about 1/2 less than that in ordinary pots.
In addition, the bottom of the pot is ribbed to prevent the ingredients from burning on the bottom.
Vermicular was developed by Aichi Dobby a long-established casting manufacturer in Aichi Prefecture. It's still a new brand, but because it's made in Japan, it's already very popular among famous cooks.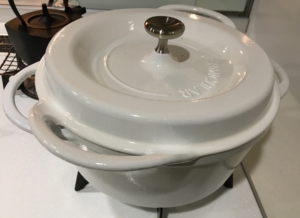 There're many recipes using Vermicular on YouTube and elsewhere. Many people who didn't like cooking became hobbyists after buying Vermicular.
Waterless Pork Curry
Roast Chicken
White Stew
Size and Lineup
There're 4 sizes, 14 cm, 18 cm, 22 cm and 26 cm, and the most standard size is 22 cm.

Several recipe books using Vermicular have been published, but the 22 cm

 size is often used.
By the way, 14 cm

is the palm-size which is convenient for making baby food and side dishes, and 18 cm

 is the size which can be used in daily life for 1 ~ 2 people.
The 26 cm

 size makes it easy to cook whole ingredients or use for party cooking with a large number of people.
22 cm is enough to make 4 servings of curry and stew, and it holds about 1 L more than Le Creuset's or Staub's 22 cm.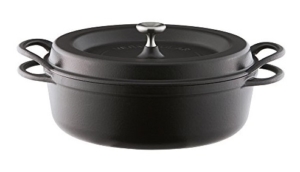 SUKIYAKI 26 cm

 is a shallow pot that is easy to use for Sukiyaki and Hotpot dishes as its name suggests. Equivalent to Le Creuset's Cocotte-Japonaise. Cocotte-Japonaise is 24 cm, so SUKIYAKI 26 cm has more 600 cc capacity due to its larger size.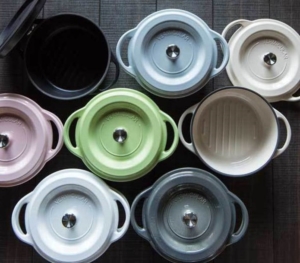 Many of the Vermicular colors are gentle Japanese colors. Choose from natural beige, pearl pink, pearl green, pearl white and other cute pastel colors. There're also deep colors such as matte black.
Just put it in the kitchen, it creates a nice and bright atmosphere.
I hope you'll welcome such a functional and well-designed Vermicular as your family.
You can buy Vermicular at amazon.co.jp in Japan, but it may cost a lot to ship to your country (shipping + overhead). Also, amazon.co.jp  cannot ship all products to Australia.
You can use Overseas Forwarding Services to solve this problem. This is a very useful service that will make your online shopping more global!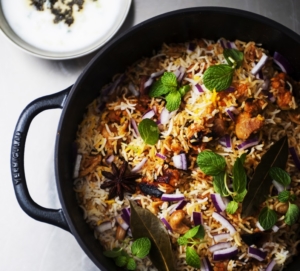 ---