Spa World Osaka – Enjoy Onsen in the City ♨
Spa World is a hot spring theme park that can be enjoyed by children and adults. It's located near the symbol of Tsutenkaku Tower in Osaka.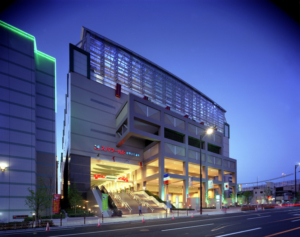 Not only can you enjoy hot springs with the theme of world sightseeing spots, but it's also a popular spot for families, such as a pool for small children and thrilling slider attractions.
What's Spa World like?
With the theme of famous spots all over the world such as the ancient Roman bath, the blue cave, the Mediterranean Sea, etc., it's a spot where you can enjoy all 16 kinds of various hot springs.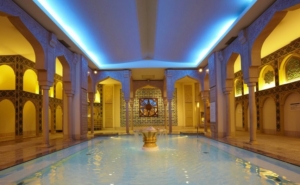 It's divided into Europe zone and Asia zone, and you can enjoy surprise and impression with elaborated atmosphere.
It's also popular as an amusement pool, such as Spapoo Kid's, which are separated by age, and a slider where you can enjoy thrills.
There's a food area that is perfect for lunch, and you can enjoy the original menu.
16 kinds of Onsen around the world
Each floor is divided into Europe zone and Asia zone, and you can enjoy 16 kinds of world baths inspired by various famous spots.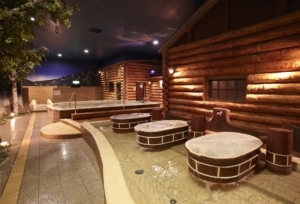 In the European zone, you can enjoy the ancient Roman baths, Greece, Atlantis, the Blue Cave, Spain, the Mediterranean, Finland, and seven other elaborate hot spring baths.
In the Asian zone, there are 9 kinds of baths such as Japanese mountain stream open-air bath, Islamic, Persian, Bali, doctor spa, and large cypress bath, and you can enjoy a different atmosphere in each of them.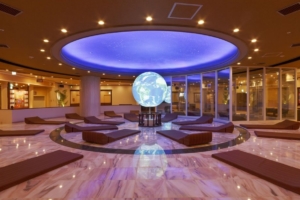 You can also experience the bedrock baths of 8 countries from Turkey, Israel, Egypt, Australia, Korea, Russia, Iceland and Canada.
Because men and women are switched monthly, you can enjoy different things every time you come.
The elaborated bath is sure to make both children and adults excited! Enjoy the different views of the world with your family and friends!
How about enjoying the extraordinary experience with your family in the fantastic atmosphere? Elementary school students and older can use it.
※You have to pay a stone sauna fee in addition to the entrance fee of Spa World.
Find out more!
Spa World Hotel


Relax in the fine view bath.
If you get tired in the pool, I recommend you to take a rest at Bade Zone where you can wear your swimming suit. You can spend a relaxing time with your family in the open view bath and the ancient round pool.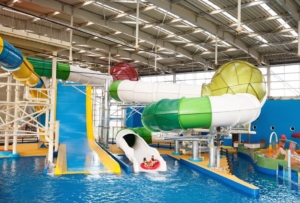 From the open view bath, You can see the symbol of Osaka Tsutenkaku Tower, so your family can relax and enjoy the view of the city. When the sun sets, you can see a fantastic view different from the daytime.
Imformation
Hours: 10:00~next 8:45 (Depends on closure and facility)
Entrance fee: 1,200 yen for general, 1,000 yen for children (Under 12 years of age), 1,300 yen in late-night charge (24:00 ~ next 5:00) , 800 yen for bedrock bath
Open all year round
---