Solaniwa Onsen – Hot Spring Theme Park in Osaka ♨
We want to casually enjoy a day trip to Onsen near the station in Osaka.
That wish came true! There's a place in Bentencho, Osaka where you can enjoy Onsen and Japanese gardens.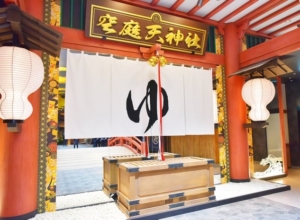 The natural hot spring that wells up from about 1,000 meters below ground is as beautiful as the famous hot springs in Kansai.
10 minutes by JR from Umeda, 20 minutes from Shin-Osaka. This is a convenient Solaniwa Onsen OSAKA BAY TOWER.
Onsen in the City
Solaniwa Onsen is a hot spring facility directly connected to the JR and subway Bentencho Station and opened in February 2019.
The theme of the facility is "The Azuchi-Momoyama period is starting to slip back in time!". The Azuchi-Momoyama period (1568-1600) has a gorgeous atmosphere after the Sengoku period in Japan.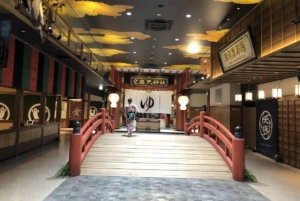 The Japanese space where women in colorful yukata, ninja and townspeople mingle with the fun festival lanterns is more like a theme park than a hot spring.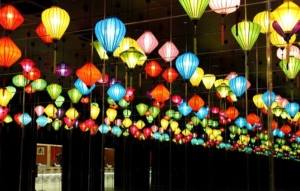 If we check in at the front desk, all payments are made by the wristband. We don't have to carry our wallet around because it's a method of paying at the end.
There're many shops such as restaurants, souvenir shops and photo shops in the building. It's hard to choose, but let's be patient and go to Onsen on the 5th floor.
A
variety of Onsen
The water gushes out from about 1,000 meters below ground, and it's a slightly alkaline water for beautiful skin that is good for women. There're 9 types for women and 8 types for men.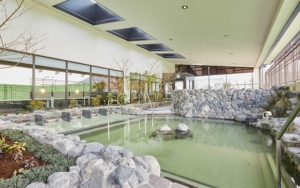 We can also relax at the Garden Bath where we can see the Japanese garden. When we look at the garden from the bath, we can forget the hustle and bustle of the day.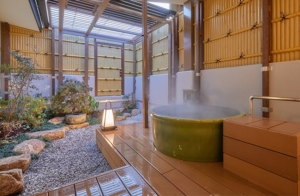 In addition, there're various healthy baths such as the Carbonated Bath in which carbon dioxide promotes blood circulation, and the Silky Bath in which micro bubbles discharge waste matter clogged in pores.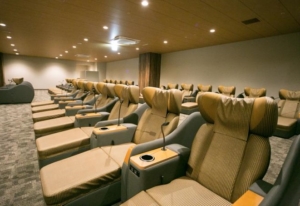 The powder room is also spacious. There's also a Self-Treatment Corner where we can try beauty equipment and cosmetics for 500 yen for 30 minutes. After taking a bath, take care of our skin in our own space. It's a nice service for women.
Relax in a Japanese restaurant
The Kuidaore-Yokocho on the 2nd floor has a variety of eateries such as stand-up drinking, cheap restaurants and Japanese cuisine. We can choose the restaurant depending on our mood.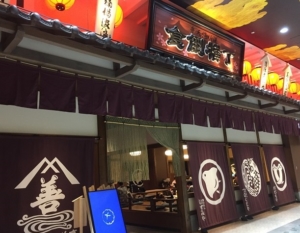 At Sumiuchi-Yamazentei, we can enjoy stand-up Japanese sake, including famous sake from Kansai. Even if we feel a little uncomfortable drinking standing, we can make a debut easily in an extraordinary space.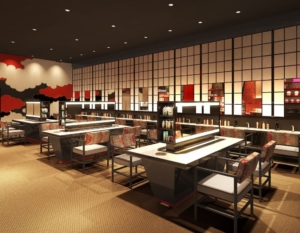 Sashimi is served with clear roasted sake gelee instead of soy sauce. Let's eat healthy food slowly and be healed by gourmet food.
Sky Footbath and Yukata Shooting
We can choose from 6 types of women and 3 types of men for the room wear inspired by the kimono of the Azuchi-Momoyama period.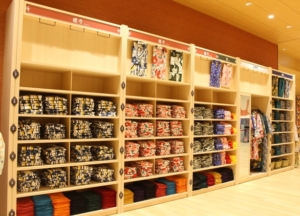 If we pay extra, we can upgrade our Kimono.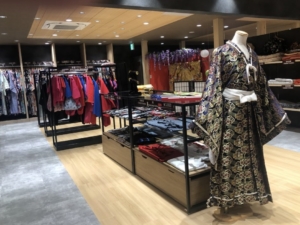 Let's take a picture with the kimono we chose. It's nice to take a picture in the gorgeous building, but if the weather is good, why don't we take a picture with atmosphere in the Japanese garden outside?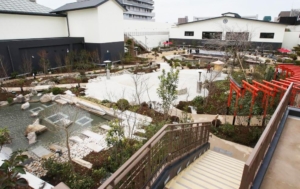 There's also a large waterfall in the open Sky Garden, where there's a shrine that offers blessings of marriage. When we look down from the top of the waterfall, we will see a large pond and a red torii gate.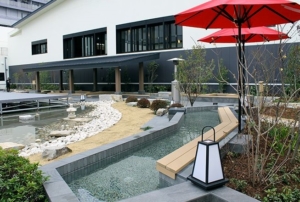 There's a foot bath where we can relax in the large Japanese garden where we can enjoy seasonal plants. There's no end to chatting while gazing at the blue sky.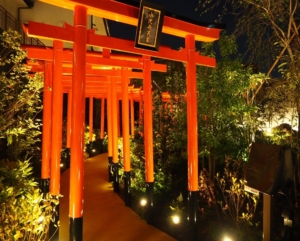 Spend a day in the gorgeous Azuchi-Momoyama period and refresh yourself with Onsen, massage and delicious food!
How about a casual mini-trip to recharge your energy from tomorrow?
Information
Hours: 11:00~next 9:00
Closed: Irregular holidays
Yuasa Castle Onsen Hotel in Wakayama, Japan
---