The Shooting Location of the Last Samurai – Engyo-ji in Hyogo 🎥
A short distance from Himeji Castle, a World Heritage Site, is the ancient temple Engyo-ji Temple.
The tranquil temple with abundant nature is famous for being used as a shooting location for the Hollywood movie The Last Samurai which was released in 2003.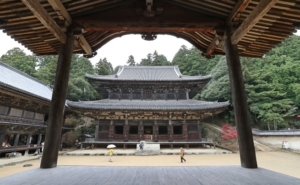 This is a picturesque location even though it is a famous temple. If you know it, you will want to go to Engyo-ji.
How to get to the temple
Engyo-ji is about a 30 minute bus and ropeway ride north of JR Himeji Station.
Take a bus to Mt.Shosha Ropeway from Himeji Station North Exit and get off at the last stop.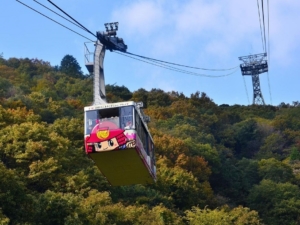 Fare: Round trip 900 yen for general and 450 yen for children
From there, you get on the gondola of the ropeway and enjoy a walk in the air. It takes about 5 minutes to get to the top of the mountain.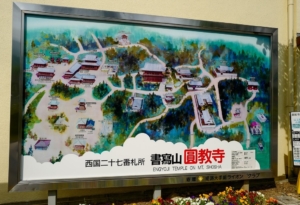 Get off at the station on the top of the mountain and head for Engyo-ji. It takes about 20 minutes on foot and 5 minutes by microbus.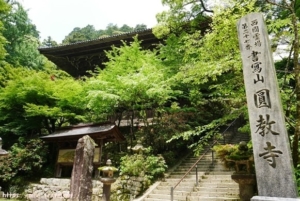 Mt.Shosha Ropeway will be CLOSED for routine inspection from Jan 20th to Mar 17th 2020. (except Feb 2 – 3)
Introduction of the shooting location
Engyo-ji is surrounded by 3 large buildings. Some scenes of the Last Samurai were filmed here.
Tom Cruise landed here by helicopter.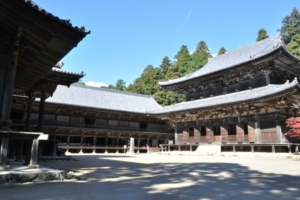 The following are the main scenes taken here.
Jogyo-do
▼The scene in which Katsumoto (Ken Watanabe) chants a sutra in front of Amida Nyorai and later greets Algren (Tom Cruise).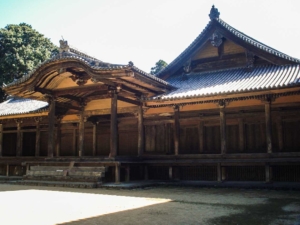 Jogyo-do
Jiki-do
▼The Scene in which Katsumoto and Ujio (Hiroyuki Sanada) discuss whether to make use of Algren or to kill him
▼The scene in which Algren lies on the veranda of Jiki-do and then talks with Katsumoto about the commander of the enemy.
▼The Scene of Katsumoto thinking
The scenes shot here are finely and effectively incorporated into the movie.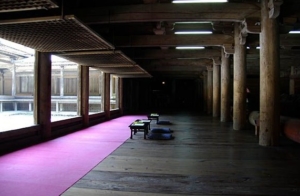 Jiki-do
Honda Family's Mausoleums
▼The scene where Katsumoto and Algren talk about the enemy's mastermind and Bushido in the cherry tree.
Honda Family's Mausoleums
Juji-in
▼This building was used as a rest area for Tom Cruise and you can see the Seto Inland Sea over the garden.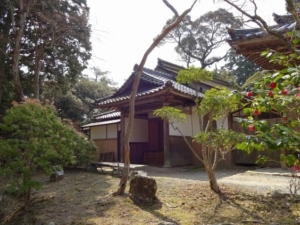 Juji-in
Engyo-ji's Attractiveness
In the beginning, Engyo-ji was not chosen as a location, but when a movie staff member visited Himeji Castle and happened to visit Engyo-ji, the director fell in love at first sight and decided to shoot here.
The director liked it because it has a historical atmosphere harmonized with buildings in nature.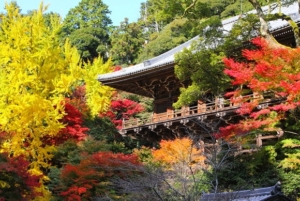 By the way, there is a 700 year old cedar in this temple, and Baumkuchen in the shape of that cedar is sold. Tom Cruise liked this baumkuchen and bought 50 boxes.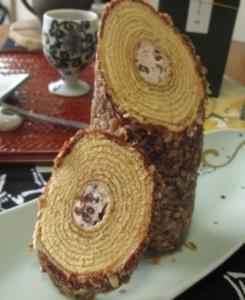 Baumkuchen
Once you step into Engyo-ji, I understand why it was used to shoot a movie. It was a place where nature and buildings kept a very comfortable harmony.
Also, the scene of Algren and Katsumoto is coming back to my mind.
If you have a chance to visit Himeji Castle, I would like you to visit this temple.
Information
Hours: 8:30~18:00

Open all year round

Admission: 500 yen for general
Location of Norwegian Wood Filming in Hyogo 🎥
---