Namba Yasaka Shrine – Large Lion in Osaka 👹
Namba Yasaka Shrine in Osaka Namba is known as a powerful power spot even though it is located in the center of the city.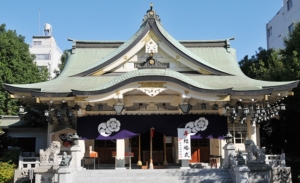 This shrine is a minor tourist spot in Osaka compared to USJ, Umeda Sky Building, Osaka Castle, Tsutenkaku, Abeno Harukas and Dotonbori.
But now it is unexpectedly popular among foreign tourists.
It has become a popular shrine as a power spot especially for victory and love.
I will introduce those attractions now.
As you approach the shrine, you will see a monster with a big mouth on the other side of the torii.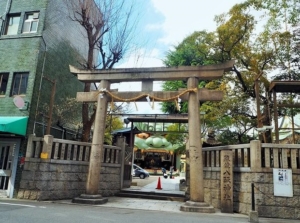 Then, through the torii gate timidly, it is a huge lion. It's 12 meters high. It is equivalent to the height of four floors of a building.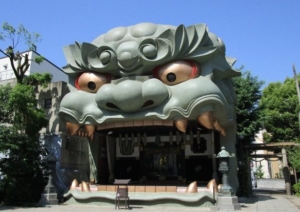 This is a building called "Shishiden" which is a symbol of this shrine and you will be overwhelmed by its size.
The huge mouth is the stage. Shishimai (Lion dance)  has been popular in this area for a long time and is dedicated to the stage during the festival season. The ceiling is beautifully decorated.
The eye acts as a light and the nose acts as a speaker. There are many shrines throughout Japan, but this is the only place you can see this kind of scenery.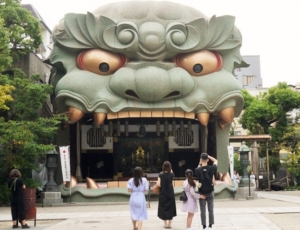 This place is more popular among foreigners than Japanese, and many tourists take pictures with powerful lions in the background.
The lion's big mouth is said to offer a chance to win as well as to engulf evil spirits, and it is said to offer blessings such as luck with money, good fortune, academic achievement, and job success.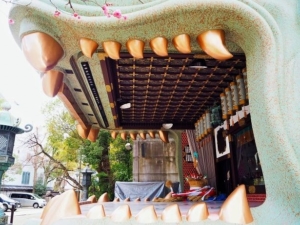 Carp-shaped amulets are popular among young women because they bring good luck in marriage and matchmaking.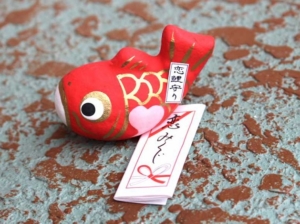 Namba Yasaka Shrine is located in the city, so you can visit it easily. When you visit Namba, please go to get power!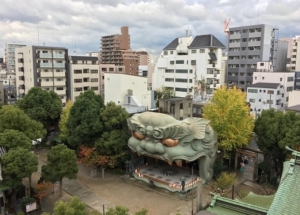 It takes about 6 minutes from Namba subway station. And it takes about 6 minutes from Nankai Dentetsu Namba station.
---