Kyoto Fushimi Sake Brewery Tour 🍶
Fushimi in Kyoto is a sightseeing spot with Fushimi Inari Taisya Shrine which is popular among foreigners.
Countless red Torii Gate continue forever.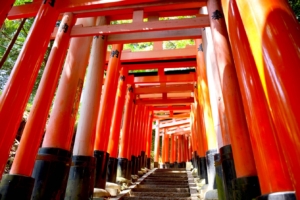 But that's not the only attraction of Fushimi.
It has flourished as one of the best sake breweries in Japan since the Azuchi-Momoyama period (1568-1600), and it's a tasteful town with many traditional sake breweries and boat-houses.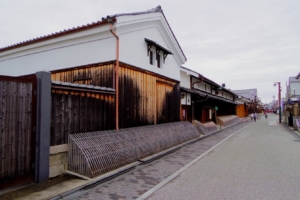 How about a trip to enjoy delicious sake?
The reason why Fushimi is famous for sake
Good quality water is essential for making sake, and Fushimi has been known for a long time as a famous water source.
In Fushimi, good quality water called Fushimi-mizu was abundant and sake brewing developed.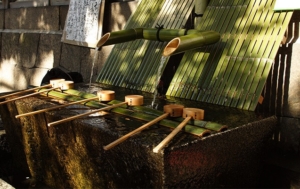 Fushimi-mizu is mild water. Fushimi's sake is called "Sake for women" because its mild, soft water makes it possible to make sweet sake.
Fushimi has many famous sake breweries within walking distance, and it's a convenient area where you can go around in a day.
Then, let's go to the first sake brewery.
Kizakura Fushimigura
Kizakura is one of the famous sake makers.
In Japan, Kappa characters are used in Japanese sake commercials, but in fact, it's also the first company to produce a local beer in Kyoto.
So, in addition to the production process of  sake, you can visit a beer factory at Kizakura Fushimigura.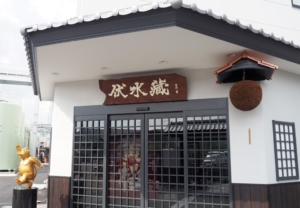 You can see both sake and beer making at the same time, and You are very lucky.
At Kizakura, They also use Fushimi-mizu to make beer. Although the process is mechanized, the quality check by the craftsmen is essential for both sake and beer.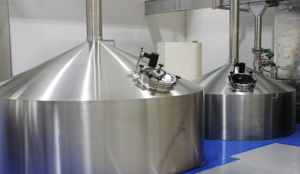 After the tour, let's try sake and beer at the fancy counter. (1 glass is 100 yen ~)
]
And there's Kizakura Kappa Country not too far away on foot from Fushimigura.
This is a restaurant under the direct management of Kizakura, and you can have freshly made beer delivered from the factory, limited sake and dishes that you can only drink here.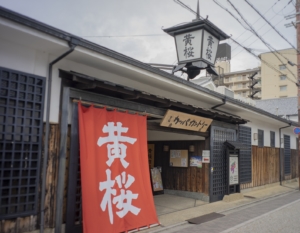 Kizakura Kappa Country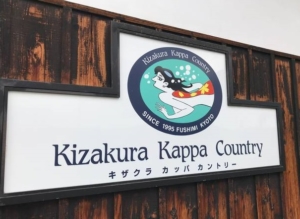 There're 4 kinds of local beer in Kizakura, and you can compare 3 kinds of them.
Beer is made with water prepared from sake, so all of them taste mild. Kura-no-Kaori made from sake yeast is a beer with the gentle flavor of sake.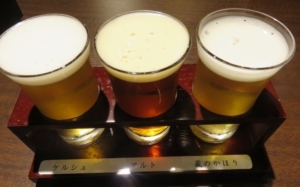 Japanese tea utensils

Gekkeikan Okura Sake Museum
Gekkeikan is another famous sake maker in Fushimi.
Gekkeikan, like Kizakura, is a company with its head office and factory in Fushimi, Kyoto. It was founded in 1637, so it is a very long-established company that has continued for nearly 400 years.
Therefore, a museum was built in the place of origin so that people can learn the history of Gekkeikan and the process of sake brewing in detail.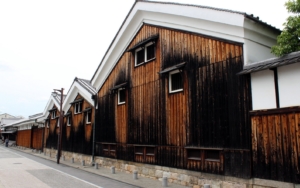 Gekkeikan Okura Sake Museum is a wooden storehouse built in Meiji period (1868-1912), and it's used as it is.
In fact, in Kobe Nada and Tohoku, most of the Kura storehouses were destroyed by the earthquake, so there're not many wooden Kura storehouses left today.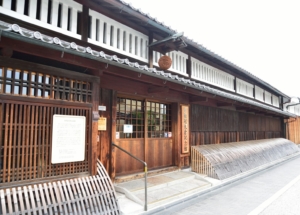 Inside the Gekkeikan Okura Sake Museum there're about 400 precious sake brewing tools that were once used, and the traditional brewing process is introduced in an easy-to-understand way.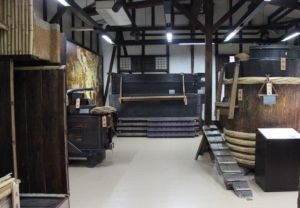 There's a beautiful courtyard in the museum, and you can feel as if you slipped back in time. In order to protect this landscape, electric wires are buried underground.
At the well in the courtyard, you can drink the Fushimi-mizu used for sake brewing. Just like the sake of Fushimi, it's very soft and delicious, so please try it.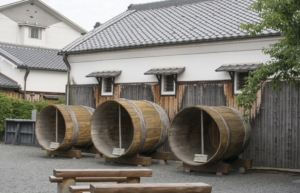 And don't forget the tasting space and special souvenirs. There's a tasting space at the exit of the exhibition room and 3 different types of sake are prepared.
Please enjoy the taste of Gekkeikan Sake!
Fushimi Sake Village
Finally, I'll introduce Fushimi Sake Village, a complex where you can enjoy Fushimi's sake and delicious dishes.
This is a spot with the concept of spreading various kinds of Fushimi's sake all over the world.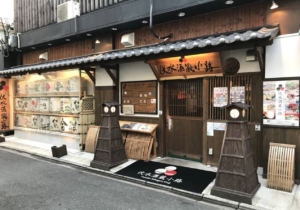 Floor map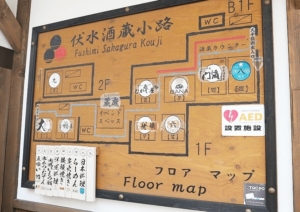 There are 9 shops in Fushimi Sake Village, but you don't have to be confused in choosing a shop. This is because it's a system that you can order sake and menus from all the restaurants from any seat.
There're 18 brands of sake in the Fukushima Sake Village, and there's a sake tasting set (2,430 yen) where you can enjoy all of them.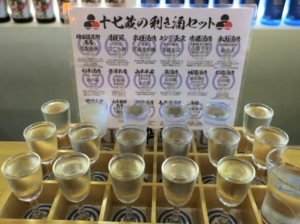 You can start with a sweet sake that is best for an aperitif, and gradually change the taste to a strong junmaishu, and you can enjoy a deep taste at the end.
Not only the number of brands, but also the order of drinking is considered in this set. If you drink this much, you will be able to clearly understand your taste, and you will also be able to find a brand of sake you have never known before.
Fushimi is one of the most sacred places for sake in Japan.
Because high-quality water has been gushing out for a long time, many sake breweries still have their headquarters and factories in Fushimi.
Therefore, you can enjoy sake in all ways from shopping and factory tours to tasting.
Even if you don't like sake, it's a place you should visit at least once.
---