Osaka Karaimonya Guillotine, With Super Hot Fried Rice 🔥
Karaimonya guillotine is a restaurant specializing in extremely spicy food, in Minamisenba, Osaka, and is regarded as a sacred place for extremely spicy fans in the Kansai region.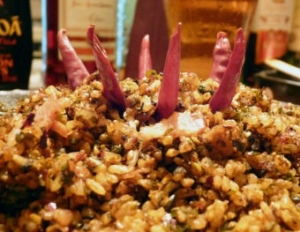 It has been introduced many times in various media such as magazines and TV. Especially, very spicy fried rice is famous and there are 7 levels of spiciness.
The dish features very spicy fried rice with red pepper horns.
If you are not satisfied with the normal spiciness, please try it.
What's the specialty of it?
The super spicy restaurant is about a 15 minute walk from Osaka Subway Shinsaibashi Station.
The tables and chairs in the restaurant are made of beer cases, and you can feel the retro atmosphere of the Showa era (1926-1989).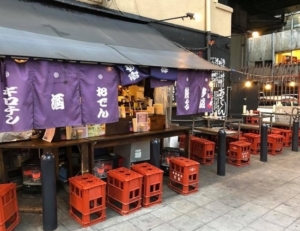 There is also a counter outside. If you use there, you can enjoy the atmosphere of the stall.
When you sit down at the counter, you will see several spices lined up. This spice reproduces the 7 levels of spiciness of very spicy fried rice. You can sprinkle it on the dish you ordered. Many people try the level of this spice before ordering very spicy fried rice.
There are 7 levels of spiciness in super spicy fried rice. It starts with 0 spiciness without chili pepper, and Level 1 is for beginners with a little chili pepper.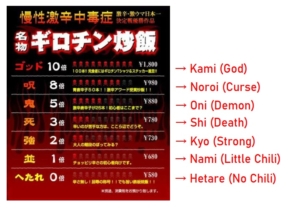 And level 2 ~ 3 is for those who are a little confident about the spiciness. For ordinary people, 3 is the limit. The level number means a multiple of spiciness.
If it exceeds level 3, we feel it is suddenly spicy. For level 5, 25 pieces of very spicy Thai red pepper, Prickine, are used. Then it goes up to level 8 using 50 and level 10 using 100. At this point, we will feel pain rather than pain.
If you don't like spicy food at all, order "Hetare" with level 0 spiciness or "Nami" for beginners.
"Hetare" is a type of fried rice that does not contain any chili pepper. It means "coward" or "chicken" in English.
Even if your friends yell at you, "Hetare", if you don't like spicy food, don't worry and order "Hetare". It's your money.
The price of super spicy fried rice increases with the level, Level 0 is 580 yen and Level 10 is 1,800 yen.
About Got
If you complete Level 8, you will be given the right to challenge Level 10.
The level 10 fried rice is too spicy for ordinary people to feel pain in their mouth. There are 100 super hot chili peppers in the fried rice.
When cooking level 10 fried rice, the pungent ingredients of chili pepper vaporize and sting your eyes and throat.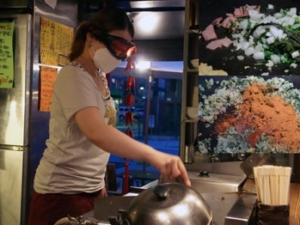 To do so, cooks wear goggles and masks. And they start after telling the customers that they will cook.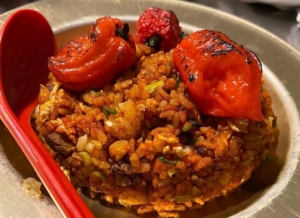 This is the level 10 "God" fried rice. It contains 100 pieces of Prickine and 3 pieces of JolokiaJ which is 1,000 times spicier than Tabasco on the fried rice.
What's Devil?
In fact, there is also a "Devil" where the right to challenge is given only to those who have finished 3 times the level 10 "God". This is not usually on the menu, but it is the hottest in this restaurant.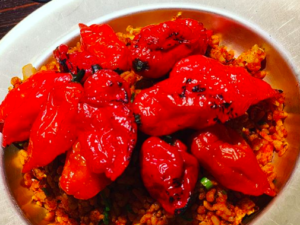 "Devil" contains capsaicin extract, which is 1,600 times hotter than chili pepper. I heard that the people in the restaurant think that nobody can finish this dish.
By the way, there were some people who tried "Devil", but no one ate it all.
The Guillotine's Yakisoba
Do you know that there are super spicy instant noodles supervised by Karaimonya guillotine?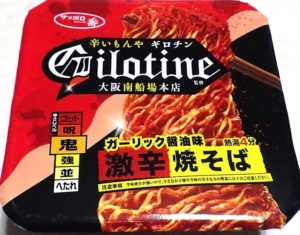 It's not ramen, it's yakisoba (noodle without soup). There is also a very spicy yakisoba menu in the restaurant, which is equivalent to level 5 fried rice. This instant yakisoba is also adjusted to the same spiciness.
The package design uses a lot of red color which is reminiscent of red pepper, so it looks really spicy.
It is often sold at convenience stores in Osaka City, so please look for it. It is also perfect as a souvenir for those who like spicy food.
The menu of Karaimonya guillotine is not only very spicy fried rice. There are a variety of a la carte dishes and drinks that are not as spicy as regular izakaya.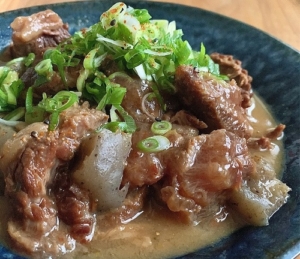 Doteyaki
For example, Japanese beef is used in Doteyaki and it is mellow, sweet and exquisite. Each Oden is big and the taste is absorbed inside.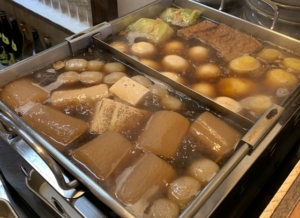 Oden
There are many regular customers, and it is a cozy and homey restaurant where you can get along with other customers.
Karaimonya guillotine has two stores, the Minamisenba store and the Shinmachi store.
If you have a chance, please visit the restaurant and try very spicy fried rice.
Information
Hours: 17:00~24:00 (Last order: 23:00)
Open all year round
Minamisenba store

Shinmachi store

Kyoto Gekikara Shopping Street – Extremely Spicy Foods 😡
---