Japanese School + Izakaya = Rokunen-yonkumi 🏫
Do you know that there is an elementary school where you can enter and drink alcohol openly even when you become an adult?
Rokunen-yonkumi is the place where we can meet such requests.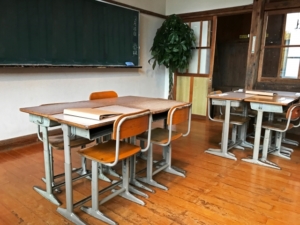 This is a reproduction of a nostalgic elementary school in the Showa era. For the Japanese, as soon as they enter there, nostalgic memories of the elementary school will come back to life.
Foreigners will not feel nostalgic, but they will be able to enjoy Japanese culture at the same time as they have equipment such as blackboards, school bags and bronze statues unique to Japanese elementary schools. Also, there is an ingenuity to enjoy the food and drink menu.
About Rokunen-yonkumi
Rokunen-yonkumi now has as many as 8 branch schools nationwide. And in Osaka in Kansai, there are 2 schools, Umeda branch school and Tennoji branch school.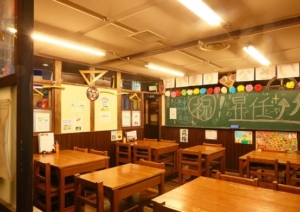 Inside the school is a private room where you can eat and drink in the recreated classroom, principal's room, staff room and planetarium room. You don't know in advance which room the teacher who is a staff will take you to.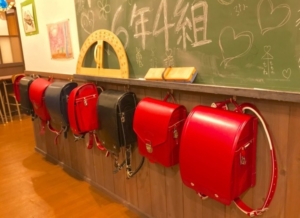 School bags for elementary school students
You become a student from the moment you enter school. In order to be a student, you can also wear a school bag and yellow school hat provided at school. 🎒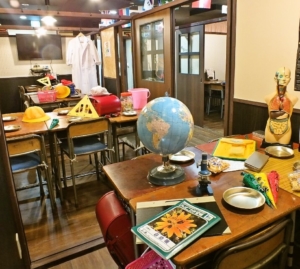 Surrounded by blackboards and nostalgic items on study desks, you can spend your time as an elementary school student or enjoy taking pictures. 📐
The Umeda branch school is on the 33rd floor of the building, so it feels a little strange, but you can also enjoy a beautiful night view at night!
Food menu
This is Izakaya so you need to order.
As for meals, there are many menus reminiscent of elementary school lunch. The nostalgic aluminum tableware is reproduced as it is. In addition to the standard course, there is also a monthly course for seasonal events.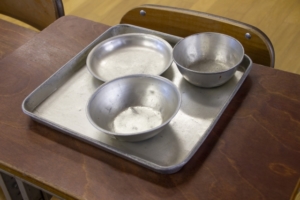 The dressing on the salad is in the syringe. It's like a science experiment and very unique.
The most popular is Agepan (Fried Bread). There are 12 flavors including sugar, kinako, brown sugar syrup, strawberry jam, cocoa, condensed milk, matcha, chocolate, brown sugar, honey, cinnamon and salt. Kinako (Roasted soybean flour) flavor is the standard. It's a reasonable price of 300 yen, so I recommend sharing it with everyone.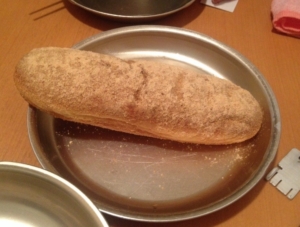 Agepan
Sofuto-men (Soft noodles) is like udon noodles. There are 2 types of sauce for combination, meat sauce and curry. The sweet meat sauce mixes well with the chewy soft noodles and is very delicious.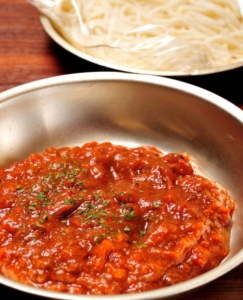 Sofuto-men (Meat sauce)
Milk is always included in school lunch in Japan, but I recommend milk with tapioca which is popular recently. But this contains alcohol, so people under 20 cannot order it.
Drink menu
Of course there is no alcohol in a real elementary school, but this is an elementary school for adults.
You can enjoy various kinds of alcohol such as beer, wine, cocktails and highballs along with school lunch. There is also alcohol in an original unique container, so you can enjoy it visually.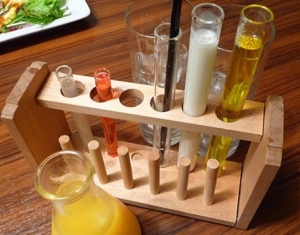 Alcohol is in flasks and test tubes. You might mix it up like an experiment, but it doesn't react chemically, so don't worry. Instead, a delicious cocktail will be ready in front of you!
A regular izakaya is good, but how about a place like Rokunen-yonkumi? This will be a new way to experience Japanese culture.
Information
---