Ichijo Yokai Street – Japanese Monsters in Kyoto 👹
There is a unique shopping street called Yokai Street on the south side of Kitano Tenmangu Shrine in Kyoto.
The Yokai Street is lined with shops about 400 meters east and west of Taishogun Hachi-jinja Shrine.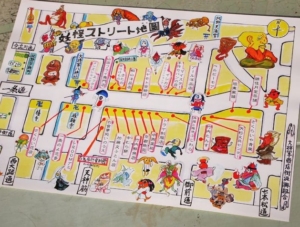 Yokai refers to monsters whose motifs are supernatural phenomena beyond human knowledge, mysterious powers that cause them, and extraordinary phenomena.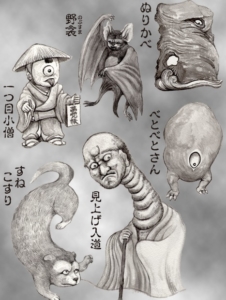 Once upon a time in Japan, when a paranormal phenomenon or a bizarre incident occurred, people feared it was Yokai's work.
When you enter the street, you will be greeted by famous Yokai such as Kappa, Hitotsume-kozo and Rokurokubi.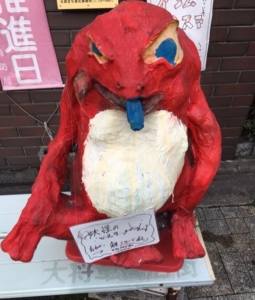 Yokai also disguises itself in various ways depending on the products of each shop, such as bread and futons.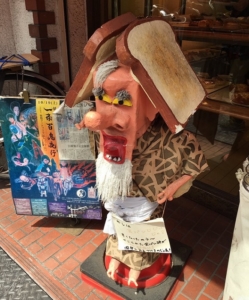 Yokai Ramen
You can eat unique ramen at Shokudo Inoue located in the center of the street.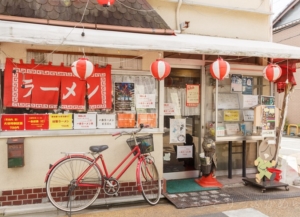 It is called Yokai Ramen and is sprinkled with black soup, purple noodles and apparently spicy red powder. There is no doubt that you will become more cautious before eating.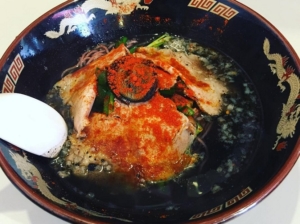 But if you try it, it will be so easy to eat, light and delicious that you cannot imagine from its appearance.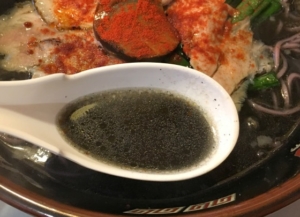 Actually, the black color of the soup is bamboo charcoal, the purple color of the noodles is gardenia seed, and the red powder is paprika, not red pepper.
Is the gap between appearance and taste caused by Yokai?
Yokai Croquette
You can eat delicious croquettes at the Yamada Fry specialty shop where there is a croquette monster in front of the shop.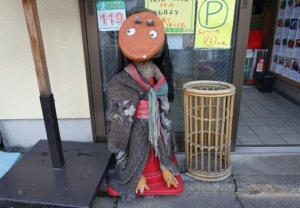 The most popular is the beef croquette made with domestic Japanese beef, but there are a wide variety. For example, there are rice croquettes with tomato fried rice and cheese, and camembert cheese croquettes.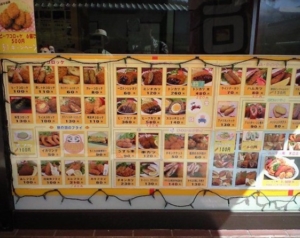 Please pay attention to Yokai Croquette among them. It features a black coating, and there are 3 flavors, green matcha flavor, red kimchi flavor, and yellow curry and cheese flavor.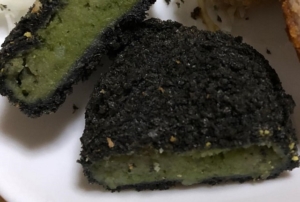 They'll fry it right in front of you after you order. I recommend you to buy not only 1 but 2 ~ 3 pieces when you eat around.
I also recommend Yokai Hamburger with 100% Japanese black beef minced cutlet and plenty of salsa and demi sauce cheese sauce.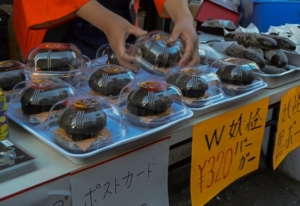 Many of the foods sold in Yokai Street look grotesque, but eating them is very delicious and healthy.
Ayashiimono specialty shop Hachimanya collects Ayashiimono (fishy things) from all ages and countries, including monsters, skulls and ghosts.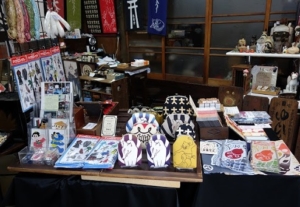 The shelves of the shop are full of items with those motifs. Tenugui is especially popular.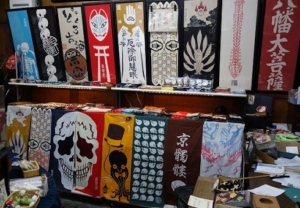 You can get souvenirs here that you can't get anywhere in Kyoto.
Yokai Event
Once a year, Yokai Street holds a masquerade event called Ichijo Hyakki Yakou. Many people dress up in costumes and enjoy the monster parade.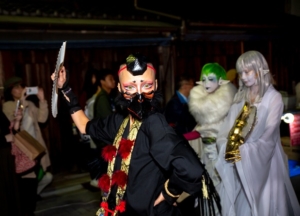 In the past, this shopping street was in decline, and real Yokai were likely to appear. Yokai Street was started to make shopping districts prosperous, but it is now so crowded that tens of thousands of tourists visit during events.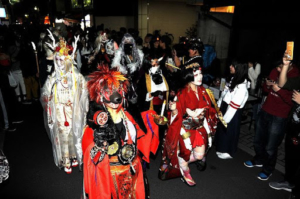 If you want to participate in some event in Kyoto, how about Ichijo Hyakki Yakou?
Taiwan Xitou Monster Village
In January 2014, the Taishogun Shopping Street Promotion Association formed a sister partnership with Taiwan Xitou Monster Village.
It is located in the mountainous central part of Taiwan in Nantou County and operates a monster-themed resort and theme park.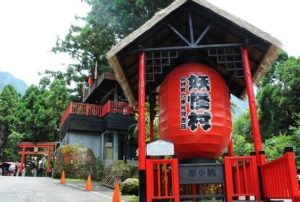 Taking advantage of its location deep in the mountains with many forests, the resort is lined with the same large torii gates and Japanese-style buildings as in Japan, and staff wearing kimono and yukata welcome tourists.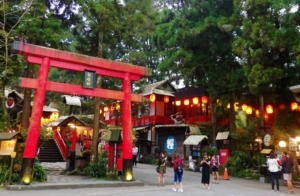 In Monster Village, events are held every day and you can enjoy lively action shows. In addition, Yokai also appears in great numbers as a supporter.
The Taishogun Shopping Street Promotion Association is planning a tour to Taiwan Xitou Monster Village and mutual sales of monster goods.
You can not only enjoy but also learn about Japanese monster at Yokai Street. Why don't you include Yokai Street in your Kyoto sightseeing plan?
Recommended Gourmet at Nishiki Market – Enjoy Eating Tour! 🍘
---