Kobe Shinsen Ichiba – Experience Daily Life in Japan!
Sannomiya Center Gai Shopping Street is famous as a shopping district in Kobe, but there is a shopping district in the Minatogawa area where you can feel a lot of Japanese life culture.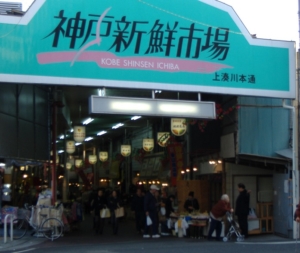 It is one of the largest shopping districts Kobe Shinsen Ichiba in western Japan, consisting of five shopping districts.
About 500 shops line the 1-kilometer stretch from north to south, which is called the "Kobe's Kitchen".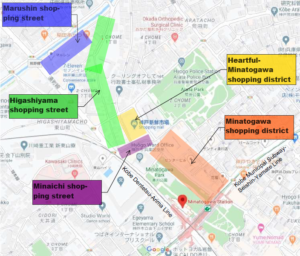 In contrast to large-scale shopping malls, which have become popular in recent years, many old-fashioned shops stand side by side, and are full of life, filled with a sense of the common people.
You can enjoy just looking at it without actually shopping.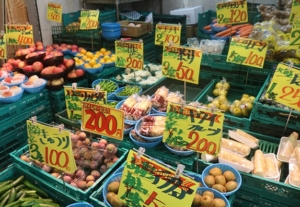 This time, I'll introduce the main Minatogawa shopping district and Higashiyama shopping street among the five shopping districts.
Minatogawa shopping district
Minatogawa shopping destrict is located on the south side of the Kobe Shinsen Ichiba, and if you go out to the ground from the Kobe Municipal Subway Minatogawa-Koen Station, it is the south exit of the Minatogawa shopping district.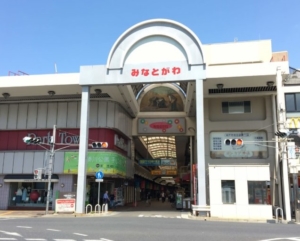 Let's walk to the north.
There are four more commercial facilities around Minatogawa shopping district.
It is the Park Town, Center Building, Nakanosuji shopping street and Minatogawa Plaza, where there are many shops mainly focusing on fashion (clothing, shoes, bags, etc.).
I'll introduce some recommended shops.
Amakara-do
Established in 1960, it is a long-established store that continues to make Japanese sweets using traditional manufacturing methods.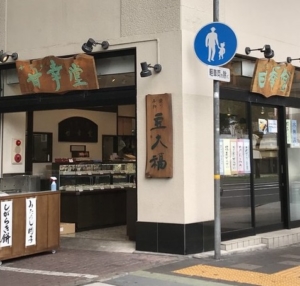 Enjoy a warm and sweet time with Mitarashi dango and Botamochi baked in front of you and seasonal Japanese sweets.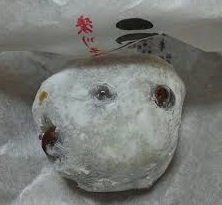 Mame Daifuku (mochi sweet)
The specialty of this shop is Mame Daifuku with a mild taste of homemade Tsubuan. It is hand-made every day while carefully checking the condition of the dough including humidity and temperature.
Cafe Akiko
It is a cafe where you can drink alcohol in Minatogawa Kitchen in the restaurant area. You can eat local food only available here.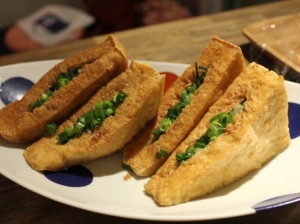 Food writer Nakahara Akiko is the owner. It's perfect for a short break.
Gin (Okonomiyaki)
It is a popular Okonomiyaki restaurant in Minatogawa since 1945.
There are no table seats, only counter seats with an L-shaped iron plate.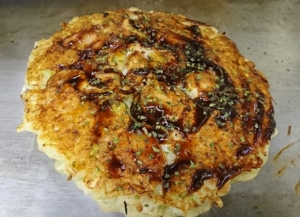 Okonomiyaki is mostly cooked by yourself, but here the staff cooks it carefully. It is safe even for foreigners who don't know how to grill.
Higashiyama shopping street
After passing Minatogawa shopping district, you will see a Higashiyama shopping street of grocery stores on both sides of a narrow street.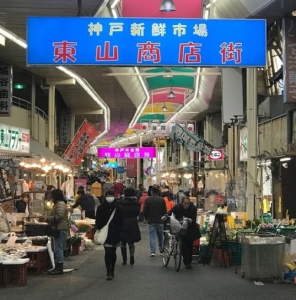 Here you can find meat, fresh fish, tofu, fruits and vegetables, pickles, side dishes, fresh flowers, Japanese sweets, etc.
The shopping street is about 400 meters long, but it is so fun that once you enter it, you won't be able to come out for a long time.
Inada kushikatsu
A kushikatsu restaurant located in the northernmost part of Higashiyama shopping street, always crowded with locals on their way home from shopping.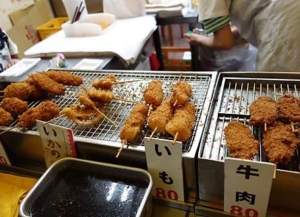 All 90 yen
The kushikatsu fried in front of you is 90 yen for all. It is a system that you self-report the number of skewers you ate and pay.
Kobe's soul drink Apple is also on sale for 90 yen.
Hanachiba syouten
A shop that sells traditional Hiyashi-ame for 50 yen per cup.

Hiyashi-ame (cold ginger drink)
The combination of sweetness and ginger has an exquisite taste, and it is so delicious that you can drink it up.
You need to return the glasses, so it is not a take-out but a style to drink in the shop.
Daiki Kamaboko
You can eat about 15 kinds of deep-fried fish tempura here.
Among them, this shop's specialty, "Daikoro" is popular because it can sell 1,000 a day. It contains a lot of fresh ground white fish and onions from Awajishima.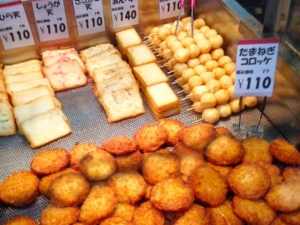 Daikoro (bottom of the photo)
The exquisite texture of the fluffy white meat and the crunchy texture of onion is wonderful.
Nanami Suisan
It is a fish store that mainly sells shellfish and is rare in Japan.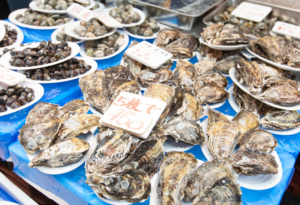 All kinds of shellfish are lined up in the store throughout the year, and it is always crowded with shoppers. Some of them are professional cooks.
They cook on the spot depending on the season, so please ask at the store.
Surume-no-okayan
There is a machine to manufacture dried squid at the store, and you can have the freshly made dried squid put in a bag.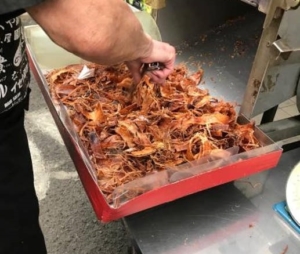 Japanese dried squid is chewy, but it is seasoned and perfect for alcohol. Especially those who like beer don't need anything other than dried squid.
They also sell Tianjin sweet chestnuts that children love.
Hara syouten (Tofu store)
Tofu made with the traditional method is the result of craftsmanship.
Freshly made Saga tofu and freshly made Atsuage are brought from the morning kitchen to the store.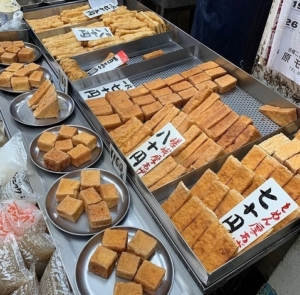 The typical way to eat Atsuage is to put sauce on it.
Kusunoki-do
Here, you can eat freshly made small castella on the spot.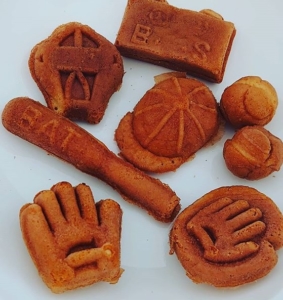 Cute Castella
As it is called "Baseball Castella", it is a castella in the shape of a baseball cap, glove, bat, ball, etc. They are delicious even when cold, so they are perfect to eat while walking.
You can see the owner skillfully turning the iron plate when he bakes castella.
In addition to the two shopping districts introduced here, there are Marushin shopping street and Heartful Minatogawa shopping street.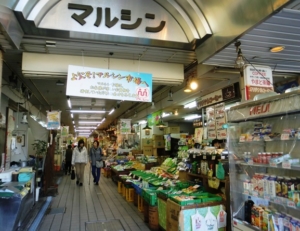 There are a variety of specialty stores, including clothing, fresh foods, and side dishes.
Minaichi shopping street was the first market built in Kobe in 1918, but it is currently being rebuilt due to aging.
In this way, Kobe Shinsen Ichiba is "a space full of humanity" in an area that is essential to the lives of Kobe citizens.
When you hear the word "Kobe's Kitchen" the image of a grocery store may be strong, but it's a very nice market with everything from food, clothing and shelter.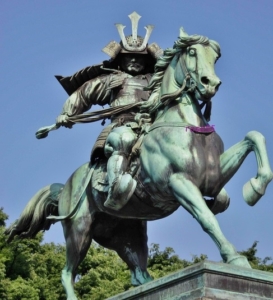 Kusunoki Masashige  (in Minatogawa Park)
I think it is the best place to know the daily situation of Kobe.
Why don't you take a walk in the fresh market of Kobe while feeling the atmosphere and history of the town?
#shoppingstreet  #kobeshopping  #souvenirs  #japaneselife  #markets
---