Hikone Sky Adventure – Sky Attraction in Shiga, Japan
Hikone City in Shiga Prefecture is famous for its famous castle. In Hikone City, there's Hikone Sky Adventure, Japan's largest adventure facility.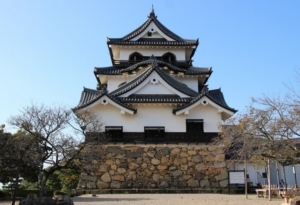 There're 3 attractions, the athletics "Adventure-G" that we can enjoy at the height of 8 meters above the ground, the 200 meter long slider in the air "Sky-G", and the thrilling swing in the air "High-G", and we can experience the air attractions that we cannot normally experience.
The facility is located in a place with a good view, Lake Biwa and Hikone Castle below! We can enjoy thrilling and refreshing feeling while enjoying scenery.
Adventure-G
Adventure-G is an athletic course that starts from the ground with a lifeline. We'll try 18 items at 8 meters above ground.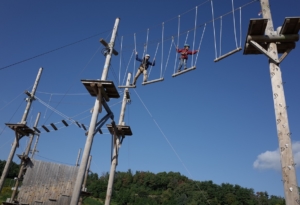 We can walk on a big log, cross a swaying board or rope, and at the end of the course, we can see a mini-slider in the air.
Believe in ourselves and do our best, or help each other with family and friends. Let's play hard!
Sky-G
The Sky-G is an attraction where we slide down a wire 200 meters into the air.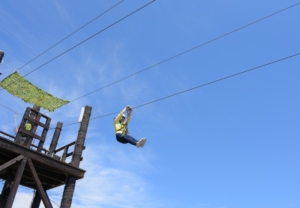 It's a little scary when we start, but once we jump into the sky, we feel refreshed!
The wind blows all over our body and we go forward vigorously. If we look up, we can see the view of Hikone that birds always see!
High-G
High-G is an aerial swing that grabs the bar and dives into the sky from a 7 m high start board.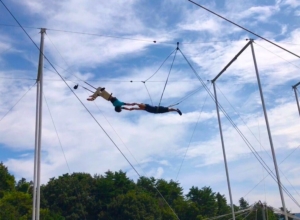 If we make a trick and jump from the bar to the bar, we'll surely feel a sense of accomplishment we have never experienced before.
The first time is exciting, but from the second time, let's fly into the sky as if we were riding on a circus swing!!
The 3 attractions of Hikone Sky Adventure can be tried by children over 4 years old.
It's a 15 minute walk from JR Hikone Station.
Please try the 3G which you can enjoy thrill and sense of accomplishment that you don't experience in daily life.
Information
Hours: 10:00~18:00
Closed: Irregular holidays
---