Discount Vending Machines in Osaka
Vending machines are useful on hot summer days and cold winter days, but there're many vending machines in Japan.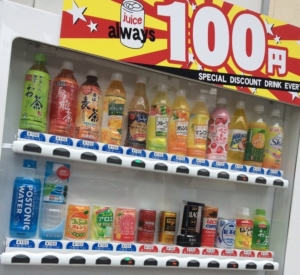 The price of 1 bottle of juice is usually from 130~160 yen, but recently 100 yen vending machines have been seen more often. In addition, vending machines under 50 yen have come to appear!
Products with a short expiration date cannot be sold at regular stores, but they buy them cheaply and sell them at vending machines.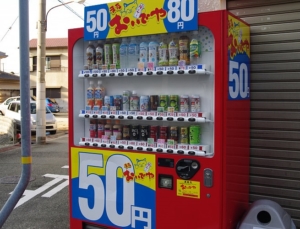 I introduced the shocking 10 yen vending machine on this site before, but I'd like to introduce other vending machines that you can buy under 50 yen!
Parking lot with Five 50 yen Vending Machines
First is Airin District in Nishinari Ward, Osaka City. This area has many homeless people and welfare recipients, and is supported by the government and welfare organizations. A 100 yen vending machine is common, and it's also famous as a place with many discount supermarkets and stores.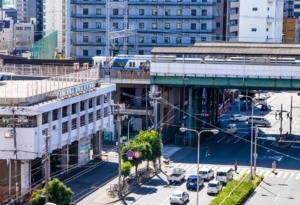 In general, the price of products by major beverage manufacturers, such as Suntory and Asahi, is fixed nationwide, but many of them are sold for 100 yen or less.
Especially amazing is the parking lot where five 50 yen vending machines are installed!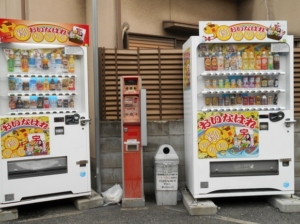 When I first heard about that, I thought it was a big parking lot, but when I actually saw it, it was very small.
Certainly, there are 5 vending machines as far as I can see. Is it necessary so many?
When I tried to buy one, the expiration date was about 2 months. But there's no problem to take it right away, and I thought it was foolish to buy it at a regular price.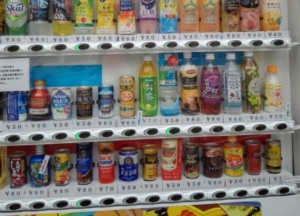 The price range is from 50~100 yen and there're many kinds of 50 yen juices. In addition, each vending machine has different kinds of products, so there's a high possibility that you have your favorite drink. I'm satisfied with the reason why 5 units are installed.
This area is one of the most unsafe places in Osaka City, so I don't recommend you to go there with only women.
G Park ↓
Three 50 yen Vending Machines at the foot of Tsutenkaku
The Tsutenkaku Tower in Tennoji is a symbol of Osaka, and the area around it is famous for its concentration of kushikatsu restaurants and is visited by many tourists.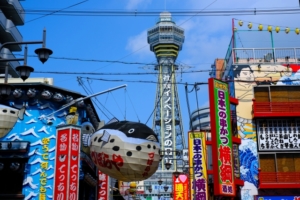 There's a coffee shop called Doremi right next to the steel frame which supports Tsutenkaku right under this tower.
This is an old shop established in 1967, and its retro interior is popular, so many people line up outside on holidays. The standard menu is mixed juice and thick and voluminous pancakes.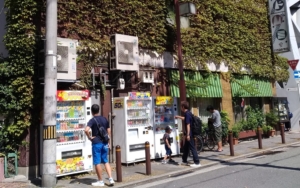 There're three 50 yen vending machines next to this shop.
The prices are not all 50 yen, but there're many juices that you can buy for 50 yen with coffee as the main. As it's a popular area, many people buy it. Local people seem to use it on a daily basis.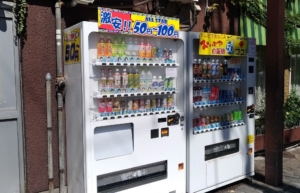 Calpis in a plastic bottle was sold for 50 yen, but it was already sold out before noon. I recommend you to buy it as soon as possible.
It's good that the location of the vending machine is very easy to find!
Golden 50 yen Vending Machine
Fukushima ward in Osaka City is where the 10 yen vending machine I introduced before is.
There's a 50 yen vending machine a few minutes' walk from there. I'm not surprised to hear that it costs 50 yen more, but this time I'll introduce a vending machine that shines gold.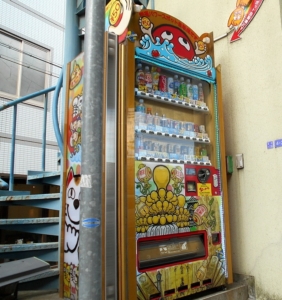 It's set to be hidden between the building and the utility pole, but the whole body shines so there's no way to hide and it has a great presence!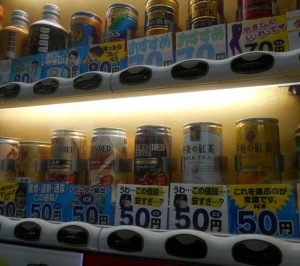 Of course, there's no problem with the juice sold.
Especially in summer, such a cheap vending machine is very convenient. It would be nice if it's close to my house.
If you come to Osaka, please look for a discount vending machine!
---