Amazing 10 yen Vending Machines in Osaka 😍
As you wander around Osaka, you will often find surprisingly cheap items.
This time, I'll introduce you to 10 yen vending machine that even the locals in Osaka are surprised.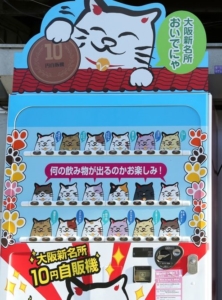 You sometimes see 50 yen vending machines, but they are sold at an exceptional price of 10 yen, which greatly surpasses them.
Let's grab 10 yen and go out!
Where is it?
The rumored vending machine is located in the corner of Osaka Central Wholesale Market in Fukushima-ku, Osaka City.
The nearest station is the JR Osaka Loop Line Noda Station, a 7-8 minute walk from the station.
If you search 10 yen vending machine on Google Maps, it will be hit at once, so you won't get lost.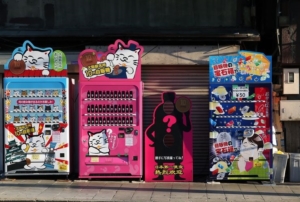 You may find it difficult to find a small vending machine even if you know the approximate location.
But don't worry. They are appealing like the picture, and not just one machine.
Let's insert 10 yen right away.
Four unique vending machines are lined up. Among them, there're 2 left ones with an impressive picture of a cute cat that you can buy for 10 yen.
But if you look closely, the name of the drink is not written.
It says "Let's enjoy what drinks will be served." in Japanese.  I see…
Let's buy it without hesitation. If you fail, your loss will be only 10 yen.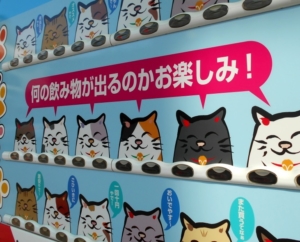 Let's try with the blue vending machine on the far left.
I threw in a 10 yen coin with my heart pounding…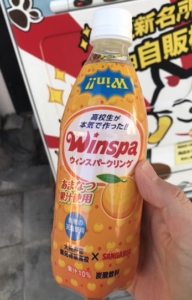 Wow, an unexpected plastic bottle. It's an orange soda.
The expiration date I was worried about is more than half a year left. This is unexpected in a good way.
Don't be discouraged if you get an unsatisfactory drink. Your loss is only 10 yen.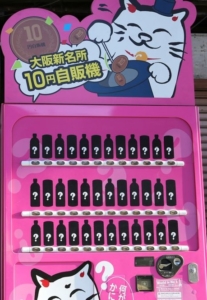 If it's the same vending machine, there's a high possibility that the same drink will be served.
If you want to try again, I recommend the pink vending machine on the right.
50 yen Vending Machine
Then, let's go to the third vending machine from the left.
It says funny vending machine in Japanese.
This vending machine is 50 yen. It's said to be "You don't know what will be served other than juice.".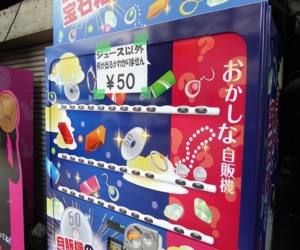 I'm very curious about the meaning other than juice.
I put in 50 yen, push the button, and something fell down.
So what's coming out…?
A bag of candy is falling down. If I buy it at a regular store, it costs more than 100 yen, so it's a good deal.
Here's the last vending machine.
Some of these are labeled with the name of the product, so I recommend them to people who definitely want to buy the drink they want.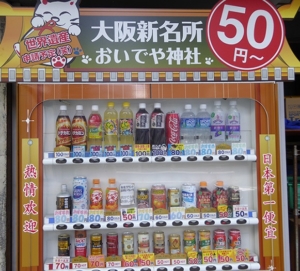 There're also famous brand drink buttons that you don't know what will be served for 50 yen. I chose it on purpose.
What came out was UCC's milk coffee.
The can was dented, but the expiration date is more than half a year. This is also a good deal because it usually costs 100 yen.
Finally, let's take a commemorative photo at the place between the vending machines and go home.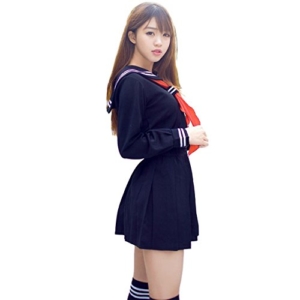 Japanese cute costumes

By the way, why are they able to sell it at an exceptional price of 10 yen?
The vending machine was set up by a wholesaler handling food and drinks in the neighborhood.
It's said that they started to sell the products which could not be sold at the store because the expiration date was approaching or the appearance was damaged.
The Most Minor Information Site about Japan


There's little profit, but they thought selling was better than throwing it away.
The vending machines sell a wide variety of drinks such as juice, coffee and tea. Sometimes cans of different sizes come out, and sometimes plastic bottles come out.
In midsummer, they are sold out quickly, so you should go early.
Information
Open all year round, 24 Hours
---