With 33m Long Bar Counter – HiHi Town in Osaka 🍺
There's a bar called "HiHi Yokocho Tenzankaku" which is famous for its long counter in the basement of the commercial facility HiHi Town near Kintetsu Uehommachi Station in Osaka.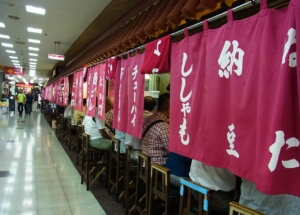 BAR de ESPANA MUY in Marunouchi, Tokyo also has a 30 m counter, while the HiHi Yokocho Tenzankaku can be ordered directly from the counter and the price is very reasonable.
If the counter is so long, you might think it's hard for the staff, but during the time when there're few customers, they close some seats and change the number of seats depending on the congestion.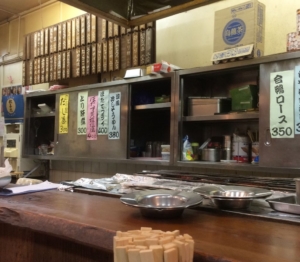 I have never heard of a counter more than this 33 meter counter. It's probably the best in Japan.
You may be a little confused when you use it for the first time, but if you sit in an empty seat, the staff will call you immediately, so please feel free to use it.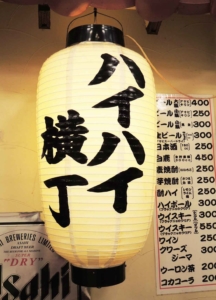 At HiHi Yokocho Tenzankaku, everything is cheap and safe. Even if you drink 1~2 glasses of alcohol, it will be about 2,000 yen.
Beer, Japanese sake and shochu are the main alcohol drinks. If you don't like alcohol, you can order oolong tea or cola.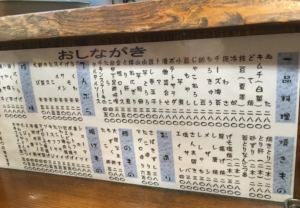 About 80% of the menu is below 300 yen including tax. But the menu is written in Japanese. If you don't know what to order, you can just tell the staff your budget and ask them to choose a dish.
I'll introduce some dishes that foreigners can eat deliciously without any problem.
※The price when I wrote this article.
Amaebi-no-Karaage (deep-fried shrimp) 300 yen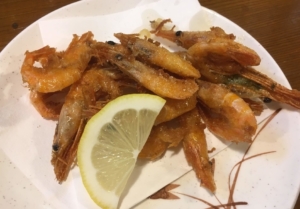 You can eat it crispy with the skin on. It goes really well with alcohol. 🍺
Yakitori – 2 skewers (grilled chicken) 280 yen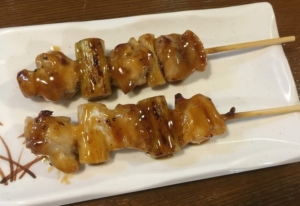 They cook it right in front of you.
Gesoten (Squid leg tempura) 280 yen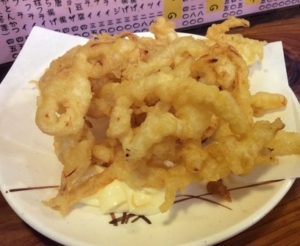 This goes really well with alcohol!
Kushikatsu – 3 skewers (deep-fried skewered) 280 yen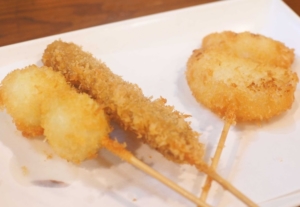 Quail eggs, pork, onion
Tonkatu (pork cutlet) 450 yen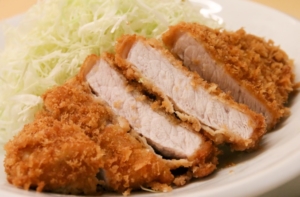 It's crispy.
Yaki-onigiri (Grilled rice balls) 300 yen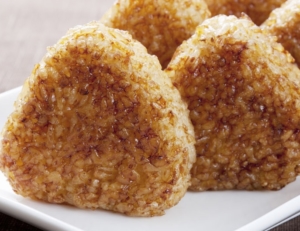 The flavor of soy sauce is very good!
My recommendation is Dote-yaki. This is stewed beef tendon with miso and mirin for a long time. The meat is very tender and I imagined it would taste a bit strong from its appearance, but when I tried it, it was light and delicious. 😋
Dote-yaki (simmered beef sinew) 280 yen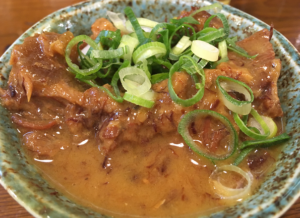 I can't believe this Dote-yaki is 280 yen!
Many people use this Izakaya after work on weekdays, but it's a counter seat, so I often see tourists who use it alone.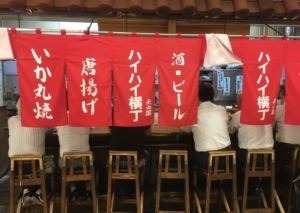 The length of the counter is famous, but in addition to that, we can't find any reason why we don't go to an Izakaya that has all 3 features of good taste, delivery speed and cheap price.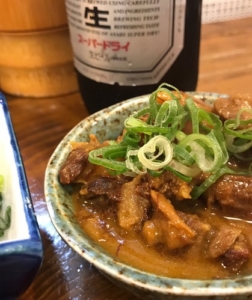 Why don't you use here when you stay at a nearby hotel or when you have time during sightseeing?
Information
Japanese School + Izakaya = Rokunen-yonkumi 🏫
---