【POCKETALK S】Translator POCKETALK has evolved – Small and Easy to use
POCKETALK is a translator that supports 74 languages and allows you to talk as if you had an interpreter.
The next generation model "POCKETALK S" was released in Japan in December 2019. It's got a more compact body, faster translation speed, and a much-requested camera translation feature.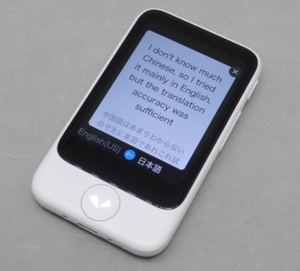 Let me explain in detail how it evolved.
If you don't know anything about POCKETALK, read this article first, then proceed.
Translator POCKETALK Changes Your Life! – Mutual Translation of 74 Languages
Evolution of appearance
The POCKETALK S has a smaller body and a larger screen from 2.4 inches to 2.8 inches compared to the previous generation model W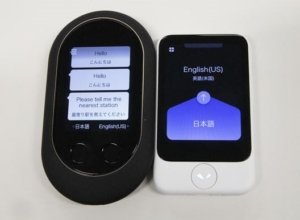 POCKETALK S and W
The body is now the size of a business card, and the thickness is thinner. It's actually big enough to fit in a business card case.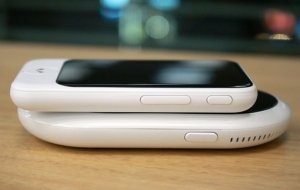 The right side has power button and volume control button and the left side has a slot for a SIM.
There's a speaker on top, and a USB charging jack, a hole for a neck strap, and a microphone on the bottom. The back side has a camera and a flash.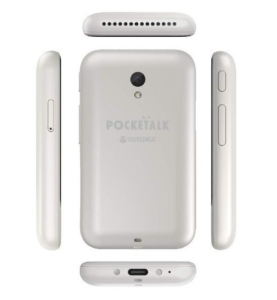 It has a high-precision translation function and is the size of a business card, making it easy to carry around.
Evolution of usability
In general, the more functions a translator has, the more complicated and difficult it becomes to use. POCKETALK S has a very simple operation screen.
This is because the number of buttons to push during translation has been reduced from two to one, making it easier to operate. Even if it's your first time using it, you can operate it intuitively without hesitation.
Translation accuracy, operability and portability are important for translator. POCKETALK S has all of them.
Evolution of translation function
As for the translation performance, it uses the same engine as the previous generation model W, so it supports high-precision long text translation.
The new function added to POCKETALK S is image translation. It automatically detects and translates text in photos taken with the built-in camera. This function is available in 55 languages.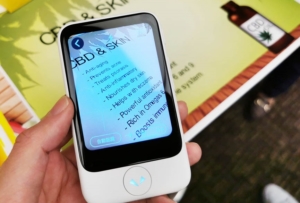 When you visit a foreign country, it is convenient because you can translate store signs and restaurant menus.
Another use is that when you purchase Japanese products, even if the instruction manual is written only in Japanese or English, you can take a picture and translate it into your own language.
Evolution of price?
Unfortunately, the price of POCKETALK S has not evolved (No price down). Same price as W.
The Model S lineup includes the Global communications 2 years model and the No Global Communications

 model, continuing from the previous generation model.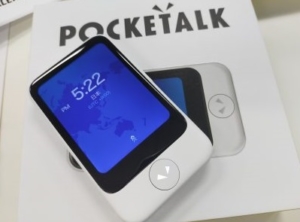 The Global communications 2 years model does not require initial SIM setup, and you can automatically use SIM just by turning on the power after purchase.
Moreover, since it is included in the purchase price, there is no additional communication cost.
You can check the countries and regions where global SIM for POCKETALK is available here.
Previous generation model W continue to be sold at prices over 10,000 yen lower than before. If you don't need image translation, this is a good choice.
Global communications 2 years (POCKETALK W)
No Global Communications (POCKETALK W)

POCKETALK has a smaller body, a bigger screen, and more features. You can rent it with Wi-Fi router at an international airport in Japan without buying it.
Please feel the ever-evolving POCKETALK!
---