10 Recommended Antique Shops in Kyoto
Do you like antiques?
Kyoto is a great location for those who like antiques and traditional tableware.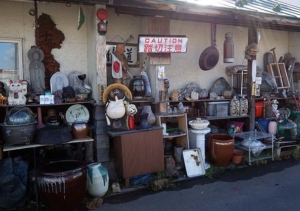 For those who are not familiar with antiques, it may be difficult to enter the shop because they don't know its value, but recently, the number of shops that offer daily enjoyable items is increasing.
I will introduce you to traditional antique shops, casual shops, and shops dealing in Scandinavian antiques, so if you find a shop that fits your sensibilities, why don't you dare to enter?
Daikichi
There are Japanese and Western antiques from a very wide range of periods from Jomon to Taisho.
The previous owner changed his shop from a Japanese restaurant to an antique shop in 1989, and the current owner is the second owner.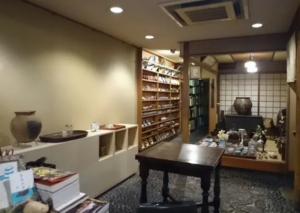 Antiques, including tableware, vases, pots, and earthenware, all increase in flavor the more they are used. The shelves are lined with florets and vases. Not only antiques, but also vessels of modern artists are selected.
Every item is a tool made for living, and you can experience the technology and taste of the time. According to the owner, some earthenware from Jomon period can be bought and used.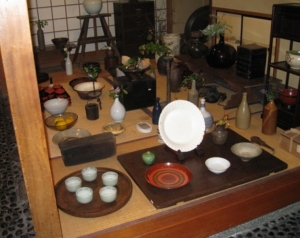 Also, the only difference in the price of each item is whether or not the design or material is generally evaluated, and even if it is cheap, if it is attractive to you, it is the most valuable.
At the counter, a remnant of a restaurant, you can spend a luxurious time drinking coffee in an antique bowl while listening to pleasant jazz and blues. Seasonal flowers are always fresh in the shop.
Information
Hours: 11:00~18:30
Closed: Mondays
ANTIQUE belle
It originated from Tenjin-ichi (Antique Market at Kitano Tenmangu Shrine) and the current shop is a renovated Machiya.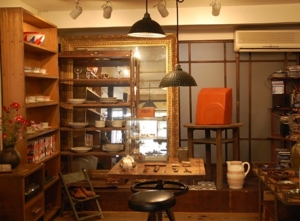 A wide variety of items such as authentic antiques, glass from the Meiji and Taisho periods, retro cups and saucers from the early Showa period, used tools, used cloths, furniture, and sundries make you happy just by looking at them.
The shop has a range of reasonable things such as bean dishes from 1000 yen, so it is easy for beginners to buy.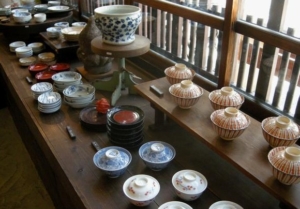 The owner also buys the whole warehouse, so it seems that the product changes every time. The taste of antiques varies greatly from person to person. It may be fun to find your favorite by looking at various kinds of antiques. This shop will help you with that.
By the way, at the Japanese restaurant owned by the same owner, antique bowls are used casually, so you can learn tips on how to use them.
Information
Hours: 12:00~19:00
Closed: Dec.31~Jan. 3
Kottou Wahindo
It is a shop of a house close to Kitano Tenmangu Shrine, and the Machiya which was 100 years old and used to be a Nishijin textile factory was renovated. It is jointly managed by two owners.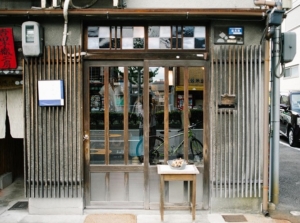 The space covered with gravel is an affordable item that is easy to incorporate into daily life, and antiquities are lined up in the tatami room at the back.
The antiques sold here are of all ages and nationalities, and are the ones that the owners are inspired by. For example, sake cups, vases, old Imari, Leicho, old lacquer ware, glass, junk and so on.
It is also recommended to stop by together with Tenjin-ichi on the 25th of each month.
Information
Hours: 13:00~19:00
Closed: Irregular holidays
Ikuichiri
Ikuichiri is a store that renovated a 100 year-old Kyoto Machiya.
In the Japanese space, there are ancient ceramics such as Seto and Imari, lacquer ware, cloth, religious art, and white porcelain.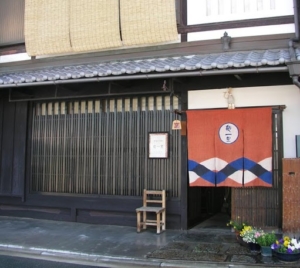 From affordable to pricey, the range includes tasteful old wooden farming tools, large funnels of Taisho glass and rusty steel netting, as well as antiques that can accentuate your interior.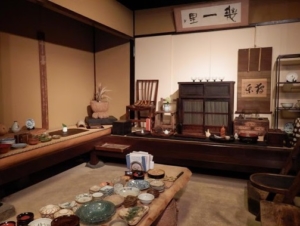 The owner says, "Each antique has a taste and history that has passed through time, and I want you to feel the taste and texture with your hands.".
Information
Hours: 12:00~18:00
Closed: Wednesdays and Thursdays
Soil
A shop that sells vintage goods from Northern and Eastern Europe mainly from Finland.
Products made by a designer, folk tools that make you feel the warmth and life made by hand, toys that lose the strength of the shoulders, etc., which have a unique presence due to aging are selected.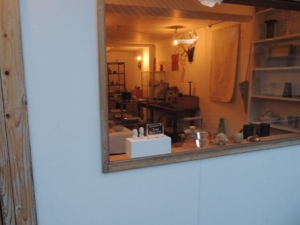 The owner goes to Europe to buy 4 or 5 times a year, and currently he is interested in Eastern Europe where there are many handmade items such as pottery and linens left.
There are tableware and glass that can be used as they are, decayed wooden lids, rusty old iron furniture, and cloth that has been used carefully.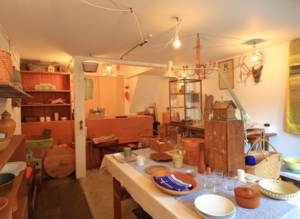 The owner says, "The use of antiques is important, but I am also attracted by the texture of the used items and the rational design made by the craftsman through trial and error."
I think this shop will stimulate free thinking and improve your taste in looking at antiques.
Information
Hours: 12:00~19:00
Closed: Wednesdays and Thursdays + Indefinite Closed
Osugi Shoten
Around Sanjo-dori Street, cafes and boutiques are beginning to increase, but Osugi Shoten continues to maintain its traditional atmosphere.
You may feel that it is a bit difficult to enter, but if you dare to enter, you will find many antiques, mainly utensils, lined up there.
There are lacquerware and glassware divided by period, and there are old things, calligraphic works and paintings, furniture and so on in the tatami room in the back.
You will be amazed that while the variety and number of antiques are overwhelming, they are easy to see, easy to pick up and all are polished to the point where there is no dust.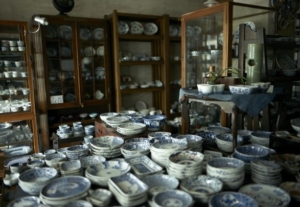 Prices range from a few 1,000 yen to few 10,000 yen, but the owner says it's best to use what you like, rather than the price or the brand.
There is a corner where the owner makes a Kintsugi on the damaged bowls and offers it at a low price. Sometimes you can find a bargain like this.
Information
Hours: 10:00~19:30
Open all year round
Pro Antiques "COM"
It is a shop that sells antiques collected from western Japan mainly in Kyoto. They repair and sell the household goods from Edo period to Meiji, Taisho and early Showa period.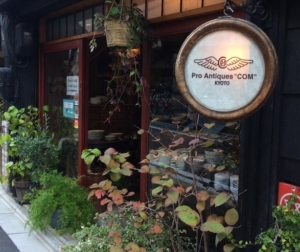 Japanese tableware is mainly Imari, Seto and Kyo-yaki. There are many lighting fixtures and various kinds of furnishings from the early Showa period, old signboards, iron kettles, tin tea utensils, dolls and so on.
Furniture such as wardrobes and water stores are carefully restored in a specialized workshop. Anyway, they have a wide variety of antiques suitable for daily use. Some are renovated to suit modern lifestyles.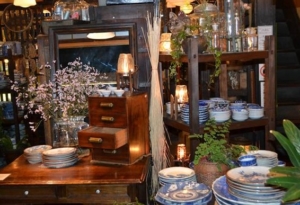 It is recommended for people who want to easily incorporate tools that have been used since ancient times in Japan such as ceramics and Japanese furniture into their daily lives. It is a shop where anyone can enter easily.
Information
Hours: 12:00~20:00
Closed: Wednesday (Indefinite closed on Tuesdays)
SOWGEN
It is a shop dealing with used tools and plants. Japanese and Danish used tools are displayed fashionably.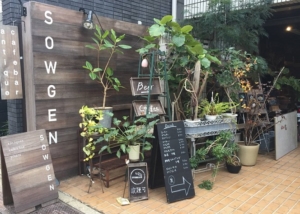 Old tools are discolored and have a unique texture as they are used, and many of them show the changes of the times.
And the owner said, "The previous owner took good care of it, so I have old tools here now. The charm of old tools is that although the owner cannot be seen, there is a common point that they cherish the same thing as someone far away."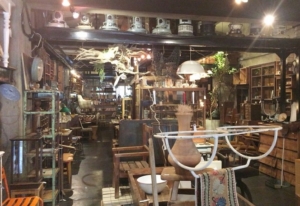 In the back of the main room, where the tiles on the walls and floor are impressive, is another room with a completely different feel. There are antique furniture and Brocant goods in the green based shop, and there is a cafe in the back. You can buy chairs at cafes if you like them.
Information
Hours: 11:30~19:00
Closed: Irregular holidays
Shijo store

Kitashirakawa store

blue Parrot
It is one of the largest antique shops in Kyoto that sells a wide range of items such as tableware and sundries, mainly Japanese and English furniture from the end of the Edo period to the beginning of the Showa period.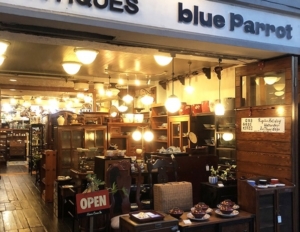 All of the furniture is maintained by craftsmen, and the tableware and small articles are not decorations but are available for everyday use.
The shop is active in connecting the good old days goods and culture to the next generation.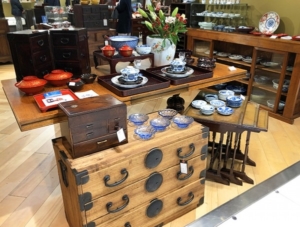 Since many things are lined up in a narrow space, you will forget the time and stay here for a long time.
First of all, if you find something you like by looking at it and touching it, it would be nice to decorate your daily life with such items.
Information
Hours: 11:00~20:00
Closed: Wednesdays and the second Thursday
Retro Number
It is a small shop with the owner's own selection of vintage tableware and miscellaneous goods purchased directly in Northern Europe.
Based on simple things, there are tableware, tasteful tools and miscellaneous goods recommended for daily use.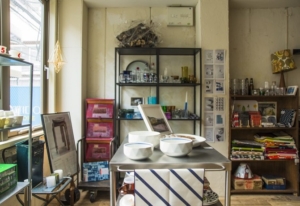 The owner said, "Every time I visit Northern Europe, I come across many fascinating things, such as things that have been carefully used for a long time, things that have been handed down with care, and things that have become deeply flavorful over time."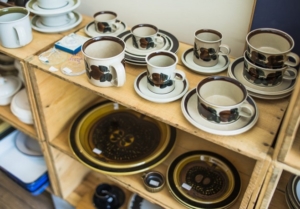 And there are stationary and miscellaneous goods collected not only from Northern Europe but also from other countries. I'm not particular about the United States, Germany, or Japan, and he buys what he thinks is good.
Please find products that you can only find at this shop!
☆ Sister store: Scandinavia Stock
Information
Hours: 11:00~19:00
Closed: Thursdays, Fridays, and Saturdays
The charm of antiques is that there is only one in the world, so it's a once-in-a-lifetime encounter.
It feels completely different when you see it in the image and when you see it in the real thing.
If you can not only buy things at the store, but also take home your own sense of looking at things, your daily life will become much richer!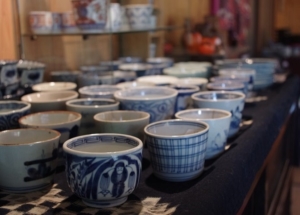 #antiques  #japaneseceramics  #kitchenware  #tableware  #glassware  #handmade  #generalstore  #souvenirs  #reasonable  #machiya  #souvenirs  #kyotoshopping
---