Translator POCKETALK Changes Your Life! – 74 Languages
Language is a concern for beginners on foreign trips. Many voice translators and translation apps are available to solve this problem.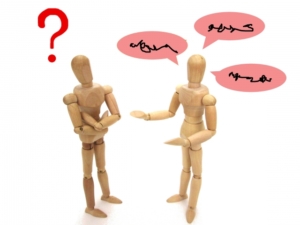 However, you may have experienced that it does not translate well when needed.
This time, I'll introduce the wonders of POKETALK, a small voice translator.
What's POCKETALK?
There're a lot of translators out there these days, but what makes POCKETALK better than other translators is that it can do mutual translations in all 74 languages. The translation is done using internet communication and can be used by foreign communication companies using SIM card.
POCKETALK is not just about Japanese to other languages. You can choose any 2 out of 74 languages for mutual translation!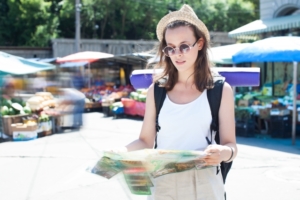 For example, in a shop where there're staff who don't understand English, "How much?" can understand, but when you want to receive an explanation of the product from the staff, you or the staff need to be bilingual to communicate.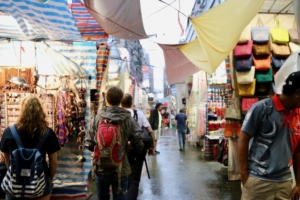 POCKETALK can be translated to each other, so the staff's language can be translated, so you can have a smooth conversation!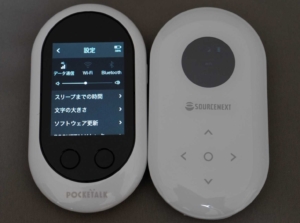 The latest model (left side), and the first model
The right side of the POCKETALK is the first model and the left side is the latest model POCKETALK W. The size is still compact, but the screen size is large and easy to use, and the translation function is also evolving.
Here's what makes it more convenient than the first model.
About functions and performance
When you choose a translator, I think you're most concerned about the translation speed and accuracy. It depends on the communication situation, but the translation time of the first model was about 3 seconds, and a simple phrase could be translated in 1 second. The POCKETALK W also increases the translation speed up to 7.5 times faster than the first model.
POCKETALK W is an online translator. The first reason for the speed increase is that the communication standard has changed from 3G to 4G. Furthermore, since translation is not done at the terminal, but is done using a translation engine in the cloud, the best translation engine is available for each language. So, it's faster and more accurate than a translator with a built-in translation engine.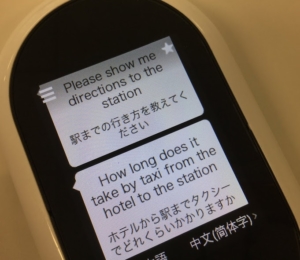 The biggest difference from a smartphone as a translator is that it has a high-performance microphone. Equipped with noise cancelling function, it does not miss conversation even in a crowd. And it has a loud speaker so you don't have to bring the translator close to the person you're talking to.
Using POCKETALK W
It's also simpler to use than the first model.
First, choose the language you speak. Your language is on the left and the other person's language is on the right. When you speak, keep the left button pressed and it will translate.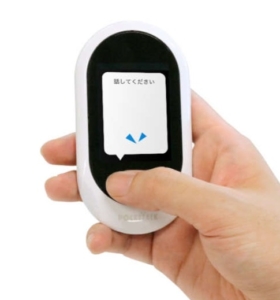 The text of what you said is displayed on the screen, so you can check what you said.
And when the other person speaks, just hold the right button. It's very easy!
POCKETALK W is a translator that allows you to talk as if you had an interpreter. If you're not comfortable with language, this will make traveling abroad even more convenient.
What type of POCKETALK W?
POCKETALK W is available in 2 models, "Global communications 2 years" and "No Global Communications". To put it simply, the difference is whether SIM card for data communication is attached or not.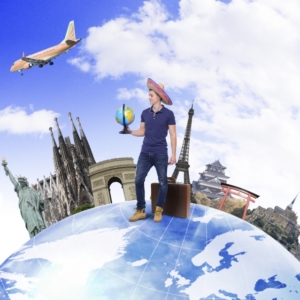 The Global communications 2 years

 model comes with a built-in eSIM (embedded SIM) card for data communication, so you can start using it as soon as you buy it.
The price difference is several 1,000 yen. If you don't have a Wi-Fi router, I recommend the "Global communications 2 years" model. Not only can you use it with Wi-Fi 2 years later, but you can still use it with 5,000 yen added every 1 year.
The other No Global Communications

 model does not come with a SIM card, so you will have to provide one yourself or connect to Wi-Fi.
If you have a Wi-Fi router, the "No Global Communications" model is better. You can insert the SIM card later even if it's a "No Global Communications" model.
<<Click here for the latest model of POCKETALK>>
If you buy it at amazon.co.jp, the shipping is free within Japan. And if you send it to your accommodation in Japan in advance, you can use it from that day!
But there's a problem if you want to get it in your country. Because amazon.co.jp cannot ship it to your country.
You can use Overseas Forwarding Services to solve this problem. This is a very useful service that will make your online shopping more global!
POCKETALK W can handle not only English but also Australian and Indian accents, so it can handle all situations of foreign travel from daily conversation to troubles.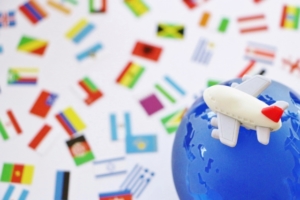 If you have POCKETALK W, you can enjoy communicating with local people on a trip around the world! It weighs only about 100 g (3.5 ouncesg), so it's very convenient to hang it from your neck with a strap.
Have a nice day!
---